Is the steel colossus awakening?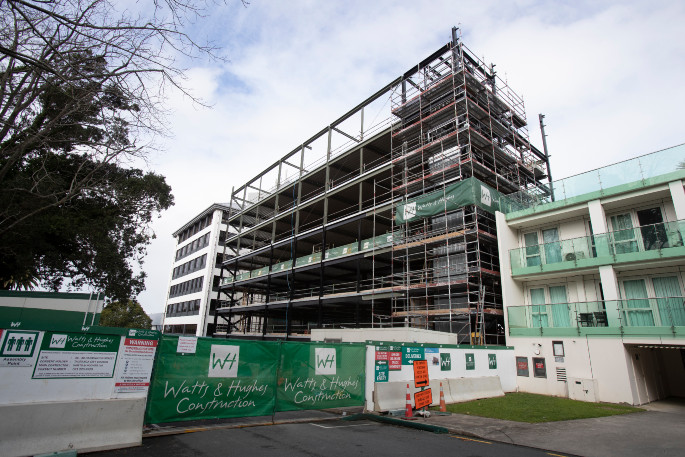 It's now been revealed that foundation strengthening will also be required to fix the stalled Harington Street carpark building.
About a year after construction of the $27 million, seven-storey carpark began, The Tauranga City Council was informed of potential issues relating to the structure's seismic joints which absorb the natural movement of the building during seismic events.
Work was suspended in September for an engineering review.
Now an engineering design review is complete and it has confirmed that as well as the structural issues, foundation strengthening is also required.
The council's general manager of Infrastructure, Nic Johansson, says the foundation strengthening design work had been completed, peer-reviewed by an independent engineer and was now going through the building consent process. Superstructure detailed design has also been completed and again is being peer-reviewed by an independent engineer.
Meanwhile neighbours of the carpark site have been alerted to possible audio tests that would be associated with any remedial seismic strengthening work on the building.
That's if a decision is made to proceed with the work.
It's understood the sound tests would determine whether noise shielding is required to protect neighbours, if and when they do the remedial work.
According to the Tauranga City Council, a decision on that is "still some time away".
At the time work was suspended, former Mayor Greg Brownless gave an unequivocal assurance the problems "would not fall back on ratepayers".
"I will not have this pinned on us," he said.
In a statement to The Weekend Sun this week, The Tauranga City Council said, with regard to apportioning blame and who will pay, the council has taken legal advice and will consider any action to recover costs if and when it is considered necessary and appropriate.
It's too early to be able to estimate a cost for remedying the building's design deficiencies. That figure will be dependent on a decision to proceed with remedial work, and the outcomes of any negotiated cost recoveries.
When completed the transport hub will cater for 800 people across a range of transport modes. There will be 250 bike parks and associated facilities such as showers and lockers for cycling commuters. There will be 550 carparks, 53 motorbike parks and electric charging stations for cars and e-bikes.
More on SunLive...