Reflecting on a stroke five years on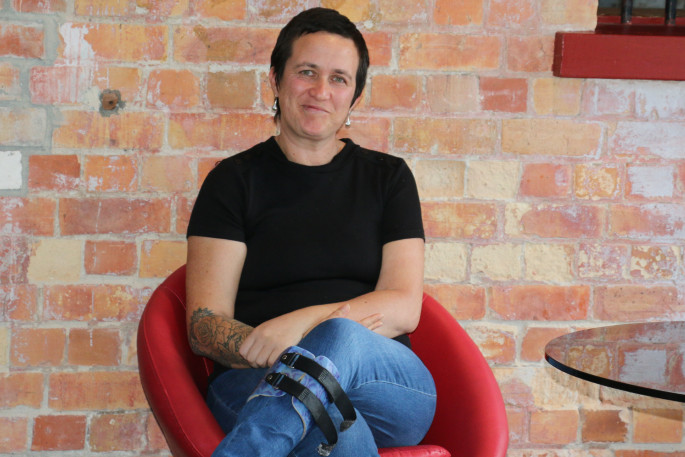 On March 15, Candice Donner marks five years since she suffered a stroke. She was only 35 years old.
She was milking cows at the time. There was no warning, she just felt dizzy and fell over.
"With the swelling in my brain I was transferred to Waikato Hospital and spent a couple of weeks there.
"Then I was transferred back here to Tauranga and spent four months in hospital, just learning to look after myself and walk again."
At the time, she had a 15-year-old son and an 18-month-old son. Her marriage ended four months after she got out of hospital. From there, she had to figure out a new future for herself and boys.
So she began to study and last year completed the Bachelor of Community Health at Toi Ohomai.
"My focus shifted a little bit once I had my stroke so I wanted to go into the health sector and help other people."
Candice now works part-time at Nga Kakano family health services in Te Puke. It's a job that allows her to look after her son - now six - and gives her time to work on her rehabilitation. She wears a leg brace which gives her extra support with her walking but she still doesn't have any function in her left arm.
"So all of that stuff that's happened in the last five years has all been done with one arm.
"I'm still learning how to walk properly. My balance and that is still quite badly affected but despite all of that there's been some good out of that. I have my degree and the kids have been along for the journey."
Candice says there were moments, lying in hospital, that she didn't think she would get to where she is today.
"Becoming instantly disabled was quite a big traumatic experience, so that change in yourself is really hard to deal with. To be in your thirties with what most people think is an elderly condition, and most of the patients were elderly... I was the only young person there.
The stroke was caused by a combination of factors. She had a hole in her heart and had developed deep vein thrombosis in her left leg. The blood clot from her leg had come free, gone through the hole in her heart and blocked the right middle cerebral artery which is the main artery to the right side of the brain.
"You get angry because I didn't know I had my heart condition or the blood clot. It's frustration because you can't take yourself to the toilet, you can't get out of bed. I had probably about eight months in a wheelchair before I could walk properly with a mobiliser around my house.
"Once I was able to drive again, that kind of opens up a lot more for the kids and I. We were able to have a different level of independence. My little boy was only two when his father left so we were one-handed nappy changing, trying to hold him down with one leg, changing with that [right] hand, so my older boy took on a lot of that responsibility."
Her youngest doesn't remember what life was like before she had the stroke and her older one spent his teenage years looking after them and being the man of the house.
Candice is in the process of writing a book about her experiences and is hoping to have completed that by the end of this year, but she is also hoping to take her boys on a family holiday and celebrate her oldest turning 21.
Five years on from the stroke, Candice is reflecting a lot on the experience.
"It's quite surreal because it doesn't feel like it wasn't me in that wheelchair and that hospital room for so long, compared to now. It's like it's a different person. The growth for me personally has been huge."
Candice urges people to keep an eye on their blood pressure. She says for a young person to have the potential of experiencing a stroke, high blood pressure would be one of the biggest risk factors.
More on SunLive...