NZ volleyballers win on Mount beach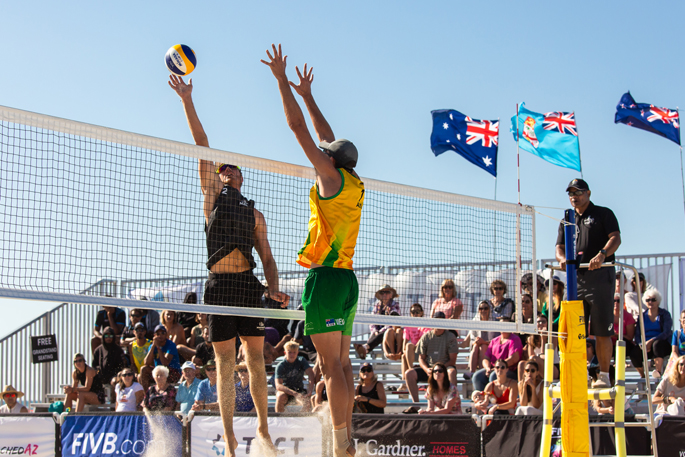 The New Zealand men's beach volleyballers are one step closer to the Olympics after winning the Asian Volleyball Confederation Continental Cup.
The finals took place on Mount Maunganui's main beach last night with the New Zealand men's team defeating Australia.
Leading the Kiwi men to victory over Australia were pair Thomas Hartles and Alani Nicklin and Michael Watson and Tauranga local Sam O'Dea as the host country won both matches against their arch-rivals to the west.
"It is great to win on our home beach," says O'Dea, who teamed with Watson for the event after his brother Ben was sidelined with an injury.
"We only had one practice before starting play Wednesday. This is a special moment for us as we now move one step closer in the Olympic qualifying process."
The New Zealand's women's team narrowly missed out being beaten by Vanuatu.
Miller Pata and Sherysyn Toko posted both of Vanuatu's victories on Thursday by first defeating Francesca Kirwan and Olivia MacDonald before posting a clinching win in the day's last match over Julia Tilley and Shaunna Polley, who forced the "golden match" by winning the second of three meetings between the two countries over Linline Matauatu and Loti Joe.
""We are very pleased with our play today," says Pata.
"We handled the conditions and defeated two very strong teams from New Zealand. We had good ball control in the wind."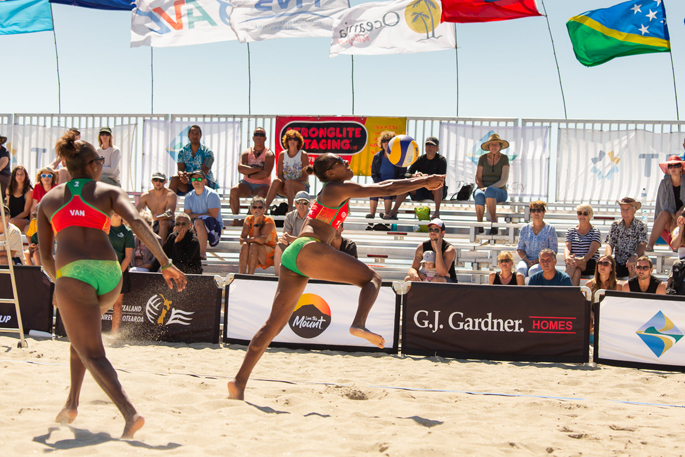 Vanuatu's Sherysyn Toko (left) and Miller Pata. Image: Julie Maree Photography.
Thursday's winning countries now advance to the AVC's Continental Cup third and final round scheduled in late June with China currently the hosting country.
The runners-up New Zealand women's and Australia men's teams will now compete in the second round of the playoff with another opportunity to qualify for the finals.
The New Zealand men and Vanuatu women now join China, Indonesia, Iran, Kazakhstan, Oman, and Thailand in qualifying directly to the finals by winning AVC zonal competitions. Qatar men and Australia women have also qualified for the finals due to winning the 2016 AVC Continental Cups.
Runners-up Australia men and New Zealand women will now compete in the second round of the zonal competition. Against the No. 2 finishers from the Central competition, Kazakhstan men and Sri Lanka women, Eastern competition, Japan men and women, Southeastern, Thailand men and Indonesia women and Western Lebanon men zonal competitions.
The top two teams in each gender will advance to the finals.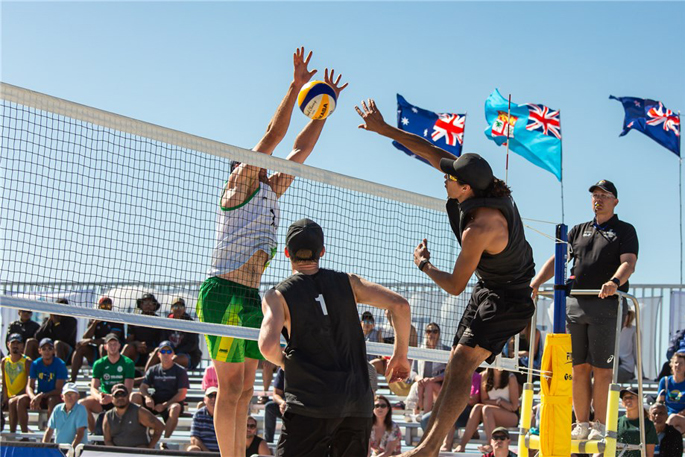 Alani Nicklin (right) hits against Australian Christopher McHugh as Kiwi partner Thomas Hartles follows the action. Image: Julie Maree Photography.
More on SunLive...