Khailana live at the Jam Factory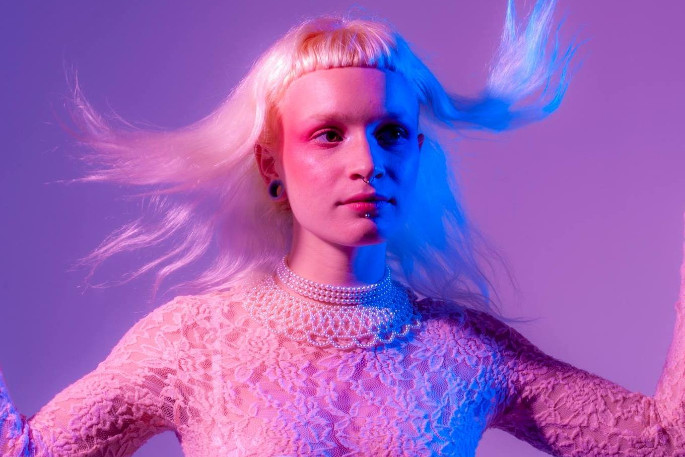 The soft psych-rock soundscapes from Khailana's world is a welcome escape from the pure acoustic rhythmic structure that often surrounds us. For me, it's pure dream pop bliss.
You close your eyes and feel yourself flowing along on a cloud, transported freely, drifting across her lyrical landscape.
Kahilana's voice ebbs and wells, dropping vibrations through the air into the blends of percussive brush strokes and smooth electronic vibes played effortlessly by her band members.
Khailana Kendrick, known just as Khailana, is a 21-year-old singer/songwriter from Wellington. She is touring with the support of her band Mirror Dimension and coming to the Jam Factory on March 13.
The pop-fantasy lyricism and sonic world of her songs combine to create a lush musical environment that feels like I'm stepping on giant soft padded green leaves with deep purple, pink and yellow flowers bobbing slowly down to open their large petals around me.
If you like Slowdive, Galaxy 500 or Azure Ray, then you'll love Khailana. The dream pop band sound has a mild shoegaze and folk vibe with a soft abstract blur as vocals are deftly buried into the mix, becoming another instrument and creating an ethereal quality.
The inspiration Khailana takes from nature, fantasy and film can be sensed, with addictive melodies building worlds of imagination that is beyond words. It's a rare thing to close your eyes and have the incredible experience of a film and fantasy world playing in your mind while having your organs of hearing stimulated. I close my eyes and see a large forest of flowers and trees, all luminescing and glowing. Other people will experience and visualise other sensations.
Guest performer at the event will be the talented artist Camila Lenhart. Camila is a multi-instrumentalist and song writer originally from Brazil. She started learning music at age two, through the classical violin Suzuki method, playing amongst some of the best symphonic orchestras in Brazil. On moving to New Zealand, she explored different styles of music from jazz to folk, rock, funk, reggae and Latin.
Camila has a fresh, full sound created from looping layers of guitar, violin, percussion and vocals. It's a treat to be caught up in her jazzy vibes, roots, samba rock, folk, acidic Latin, bossa nova that combine with instruments from South America and around the world to bring an unforgettable experience.
Camila, and Khailana and her band will be performing at The Jam Factory on March 13 at 6.30pm.
More on SunLive...