Tattoo art for everyone at Tauranga expo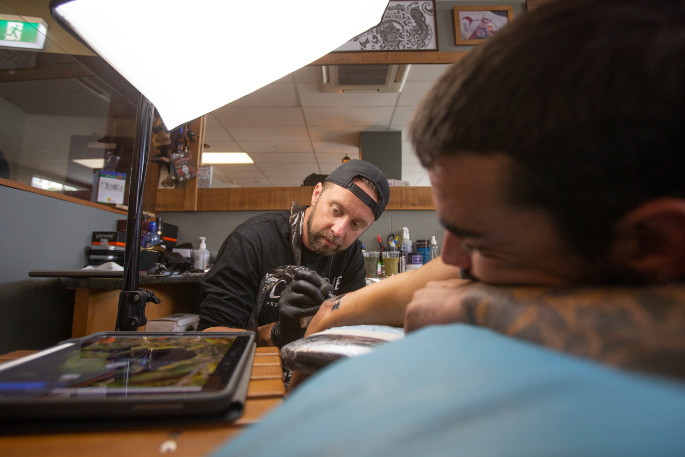 It's not often kids and tattoos go hand in and but at this year's Tattoo and Art Extravaganza, youngsters can get tatted up alongside their parents.
Under 12-year-olds will get a set of markers for any of the 230 artists at the event this weekend to draw a temporary tattoo on them.
Event organiser Pepa Heller says this is just one of the many elements that ensure the show just isn't about tattoos.
There is a skateboard competition and a creative village where everyone can have a go at different art forms while raising money for I Am Hope.
People can take part in three different workshops for a donation which will go towards the young peoples' mental health charity.
The workshops are stencil art with local artist Sam Doran, ceramic sculpting with Mariska de Jager and Vjekoslav Nemesh is running oil painting workshops.
Creative village organiser Mira Corbova says supporting I Am Hope is close to her heart.
"It's is very important for me to support youth and just bring some sparkle in their lives, mental health is huge at the moment.
"Young people, they really need lots of support and obviously the government is unable to support 100 per cent. So we're trying to help and so everybody can get some encouragement and help."
Also unique to the extravaganza is the Ta Atea space where more than 30 indigenous tattoo artists from around the world have come to showcase their art form.
"All of these are very traditional tattoo artists from all over the world. We do have quite a few from Canada, from the Haida tribes, Tahiti, Samoa and Hawaii. These are the true indigenous people, many of them do hand tap or hand poke," says Pepa.
"It's really nice for people to see real and true indigenous tattoo artists. Normally they don't go to mainstream tattoo conventions."
The tattoo artist of more than 20 years wants to see people who are interested in art not just tattoos head to the show because it is a genuine art form.
"We aim to bring people that go to art galleries who love art but they wouldn't come the tattoo show because it puts them off and it does have its stigma.
"We want these people to come to the show and enjoy it and see the top tattoo artists - that they work amazingly and get them to realise that it is a respectable art form."
The Tattoo and Art Extravaganza is on at Trustpower Arena on March 14-15. For more information visit: www.tattooextravaganza.nz
More on SunLive...