Wintec students take 'design thinking' to Thames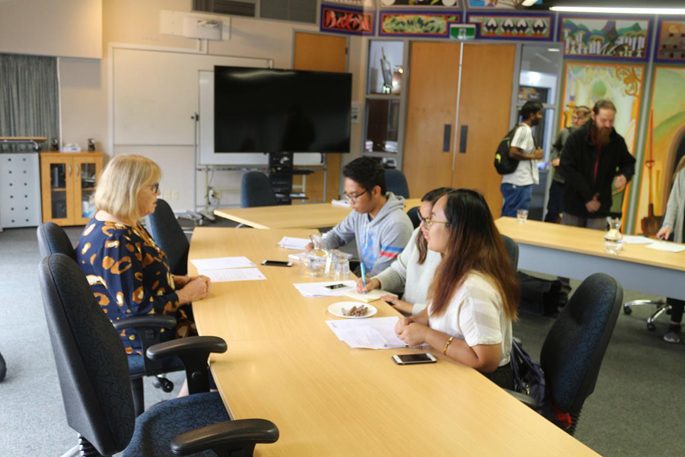 A group of Wintec students went to Thames this week to investigate how the Thames CBD be reimagined into a "safe, inviting and thriving" area.
The students interviewed our Mayor Sandra Goudie, Council staff and members of the Thames community.
The Wintec students will also be out and about in Thames next week to interview members of the public and business owners.
The students are part of the Design Factory NZ at Wintec, which brings together students from different academic disciplines, teachers, industry and community leaders to work on complex problems, such as re-energising a town centre.
The students use the design thinking approach, that provides a framework for innovative problem solving in any industry.
The students will analyse their research, then they'll develop ideas that begin to answer the question posed above. They'll develop prototype solutions, test them and then produce a final report for our Council.
The Design Factory NZ work is costing $5,000 and is out of the Thames Community Board's allocation.
The Community Board allocated $30,000 in late 2019 for concept plans for a streetscape upgrade to be drawn up.
"The timing is good because we've begun a discussion about how Thames's town centre can be made more vibrant and the Wintec work can feed into that," says Mayor Sandra.
The Community Board is looking at ways to give effect to some of the ideas contained in the Thames Urban Development Strategy.
"An upgrade for Thames has been a long-running goal for all of us, in particular the Thames Community Board," says Sandra.
"Whangamata led the way, Whitianga was last year with their incredible public spaces – the promenade and the waterfront playground, Coromandel Town is currently having its main road improved. Now it's Thames's turn.
"Let's not hold back and think totally out of the box. Let the ideas flow. No more tea-cosy thinking."
In the coming months the Thames Community Board will examine the concept plans for a streetscape upgrade in the CBD and the costs and consider the project for inclusion in the 2021-2031 Long Term Plan.
The LTP goes out for public consultation early in 2021 and that's when more detailed planning, budgets and the effect on rates will be available for people to examine and give our Council feedback on.
More on SunLive...