Boomers' days are far from over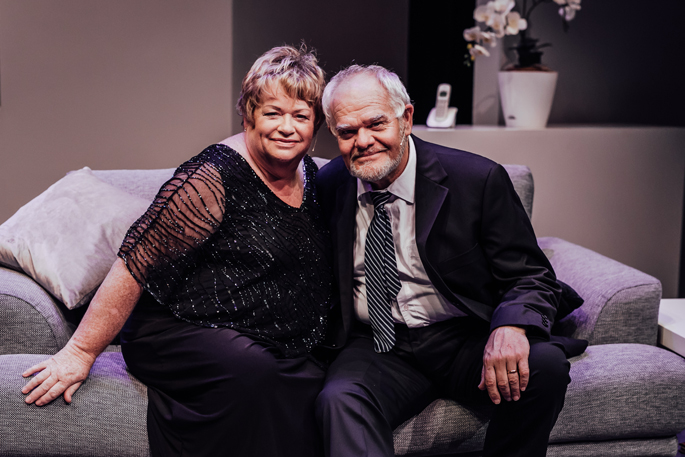 Although life for Alison Quigan is far from winding up, she is facing the realities of old age through her latest play.
Alison plays Genevieve alongside Mark Hadlow, who plays Barry, in Roger Hall's latest show, Winding Up.
The pair are in their 70s and are facing the challenges of ill health, estranged family and the death of friends.
Winding Up is a continuation of Roger Hall's play Conjugal Rites, where Gen and Barry faced a marital crisis.
"Now they are in retirement and they are facing end of life. Barry has leukaemia so they are trying to work out how to get to the next to stage to either wind things up or repair things," says Alison.
"It's actually that journey between, I've received some really strong and difficult news and what happens next.
"It's about facing the mature end of life, it turns out to be surprisingly sweet."
Alison has played Gen as well as directing Conjugal Rites before, and has enjoyed rediscovering her character 30 years later.
"It's really interesting re-discovering a particular character. I had to read whole swathes about the character again, like the fact that she's a lawyer, she's quite straightforward so she has a mind of her own."
She says you can only rehearse so much because audience interaction for each performance will change how they act.
"The audience brings a huge amount to it, and they do that with every single play because that's the point of live theatre is that you watch it and the rest of the audience informs the response."
Although the play is about two baby boomers Alison says it has wide audience appeal.
"There are things that I thought might've been a bit close to the bone, actually the audience is loving.
"It's just silly things like getting up out of a chair without grunting."
The former Shortland Street actor jokes that working with Mark is just terrible.
"I adore him, we trained together in 1978, and we actually haven't worked together that much because of being in different parts of the country or different parts of the world because he's been so famous.
"Mark does theatre as well as film and television, he has appeared in Mortal Engines, The Hobbit trilogy and King Kong."
Alison says as a performer, she prefers theatre but she enjoyed working on Shortland Street because of the relationships she developed with cast and crew.
"When I got used to Shortland Street, and it took a while, I really enjoyed the process and I enjoyed the team that worked around us.
"It's always about the crew that surrounds you, and so with television the thing I missed when I was not working there all the time, I did miss the crew because you get really close to them.
"With Winding Up, we couldn't do it without our stage management because they literally force us into clothes and out of clothes between scenes. If you saw the performance backstage, you would be amazed."
The Tauranga performances of Winding Up are on March 25 and 26 at the Baycourt Community and Arts Centre and Alison says it will be bitter sweet because they're finishing their tour here.
"Tauranga is really special because at Baycourt they really support the performers incredibly.
"We'll be finishing our tour there so it'll be quite sad too."
For more information visit the website.
More on SunLive...