Climbing Mauao for a dearly missed teacher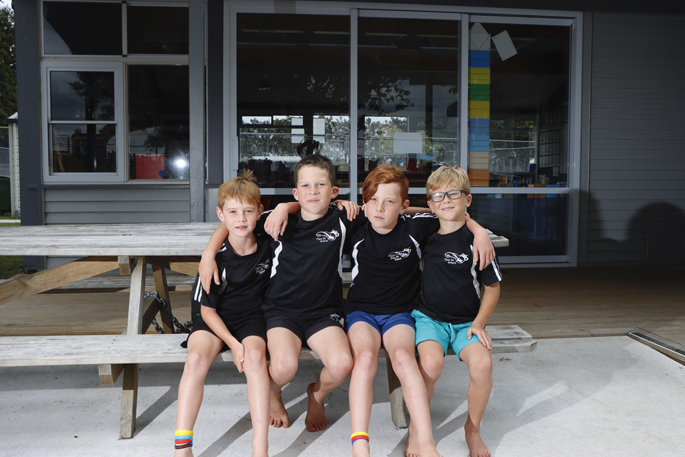 After climbing Mauao for a second time last Saturday, 10-year-old Owen McNamee wanted to do it all over again for his beloved teacher Sue Walmsley.
The Pyes Pa School teacher died following a car crash on the Tauranga Eastern Link on Wednesday, February, 5.
She was transported by the TECT Rescue Helicopter to hospital, where she later died.
Now, Owen and his school mates Kaden Carter, 7, Jackson Carter, 9, and James McNamee,7, are walking up Mauao twice consecutively every weekend to help keep Sue's memory alive.
The Pyes Pa students have made it their mission to raise as much money they can for the TECT Rescue Helicopter.
It's all part of the 2020 Mount Everest Challenge, which will see the boys climb Mauao 38 times over 50 days.
It was Sue's Walmsley 19th year working at Pyes Pa School. She held many roles there – deputy principal, junior teacher and special education needs coordinator.
"One day Mrs Walmsley was coming to school and she just didn't make it. She was my favourite teacher, and we trying to recover from the news but it's really hard," says Owen.
"We are shocked, scared and annoyed this has happened.
"We are raising money for the helicopter that rescued her, so they can rescue other people, and they won't have to die like Mrs Walmsley did."
As of Wednesday afternoon, the Pyes Pa School students have raised more than $1500 on their Givealitte page.
Whilst the boys are climbing Mauao they approach other walkers, sharing Sue's story and talking about the vital role that the rescue helicopter plays in Tauranga.
"You feel good after you have done a climb because every time you do it you raise about $50 or $60. You know you are doing something good for a good cause," says Jackson.
"But the day after you get really sore muscles," adds Owen.
Lizette McNamee, the mum of both Owen and James, says this challenge is teaching the boys a powerful lesson.
"We are doing this to teach the boys that through the sadness we can do something positive – and you can't just ignore what has happened to Sue."
She says talking about Sue during the walks has particularly helped her son Owen, who is finding it hard to process the upsetting news.
"We remember all the good things about Mrs Walmsley, and we are telling the world about how they can help."
Teachers play an important role in children's lives – next to parents they are everything, says Lizette.
"For kids, it is one of the main people in their lives. And Sue was here one day and gone the next – it was so sudden."
A larger group of Pyes Pa students and staff will be climbing the Mount on Saturday, March 21 to remember "one of their favourite teachers".
More than 40 people from the school are expected to turn out.
"Kids in other classes have wanted to join the boys. We are trying to encourage the school community to head along, and hopefully, it's a positive way to remember Sue," says Tania Carter – Kaden and Jackson's mum.
The four boys, who were all previously been taught by Sue in Room Three, agree she was the most "helpful and caring" teacher.
"If you needed help, she would always be there and if there was a problem she would listen to both sides of the story – not just one," says Owen.
"And if you got stuck in maths she would come and explain the problem to you – not just give you an easier task or tell you the answer."
Jackson says she was the type of teacher to always get you out of a tricky situation.
"She would help you when you were stuck. Just say I climbed a tree and I got stuck, she would be the one to come and help me down."
Pyes Pa School principal Blake Carlin says he commends the boys for their "thoughtfulness and compassion".
"We think it is a wonderful idea and very worthy cause that the boys are supporting through this personal challenge."
Owen, Kaden, Jackson and James are encouraging the community to join them when they climb Mauao on March 21.
The group will depart from the Mount Maunganui Surf Club Toilets at 9am that Saturday.
More on SunLive...