Fox festival raises $24k for Waihi Beach rescue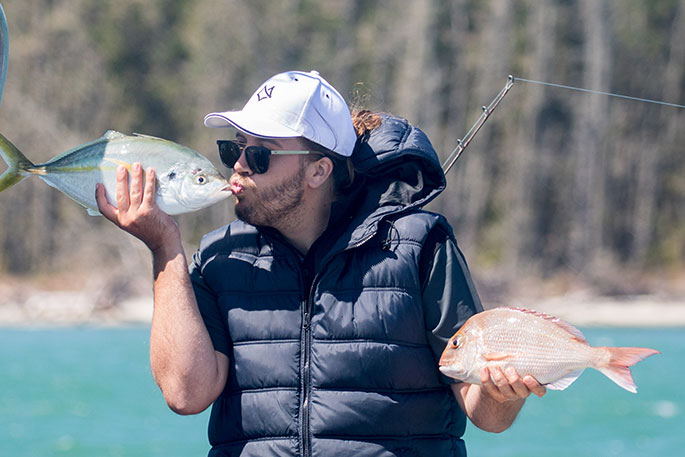 Snapper, kahawai, foxes and birdies - and two vital Waihi Beach rescue services are now $24,000 better off after a wildlife-themed sporting extravaganza.
The Fox Fishing and Golf Festival - hosted by top New Zealand professional golfer Ryan Fox - attracted 15 teams to Waihi Beach recently, joined by Fox's fellow sporting celebrities Israel Dagg, Mark Richardson and Simon van Velthooven.
It featured a day of fishing on Friday, with local skippers providing boats and expert knowledge, followed by a long-drive competition, golf tournament and charity auction on Saturday.
Fox was delighted with the success of the inaugural tournament, which raised funds for the Waihi Beach Lifeguard Service and the Waihi Beach Volunteer Coastguard.
"It's a pretty cool concept and I'm really happy to be a part of it," says Ryan Fox, the son of former All Black great Grant Fox.
"My folks have had a place down here for well over 10 years now and we've got both sides covered, with a decent golf course and some great fishing, whether it be in the harbour or further offshore, so it was a pretty good fit. The old man does a bit of work already with the surf club for their rugby day every year and it's also nice to support the Coastguard, considering all the fishing I do."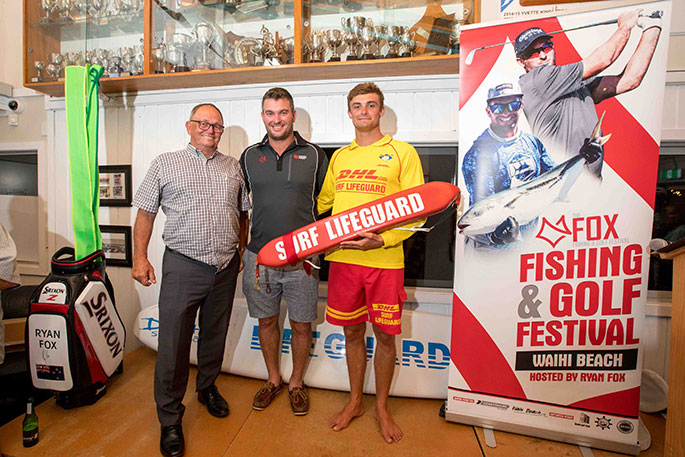 Tim Watts (Coastguard), Ryan Fox and Waihi Beach Lifeguard Service coach Ben Parker.
More than $8000 was raised by auctioning off the sporting celebrities into teams on Thursday night at the surf club. Strong winds meant Friday's fishing tournament was confined to the harbour - although Kelly Higgins' 3.394kg snapper and a host of decent kahawai and trevally proved there were still plenty of fish to be had.
Saturday's golf day dawned beautiful, with Team Expol (Terry Mischefski, Mark Mischefski, Wayne Watson and Tim Parish) taking out the ambrose format with a nett 53.4, also handing them the overall win. Flatwhite Cafe hosted the prizegiving function, which included a charity auction.
"It's my first time down here and I'm really enjoying the occasion," says former All Black fullback Dagg.
"It's a wonderful event to be a part of but we're mainly doing it for the charities involved, like the Waihi Beach Surf Lifesaving Club and the Waihi Beach Coastguard - they save a lot of lives and don't always get a lot of praise for what they do so it's great to be able to raise some money for them."
Tournament organiser, Sports Inc's Kelsen Butler, says the first year of the tournament was always an unknown.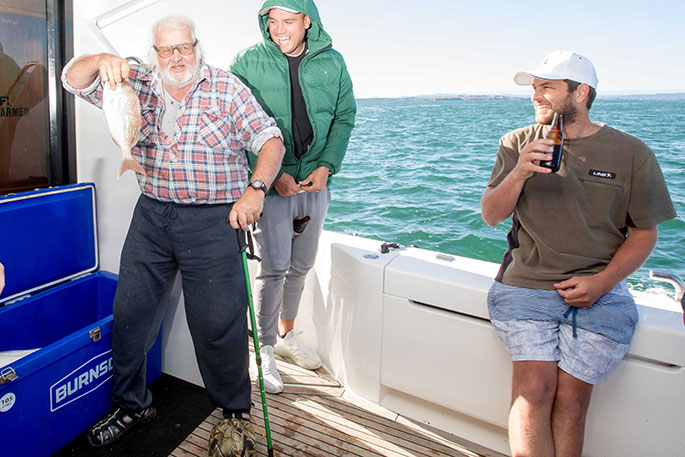 Waihi Beach fishing identity Kelly Dean holds aloft Israel Dagg's contribution to the fishing tournament.
"To get 15 teams and the support of some great sporting celebrities has made it hugely successful and paves the way for similar events in future," says Butler.
"My wife's family has had a bach at Waihi Beach for years and it's really satisfying to bring an event like this to a relatively small town, where we can make a really tangible difference to some massively deserving local organisations."
As for the future, Fox was keen, schedule-allowing, to make it a regular event.
"The initial thoughts are that it's gone really well and the community down in Waihi Beach have been really receptive to it so if we get a chance, I'd love to do it again."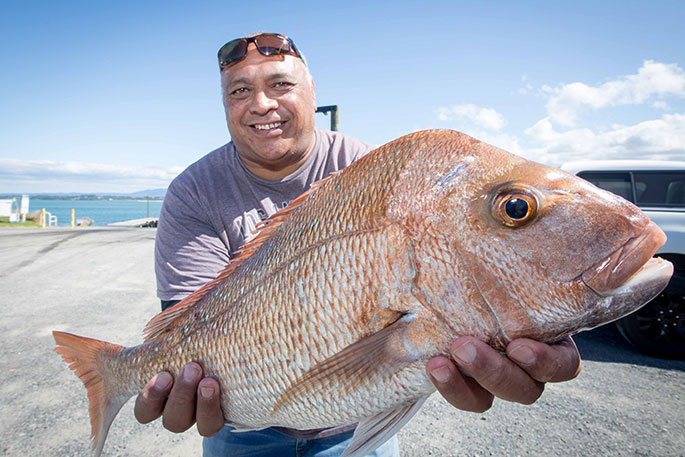 Jason Faamalefe's 3.03kg snapper just got pipped for the biggest of the day.
The Fox results:
Largest kahawai: Nigel Swain (Waihi Beach Lifeguard Service) 2.203kg.
Largest trevally: Brent Agar (3 Yanks & a Kiwi) 2.643kg.
Largest snapper: Kelly Higgins (Waihi Beach Lifeguard Service) 3.394kg.
Golf results (ambrose format): Team Expol 53.4 1, Team Aristocrat Technology 56.1 2, Team Shimano 57.2 3.
Fox Fishing & Golf Festival champions (combining fishing and golf): Team Expol (Terry Mischefski, Mark Mischefski, Wayne Watson, Tim Parish)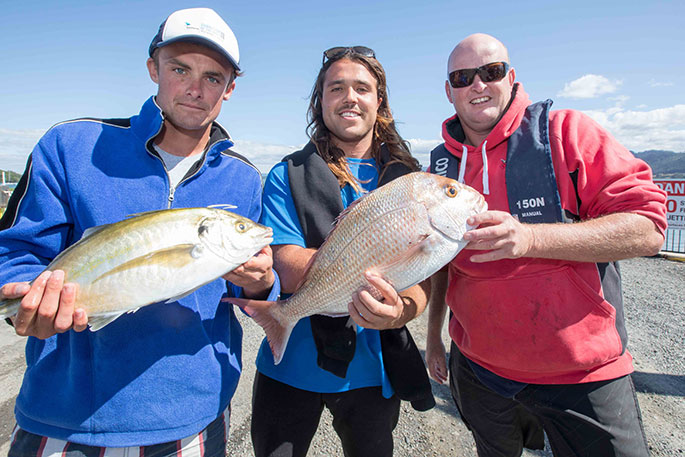 Waihi Beach Lifeguard Service team members (from left) Ben Parker, Nathaniel Palla and Kelly Higgins, with the team's prize-winning snapper (right).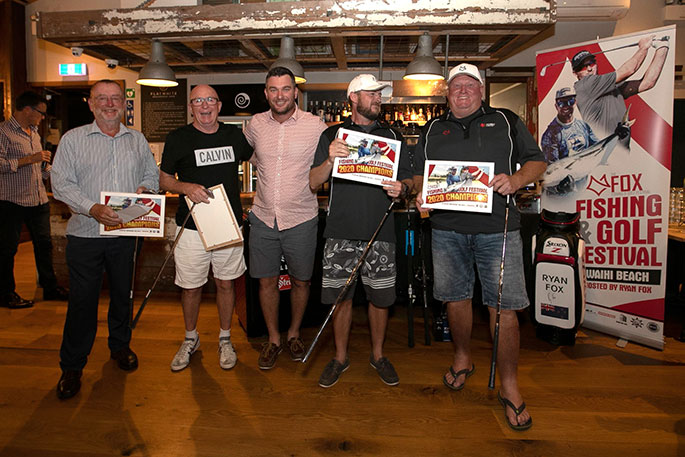 The winning team, Team Expol Terry Mischefski, Mark Mischefski, Wayne Watson and Tim Parish, with Ryan Fox.
More on SunLive...