Coronavirus: 'Stamp out' phase begins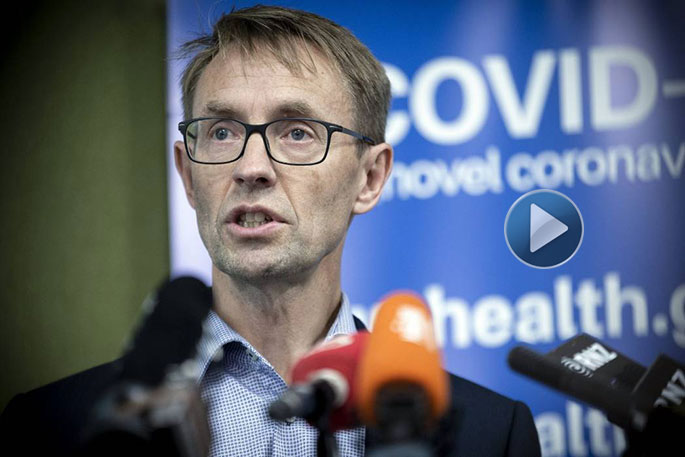 There are no new confirmed or probable cases of coronavirus in New Zealand with the Ministry of Health response now moving into a long "stamp it out and slow it down phase".
Ministry of Health director-general of health Dr Ashley Bloomfield provided the update on the novel coronavirus on Wednesday afternoon.
"For a fourth consecutive day, there are no additional confirmed or probable cases to report.
"One patient, one of our confirmed cases, was discharged home from Auckland City Hospital yesterday."
New Zealand has so far had five confirmed cases and two probable cases of the Covid-19 coronavirus.
A probable case from the Grand Princess cruise that was being treated at North Shore Hospital is also now home, says Ashley.
"Of the other confirmed cases, none are requiring hospital care at this point." All close contacts have been contacted, and are being checked on daily basis.
A prospective case in Northland returned a negative test result, says Ashley.
A person at the Tool rock concert at Auckland's Spark Arena and was tested for coronavirus can expect to find out today if they've contracted the illness.
"We will wait and see if the symptoms they have are from Covid-19."
On Wednesday, there were 28 tests being done around the country for coronavirus, he says.
WHAT YOU CAN DO
"In terms of what we can do in New Zealand ... not putting yourself or others at risk when you are unwell," says Ashley. People should not go to work if they are ill.
"All of us are probably guilty, at times, if we've got a bit of a runny nose, we go to work ... this is a time when we have to be much more strict with ourselves."
This is particularly important for large gatherings, such as the upcoming March 15 service and the Pasifika Festival.
"Please stay home if you're unwell, and watch them on TV or enjoy doing something else."
Good cough and sneeze etiquette are imperative at this time, he says.
Ashley wants to thank everyone who had gone into self-isolation. It is one of the most powerful tools available to tackle the illness, he says, noting the two most useful items to combat it were hand sanitiser and soap.
Ashley says people should not be going out with their keep-cups if they're symptomatic, referring to a report that MacDonald's had become wary of accepting reusable cups.
A message will go out to all aged-care facilities warning anyone considering visiting they should stay away if in any way ill, Bloomfield said.
The director-general of health said there were nine million respirator masks in New Zealand stocks, and he was quite confident this supply would be sufficient.
BACK TO WORK
The first of the hospital staff who were asked to self-isolate after caring for the cruise passenger who was a probable case are now returning to work, says Ahsley.
"Today, as everyday, there is a number of tests being run ... Healthline continues to take a large number of calls," he says.
The line received more than 2000 calls yesterday, double the usual number.
Healthline is also making calls.
"We've used a range of ways to reach out to those causal contacts, including Healthline," he says.
It was unusual to reach every casual contact, but evidence showed it was important to reach 80 per cent of people classified as close contacts with a case to contain the illness, he says. This had been achieved.
More on SunLive...