Mental health fears for father accused of murder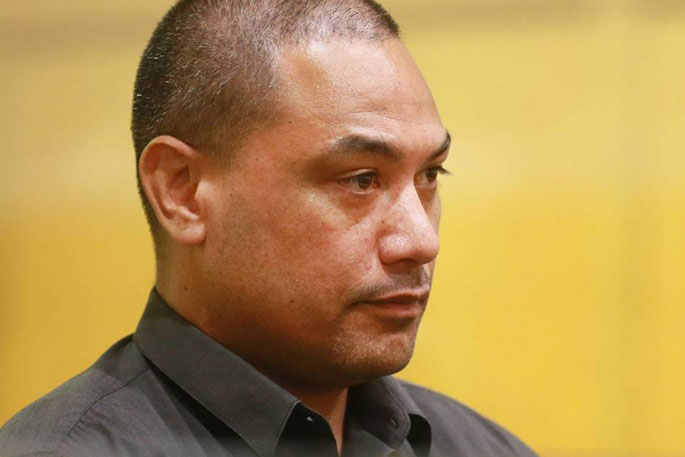 As Santana Moses drove out of Te Mahoe village on a wintry Sunday evening she looked down the road to see her estranged partner pushing their two year old daughter in a pram.
That was the last time she saw their daughter, Arnica Savage, alive.
Hours later, the girl's father Tewi Daniel Savage was found naked in blackberry bushes next to the Rangitaiki River. Further downstream, snagged amid trees, searchers found Arnica's body.
Details of those final moments were told to the jury during the second day of Savage's trial in the High Court in Hamilton on Tuesday.
Savage has pleaded not guilty to the murder of Arnica, who was found dead in the river, south of Whakatane on July 1, 2018.
The Crown allege the 34-year-old electrician was angry and frustrated over the couple's relationship break-down and had gone to the river with the intention of "ending it all".
Moses told the court on Tuesday she became concerned about Savage's state of mind prior to Arnica's death.
"I was worried about his mental health because he had the care of our children."
The couple had been in a relationship for 14 years and had five children together, ranging from one to 12 years at the time.
But in 2018, the relationship broke down and the couple separated.
On the afternoon of July 1, 2018, Moses travelled to Savage's family home in Te Mahoe, a small settlement of 25 homes, for a family meeting about the separation.
"He told the children that we both loved them," Moses told the court.
Jesus had told him to tell his children that his mother loved them, she said.
"Having the care of our kids worried me if he was unstable."
When the children went outside to play, the adults discussed Tewi's mental health. There was talk about Savage's soul, she said.
Savage's mother Te Reina spoke about an exorcism and how there was a war between the devil and God for her son's soul.
Under cross examination, defence counsel Shane Tait said this wasn't the first time Savage's mother had raised questions about his soul.
"Tewi's mum had talked to you about an exorcism to get rid of the devil from his body?" he asked.
Te Reina had said her son was stuck in the dark and needed to be pulled out," she said.
The discussion became heated when Moses mentioned wanting to move to Australia with her new partner Lewis Edmonds.
Savage got angry and began yelling, she said.
"He said I'm not perfect, I can make mistakes and I'm not afraid to hurt you."
"I told him I was being silly...I just wanted to go, get out before things escalated."
Te Reina Savage told her son to take a walk and cool off.
Arnica was running after him saying "Papa, Papa I'm coming", so Savage's mother suggested he take her with him.
"I put Arnica in the pram with her jersey and blanket on her because it was cold, to go for a walk with him. I watched them go down the driveway," Moses said.
As she drove off towards Whakatane, she looked down to see Savage pushing Arnica along. Hours later she got a call from Savage's sister.
"I started to panic. I thought Tewi had hurt himself."
Not knowing what was happening, she travelled back to Te Mahoe where she found the lights on and children in the lounge.
"I noticed only the boys were there. I asked where my baby girl was. I heard them say she was in the water."
RELATIONSHIP TURNED 'TOXIC'
Earlier Moses told the court how the couple's relationship had turned "toxic". In 2018, Moses was living in the Te Mahoe village next door to Savage's parents.
During this time the relationship became "toxic". The couple would argue over finances, housework and care of the children. Savage would become frustrated and angry, and raise his voice, she said.
A few months before Arnica's death, the couple separated and Moses moved into a self contained unit on a property the couple owned and rented out in Whakatane.
Savage seemed agitated and would pace around.
"He was quite strange. He was anxious and confused, upset. He was saying things like he wanted to earn my heart back."
Moses began a new relationship with Lewis Edmonds - a friend of the couple and three days before Arnica's death.
On the Friday night, Moses travelled to Whakatane after learning Arnica was ill and throwing up. Savage had invited Edmonds and a short time later he arrived.
"Tewi asked if we can all go into the next room and link hands and do a karakia. We all sat down and were talking about our lives."
It was a tearful night of sharing stories until 3am before the trio all went to bed.
"I woke up around 6.30am and could hear crying. Tewi burst out of the toilet in tears."
Later that weekend at the children's kapa haka practice, Savage got up and spoke about the couple's relationship and a "new path" he was on.
"He was on a path to find God's love," Moses told the court.
Under cross examination, defence counsel Shane Tait questioned Moses over Savage's newfound interest in Jesus.
"His family has always been religious," Moses said.
The trial continues.
More on SunLive...