Proving yourself as a female and as a volunteer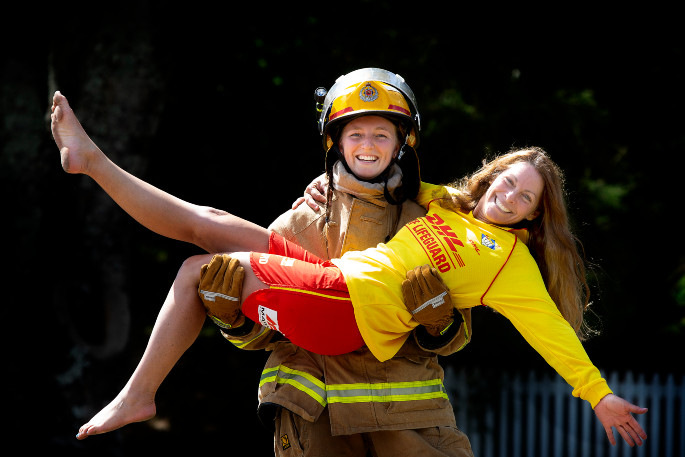 Volunteers Emmamay Sanford – a fire fighter - and Nicole Harris - a lifeguard - are going above and beyond, proving themselves and saving lives while doing so.
Emmamay says the challenge she enjoys as a female firefighter is that she has to prove herself.
"You all get trained the same and yes I'm smaller in body size but then you also have more positives. You can talk to people, kids and stuff like that. You definitely notice the guys stand back and say: 'hey you deal with it'."
Emmamay has been a volunteer firefighter for the past six and a half years and is stationed at the Papamoa Station. Being a volunteer means she responds to calls whenever she can and attends training every week.
Being able to give something back to the community is why she responds to every call she can.
"Also working alongside the guys, they're a big second family, massive support and even their families as well. I also work with children, so just seeing the tamariki interested in seeing it as a positive thing rather than a scary thing."
Nicole is a volunteer lifeguard at Mount Maunganui. As a volunteer, she patrols the beach from Labour Weekend through to April. She has been doing it for three years and gets to do it alongside her son.
Nicole enjoys being a lifeguard.
"Just the fact that you really have the potential to make a difference, like just one person's life can be totally changed for the better and all their family, it's just amazing. I get tingles even saying that."
Nicole says she doesn't quite know why she volunteers.
"I feel like it's just something that I feel I should do, but I enjoy it. New Zealand is a country of volunteers, I'm from California originally, did not volunteer as much as I do here, but I think once you start volunteering and you realise how important it is to volunteer, you don't want to stop.
"It's important to show the younger kids, men, women, whoever, that it's just so important to give back to your community."
Throughout both organisations, there are opportunities where you can move up the ranks to be paid and can explore other career paths within the organisations. Nicole has some paid roles within Surf Life Saving and Emmamay is currently waiting to hear back if she has been accepted as a senior firefighter.
VolFest 2020 is being held on Saturday, April 4, and is a celebration of giving back, learning new skills and putting your own skills to use to make a difference in our community.
It is an event where community connections, spirit and togetherness will be at the centre of the festival, the celebratory atmosphere will include food trucks galore, music and entertainment on stage, activated areas that provides fun for the whole family.
For more information, head to: www.volfest.org
More on SunLive...