Tauranga team taking on robotics world champs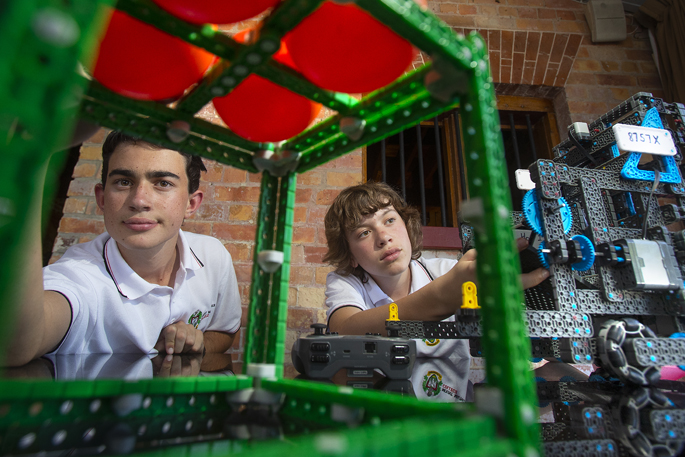 Two Tauranga teens are getting geared up to battle it out with their robot on the world stage in America.
Sam Orlser, 13, and Luca Ririnui, 13, will be heading to VEX IQ Robotics World Championships in Kentucky next month, after winning the national championships in December 2019.
They are part of the House of Tauranga robotics team and are year nine students at Mount Maunganui College.
But this trip of a lifetime will cost the boys $10,000, and they are calling on the community for support to help get them over the line.
About 1200 will compete at the international competition, with Sam and Luca set to go up against 640 teams in the middle school division.
Luca, who has been competing since he was eight, says he was over the moon when they took out the big win at nationals.
"I have never done this well at nationals. A few years ago I came 13th at nationals, but that was it."
The pair also received the Excellence Award for the best overall middle school team.
During the lead-up to the world championships, Sam and Luca are spending their afterschool and weekend time rebuilding, fine-tuning and programming their award-winning robot.
Sam says alongside competing in Kentucky, he's most excited to network and get inspiration from other competitor's robots.
"It is a once and lifetime opportunity to do something like this. Go overseas, meet all of these amazing people and see what originality they bring."
Luca's love for robotics came about when he was searching long and hard for a hobby of his own.
"I was trying to find some interests because I didn't have that many – I wasn't that into sport or the arts. And then I found this, and I was good at it. It just continued from there."
Both boys highlight the importance of learning robotics, saying that it teaches skills essential for future jobs.
Robotics helps kids get into STEAM (science, technology, engineering, art, maths) which is where the future is heading, says Luca.
"A lot of the future jobs will require these skills, and it also helps creative thinking, problem-solving – thinking outside the box and perseverance"
Sam reckons young people should start robotics early and build up a good knowledge base.
"When you get to be an adult you can have robotics behind you. It teaches a lot of good qualities that you will need later in life."
He hopes to one day work as a robotics engineer, saying it only makes sense as physics and maths are his favourite subjects.
The entry fee for the world championships is $1500. Sam and Luca's fee has been sponsored by the Wright Family Foundation.
The 2020 VEX Robotics World Championship will kick off on April 22 in Louisville, Kentucky.
Anyone interested in helping the team in their fundraising efforts can call House of Science Tauranga branch manager Pam on 022 377 3209.
More on SunLive...