Tauranga man armed to compete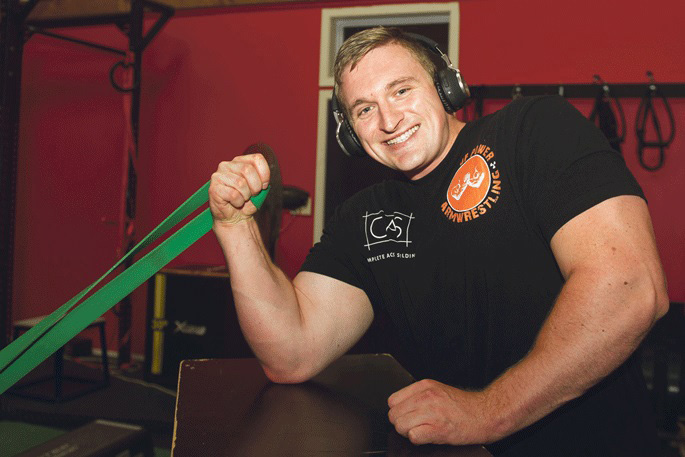 A man with "magic hands" will soon be putting their ability to the test against some of Australasia's best arm wrestlers.
Tauranga man Aron Innes is heading to Melbourne to compete at the Australian round of the Arnold Sports Festival.
The festival created by bodybuilder and actor Arnold Schwarzenegger involves a range of sports including arm wrestling, powerlifting, strongman and bodybuilding competitions.
Physio Aron has been given the nickname Magic Hands by the rugby league team he treats and is as modest about nick name as he is his achievements.
"They named me, I didn't come up with it and I've just kind of accepted it."
Aron competes using both hands and in his last competition he placed second in New Zealand with his left hand and third with his right.
To qualify for the Arnold Classic you need to place in the top three at a national competition.
It is Aron's first time competing in this competition and he hopes to meet the man himself.
"I'm very excited, I've always wanted to meet him. If I win one arm wrestling match while Arnold's watching, that's a bucket list thing kicked off.
The 108kg man is at the lower end of his heavyweight class, the current number one in New Zealand weighs in around 170kgs.
Training for the competition is almost a full time job with Aron doing two gym sessions a day seven days a week.
"I've been training hard, pretty much all year for it. I practice on the table at the Bay of Plenty Arm Wrestling Club usually once a week. I'm in the gym twice a day leading up to this competition and then sometimes I'll throw in an extra one as well.
"It's a lot of weights, a lot of dumbbells and barbells and pulleys, then practicing your techniques on the table."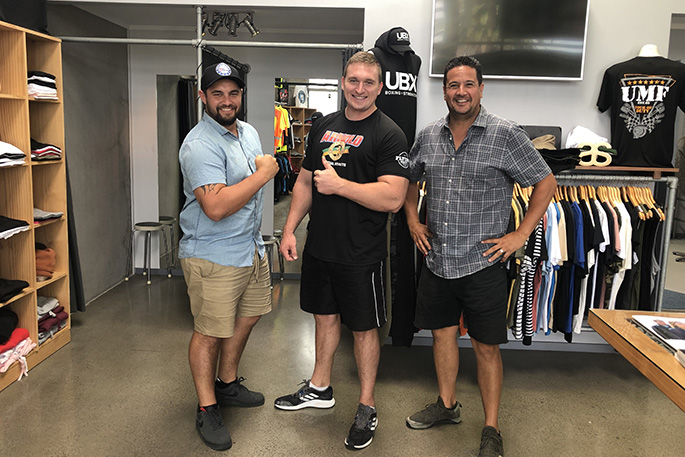 Brad Pitman from Colourworks, Aron Innes and Riki Walls from the Flying Mullet. Supplied image.
He says there is more to arm wrestling than just strength.
"It's all technique, it's leverage and technique and speed, being heavy helps and being strong helps to a point."
Aron started arm wrestling after joking with a mate, having already tried powerlifting, bodybuilding and strongman competitions.
"My mate said it as a joke in the gym. He told me that the only thing left on me not injured was my arms so I should take up arm wrestling, like Sylvester Stallone."
The 27-year-old then did some research and found there is a BOP arm wrestling club a few years ago and has been hooked ever since.
"I like that it is a skill I've never had to do before. Lifting weights is easy for me and normal, but the techniques and things are all new to me. I enjoy learning the new techniques and that not a lot of people know it's a sport."
Aron has teamed up with local business Colourworks Screen Printers and the Flying Mullet sports bar to help fundraise for his trip and raise awareness about arm wrestling.
Colourworks have printed tees for him which are available to buy at the Flying Mullet.
The sports bar will also be screening his matches on March 21 and 22.
Aron has one more week of intense training then a week of rest before he leaves for Melbourne on March 20.
More on SunLive...