Taking a walk of diversity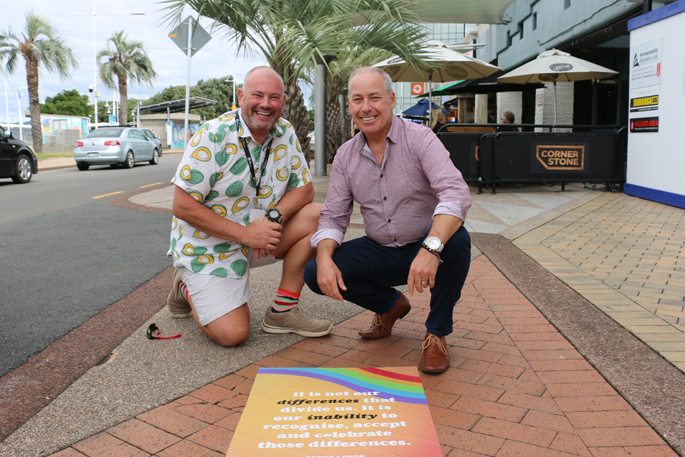 "Pride is protest, Pride is a celebration, Pride is about understanding the only thing that really matters in life is you being happy."
The words of Tauranga Moana Pride Picnic organiser Gordy Lockhart cover a brightly coloured footpath sticker in the CBD.
Gordy's sticker is accompanied by 19 others spread throughout Red Square and The Strand, all of them conveying messages celebrating diversity and unity.
The 'Walk of Diversity' installation by Mainstreet Tauranga supports Tauranga's Pride Picnic taking place this Sunday.
Efforts like this advocate for the lesbian, gay, bisexual and transgender (LGBT) community in Tauranga, says Gordy.
"We forget that being gay in New Zealand was illegal until 1986. There's still a section of society who doesn't view the LGBT community with the fondness we would hope."
Mayor Tenby Powell agrees, saying that this weekend's events will help people come together in support of diversity in Tauranga Moana.
Judgement directed towards minorities often comes from a "deep-seated" view of prejudice, he says.
"The LGBTQ community are a part of our community. We need to do our best to stop the discrimination against them and ensure they are included."
Downtown Tauranga spokesperson Sally Cooke describes the walk as a "simple and small initiative".
"Take a walk of diversity, read the quotes and think about how unity is still a big issue for us.
"If all this does is make people stop and think, then maybe it will help change the culture of our city."
Tenby says much work more needs to be done to celebrate the LGBTQ community in Tauranga.
"I look at Auckland and they painted the Sky Tower, they lit-up the Harbour Bridge – we have a long way to go here."
The Pride Picnic is kicking off on Sunday at 12pm on The Strand. For more information, visit https://www.facebook.com/taurangamoanapride
More on SunLive...