Taking his rookie win at Baypark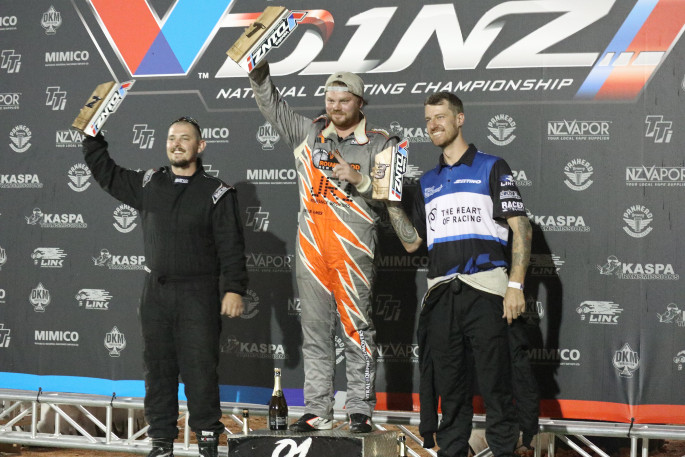 It may be his rookie season in the pro class for the Valvoline D1NZ National Drifting Championship, but Tokoroa driver Taylor James is showing he can foot it with the best.
Taylor took to the concrete at Baypark on Friday and Saturday last week competing at The NZ Vapor Summer Slam featuring the Valvoline D1NZ National Drifting Championship Round 3, alongside 21 other drivers in the same class.
He had a challenging couple of days competing – hitting a wall during one of the practice sessions, but ended up standing on top of the podium at the end of Saturday night.
Speaking to Taylor in the pits after his big win, a lot was going through his mind.
"At the start of the round, if we could qualify and maybe win a battle we'd be over the moon, then to come out on top, it's a massive buzz."
He says after hitting the wall, he knew he would get back out on the track but didn't know what the car would be like.
"It's still not 100 per cent. It's real sloppy, hard steering but managed to work."
Last year, while still in the Pro-Sport Class, he got second in the championship.
"We thought: 'should we make the step up?', but we weren't too sure. But glad we have now. This shows that we belong in the Pro Class.
"The drivers that are in this class have been doing it for years and those are the people I idolised only a year ago, so to be up with them now it's a big achievement for me."
What got him into drifting was that he used to be a 'bit of a hoon'.
"On the streets, had turbo cars and stuff like that. Then took an old Skyline I had to a drift day just to see what it was like and that's where I got the bug."
For the rest of the season Taylor says he will keep charging hard.
"I've got work to do to get the car back up, ready to go. We have four weeks between the rounds this time, so do some work, get up there and get back on it."
Coming into round three at Baypark, Tauranga drifter Cole Armstrong was leading the championship, but now coming off the win, Taylor has overtaken Cole for the lead.
Taylor says it would be huge to be able to win the class outright, especially in his rookie season.
"Everyone's goal in New Zealand is to maybe get overseas and do some drifting, but I guess winning a pro season, it might mean that's more possible, but we'll see where we come out. We'll charge hard and see what happens."
Managing director for D1NZ Brendon White says the drifting at Baypark showcased some of the best drifting to date with 10 hours broadcasted live national and internationally.
He says highlights for him is always seeing new faces come up the ranks, but also the passion and enjoyment the volunteers get out of putting on a fantastic event that requires a lot work.
"Also getting the fans to see the closest proximity of drifting in the southern hemisphere – the atmosphere at Trustpower Baypark never disappoints."
Brendon says it was fantastic to see Taylor get his first win in the pro class.
"Taylor's first year in Pro has come with a lot of respect from his older more seasoned peers and it's refreshing to see new faces step up onto the podium.
"It showcases that a small privateer team for Tokoroa can follow their dreams, that the perception of having a multi figure sponsors isn't needed to get in the ring and box with the big boys. Taylor's results in the weekend shows that anyone can achieve their goals if they stick with it."
More on SunLive...