Just like 'violent ballet'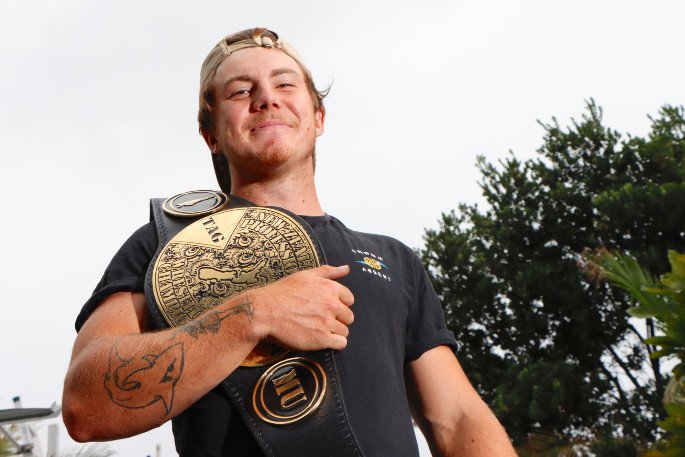 Everyone has their own sport and describes it in their own way.
Riley Houghton describes his sport of Pro-Wrestling as "violent ballet".
Riley has had a love of wrestling since a young age. He says he's loved it since the moment he first started watching it. As he grew older, he realised it was a career he wanted to pursue.
"Obviously I live in Tauranga and there's no real professional wrestling training school here, so I looked it up online and found out there was a few in Auckland. So went up there and ended up meeting Stacey [Stacey Stewart from Maniacs United], met the crew and they seemed like a great bunch of people.
"From the first day of training, I just fit right in and it was just awesome."
Riley has been part of Maniacs United for three years. Maniacs United started nine years ago and is an Auckland-based pro wrestling training school and live event provider. It started as an all-female training school, but trainer Stacey says there weren't enough women joining, so they opened it up to males.
He says the Maniacs United environment they create is the opposite of intense.
"Some occasions when we are training it is 110 per cent, very intense. We like to better ourselves every single week but in terms of when we're not training and we're doing events together, or sometimes we even all go out to dinner together and celebrate having a good show – everybody's just having a laugh and getting along so well, everyone's just like a family essentially.
"For me personally, it's all about sending the crowd home happy. They paid good money to sit there and watch all the guys and girls put on a good show and do what they do best. So I always just want to make sure they get their money's worth."
Riley says it's hard to single out just one thing that he loves about wrestling.
"Just the feeling of doing what you love and doing what you know you can do well and performing in front of a lot of people. You get to meet the kids sometimes and they're just like: 'Oh my God, you're so cool'. You're like a hero in their eyes and it's such a great feeling."
Stacey has been wrestling for the past 20 years. She says that's longer than any male or female in the whole country – an achievement she is quite proud of.
She says Tauranga has better crowds than any other live show event they put on.
"Tauranga seems to have a better crowd. I think maybe because we're not there so often so when we do come, the crowd's bigger than when we perform in Auckland," says Stacey.
"They are loud and they are energetic and the vibe is just something. It's definitely my favourite show."
Maniacs United is coming back to Tauranga on Saturday, March 28, at the Greerton Community Hall.
Stacey says fans will be able to experience three matches before intermission with a further three matches after that.
Fans will also have the opportunity to meet the wrestlers and take photos before, during intermission and after the match.
Local Tauranga wrestlers will also have matches, with Stacey saying it's cool to see the support for the hometown heroes.
Live Pro Wrestling is taking place on Saturday, March 28, at the Greerton Community Hall. Adult entry costs $20, children entry costs $12.50 with doors opening at 5.45pm. Tickets are available through Eventfinda. For more information, visit: facebook.com/Maniacs United.
More on SunLive...