Mongrel Mob defends public meeting actions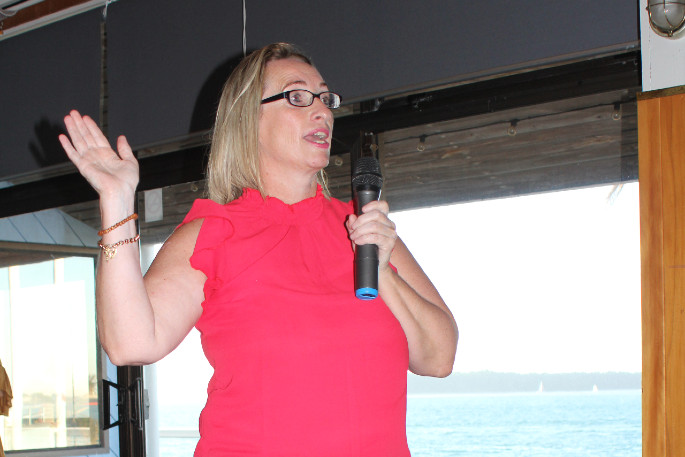 A chapter of the Mongrel Mob is defending its decision to film members of the public at a recent meeting in Tauranga.
The 'Gangs and Crime in Tauranga' public meeting at the Tauranga Yacht and Powerboat club on Thursday night, was hosted by Tauranga MP and leader of the opposition Simon Bridges.
It was in response to concerns over growing gang tensions in the area and attended by about 200 people.
Mongrel Mob Kingdom chapter public relations advisor Louise Hutchinson and several other people were seen filming at the meeting and were challenged by Simon Bridges and fellow MP Mark Mitchell.
The Weekend Sun later asked Louise if she thought the request to cease recording was a fair one.
"No, it was advertised as a public meeting," Louise says.
"You know, we're there trying to engage, trying to have our voice… that's why I attended, because our people can't get to those forums.
She had been live streaming the footage on her personal Facebook page.
"We want them [our people] to realise and to be politically astute…to understand how these politicians go about things.
"To be shut down like that just shows their attitudes and how things can be twisted and misinterpreted in an unfair way.
"You know, I understand the community's concern and their feelings, and this is about us, we're the missing voice in this, in that we can bring peace and we can bring calm."
At the meeting, Simon Bridges, asked Louise why the Mongrel Mob Kingdom chapter was growing "exponentially".
"Why is it that the methamphetamine numbers in Hamilton and the Waikato are going through the roof and continue to rise and rise?
"Why is it that your leader won't give back the illegal guns he has in the hundreds?
"Why is it that Police intelligence makes quite clear that there's still a whole lot of illegality and drugs and violence going on as a result of the chapter that you're here representing today?"
Louise said the comments about the chapter leader were "untrue and misleading" and "outright defaming".
Louise told The Weekend Sun that being told she could not film made her question what the meeting was all about.
"Was it really about the community or was it really just a politicking exercise?"
Mark Mitchell pointed out it was important that the public could freely contribute their thoughts on the gang and crime issues without feeling intimidated about doing so.
During question time following Simon Bridges' speech Louise was given the opportunity to address the meeting.
After an at-times heated exchange – and faced with several hecklers in the crowd – Louise re-joined a small group at the back of the room and obliged with the request to stop filming for the remainder of the gathering.
TVNZ aired footage of the meeting on its Breakfast show the following morning in which audience members could also clearly be identified.
More on SunLive...