Infringe at your own peril in Tauranga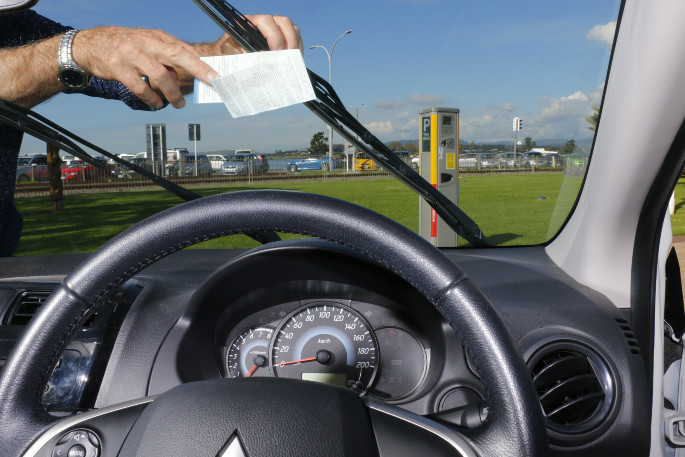 Whether we are just lazy, forgetful, plain careless or have a disregard for the law, parking infringement notices are costing Tauranga motorists a poultice.
Exactly 52,275 stationary vehicle infringement notices – read parking tickets – have been issued in Tauranga in the past three years. And they have produced revenue of $3,503,966 for the Tauranga City Council - $26.64 for every man, woman and child in the city. Parking tickets are good business.
But motorists may be getting wary, or responsible. In the 2017-18 year, 21,282 tickets were dished out, then slightly fewer, 20,148, the following year. And so far this financial year 10,845 tickets have been written.
Council revenue from those 52,275 tickets has gone from $1,572,751 in 2017-18, to $1,261,045 last financial year and to $670,170 so far this financial year.
Sam Fellows, the Tauranga City Council's environmental regulation manager, says it's worth noting the value of the tickets issued doesn't necessarily equate to the value of the tickets paid. That's because tickets are often disputed, end up in court, or weren't paid.
The top three offences over the past three years have been failing to pay for parking, overstaying a time restriction and using an unlicensed vehicle (no rego).
And there are some standard excuses put up by motorists.
"People not understanding the rules, people who didn't see the signs, or were unaware of the restrictions," says Sam.
Then there are the risk takers. The Weekend Sun spoke to a few commuters who knew parking spots where they calculated it's worth the risk of parking illegally – the attitude being some days you lose, most days you win.
But as Sam says – "we don't recommend not paying for your parking".
And there are streets and roads where meter cheats are unlikely ever to win. They are Tauranga's most notorious thoroughfares for infringement notices. Not surprisingly, number one is Cameron Road, followed by Grey Street, Elizabeth Street, Devonport Road, 1st, 2nd and 3rd Avenues, Durham Street, Strand waterfront carpark and Willow Street.
"These areas are proactively patrolled because that's where we have paid parking restrictions."
And those restrictions may be responsible for creating new behaviour.
"As the city continues to grow, we are finding commuters are parking further and further from the CBD to get free parking and then walking into work."
The bill of charges for errant parkers is set by central government, not the council. A basic overstay of an allotted parking time will cost $12, increasing in increments to $57 for an overstay of 6 hours or more, $40 for no valid parking ticket, $60 for parking on a broken yellow line, $150 for parking in a mobility space without a permit and $200 for no current rego or WOF.
But if you believe you have been unfairly ticketed, you have the right to dispute it. You can admit liability but request a court to consider the circumstances or deny liability and request a defended court hearing.
In the first instance, anyone who wants to dispute an infringement should contact the council.
To put the Tauranga ticket statistics in perspective, up the road in Auckland, more than 1.5 million parking tickets were issued in three years. Enforcers there say the reasons for illegal parking boiled down to time, convenience, opportunity or a disregard of the law.
More on SunLive...