All four paws on board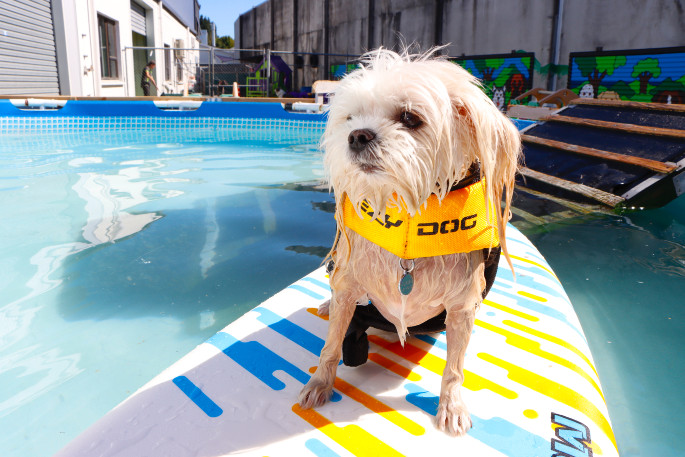 A dog is not just an 'accessory' says a local canine spa operator and their lives need to be enriched just like humans.
So a very unique event is to be held for those furry four-legged friends.
'Puppy SUP' – or Stand Up Paddling – is being held by Grange Spa Canine Resort and East Coast Paddler Aotearoa in a few weeks.
Manager of Grange Spa Canine Resort Kate Teao says they wanted to do something a bit different, so she approached East Coast Paddler Aotearoa and talked to them about doing a day for the dogs.
She says they are doing something a little bit left field because there are a lot of doggy day-cares in Tauranga and they like to been seen and encourage their customers to do stuff with their dogs.
"I think there is a gap in education of people who own dogs about doing more with their dog. I think that we're trying to encourage people not to just have dogs as accessories but to actually enrich their lives with doing stuff.
"So I think there is a need for giving people ideas about what they can do with their dogs."
During the paddle board event, the humans will learn to paddle board first before the dogs hop on.
Kate says smaller dogs are easier for people to balance on the SUP with less weight shifting, but she has seen many bigger dogs on a SUP as well.
"It's a new initiative and we don't know how well it's going to fly but we're hoping were going to get some good results. Even if we get five dogs out there on boards, that's five dogs that were sitting at home that day usually," says Kate.
Porina McLeod from East Coast Paddler Aotearoa says it's cool to team up with an organisation that deals with dogs.
"I'm looking forward to teaching more people SUP and how to get their dog on the board."
For the event on March 22, there are 15 spots available and bookings are recommended through the East Coast Paddler Aotearoa website.
There is a cost and it takes place at Fergusson Park from 11am.
More on SunLive...