Mixed results for Tauranga drifters at home round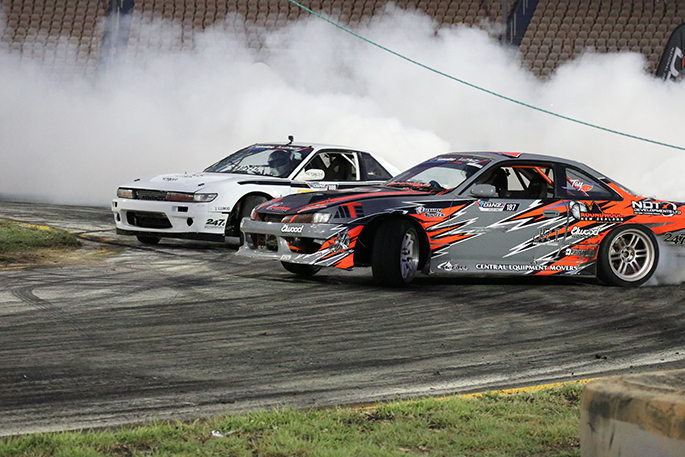 It was a mixed bag of emotions for Tauranga drifters on Saturday during their home round at Trustpower Baypark Stadium.
The drivers were competing at The NZ Vapor Summer Slam Featuring the Valvoline D1NZ National Drifting Championship Round 3 and The Kaspa Transmissions Pro-Sport Series Round 2.
Tokoroa driver Taylor James took out the win for Round 3 in the Valvoline D1NZ National Drifting Championship, with Liam Burke getting second and Darren Kelly getting third.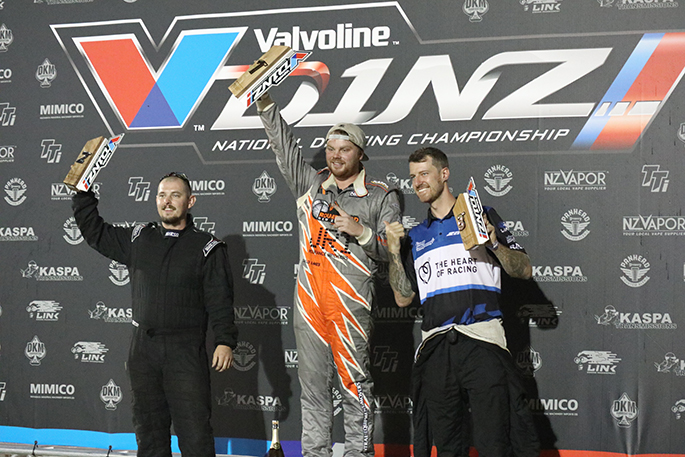 On the podium: Taylor James in first place, Liam Burke second and Darren Kelly third.
It wasn't an easy drive for Taylor by any means with him hitting the wall, causing major damage during practice on Saturday afternoon.
He says he always knew he would get back out on the race track but didn't know to what extent and how the car would be.
"It's still not 100 per cent. It's really sloppy, hard steering but [it] managed to work."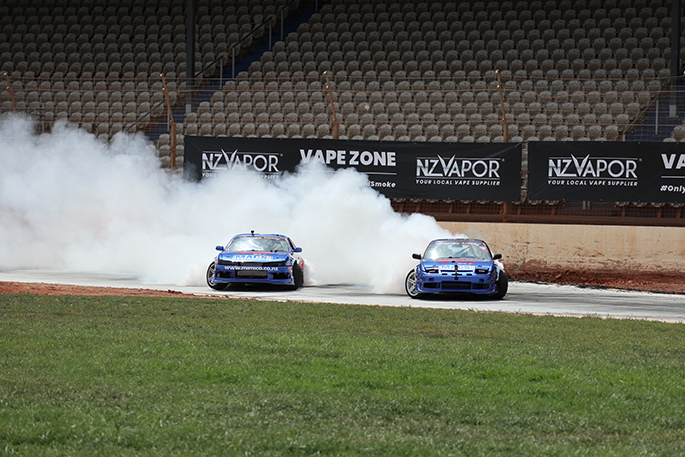 Teammates Adam Davies and Dave Steedman battling during the practice session.
Local Tauranga drivers, Dave Steedman and Adam Davies, who are members of Team DSR, weren't as lucky as Taylor, with mixed emotions coming from both of the drivers.
"Today, we started out [with] amazing practice battles. Adam and I love in-house battles. [It] was feeling really good for both of us, cars dialled, gripped up, really hooking up. [But] for me, unfortunately, we brought it in, shut it down – five, 10 minutes later went to fire it up and it made very disturbing noises," says Dave.
"We're pretty sure we've broken the crank, so that put me out for the rest of the weekend which is really gutting."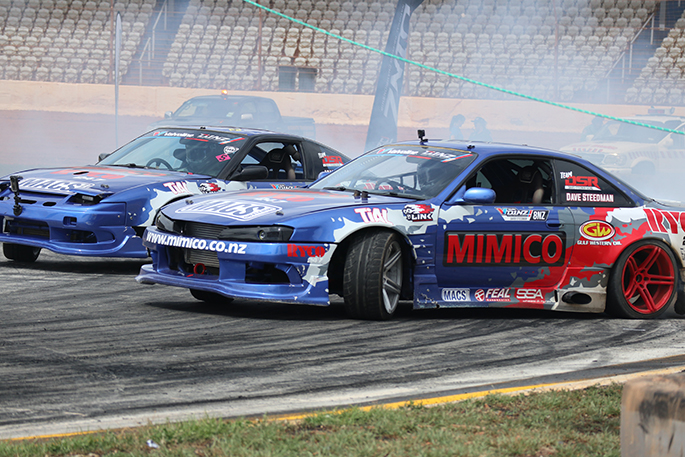 Teammates Adam Davies and Dave Steedman battling during the practice session.
For Adam, his day started out really well but unfortunately had to go back to his old car.
"I had the new car here, hoping for the best that the change we made, made the difference but unfortunately it wasn't meant to be so we went back into the old trusty car," says Adam.
He got a bye into the top 16 due to qualifying fourth. He had a battle against fellow drifter Jesse Greenslade, winning that and then was put up against Taylor James in the top eight.
"I felt like I had a really good chase against Taylor James, who obviously went on to win it but had a really good chase line with him. My lead line was a little bit scrappy, but I was pretty happy with everything in general but obviously, they handed the win to Tay.
"It's a bit of a blow and it would have been good to have been battling for third or fourth or obviously you want to be either first or second, but that's just the way it goes," says Dave.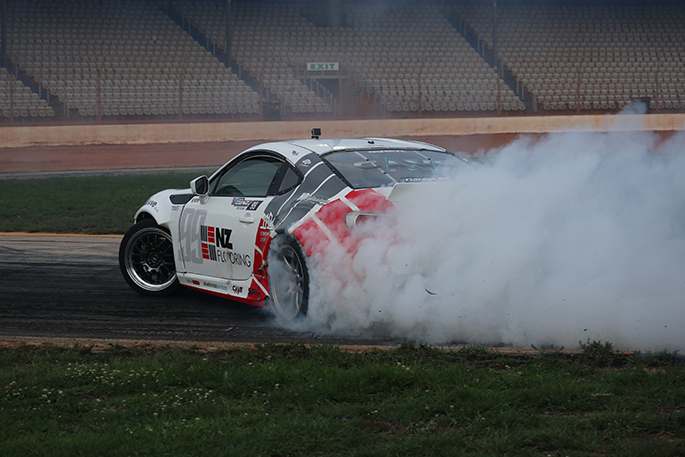 Tauranga drifter Kurt Blackie.
Another Tauranga drifter Kurt Blackie didn't make it past the top 24, but still has it feels like a win for him.
"It's been a very challenging round. We've got a very bent car. We went backwards into the wall and frontwards into the wall, the chassis is a bit tweaked, so I haven't had the best run but to just go out there even though I lost my battle, it still feels like a win to me.
"Round one we had a motor failure, round two we had gearbox failure and clutch failure, so to go out there in round three and actually do battles and actually get out there in front of a home crowd, that's a win for me," says Kurt.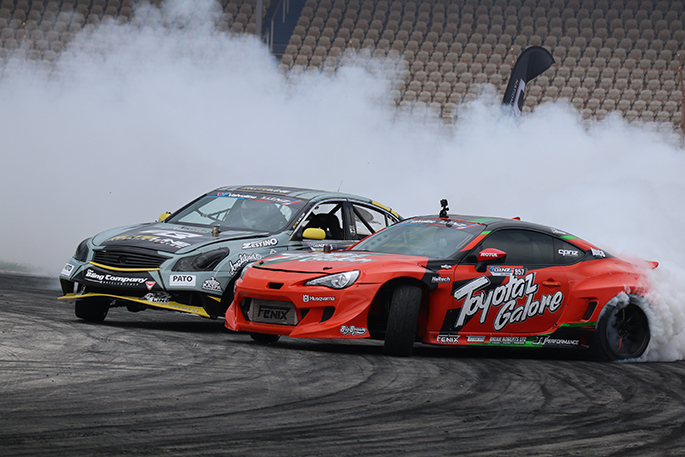 Cole Armstrong practice battling against Ben Jenkins.
A Tauranga drifter who also made it through to the top eight was Cole Armstrong. Cole was leading the championship coming into the home round but says when he came up against teammate Darren Kelly in the top eight, it was either going to win or lose.
"It's a finer detail between me and him. When we drive it's 110 per cent and we're both on each other and I know I made a few more mistakes than he did so we got pipped out in the top eight, but it's still okay. We've still got really good points and we're really happy," says Cole.
"Both cars are able to drive home after the weekend, but an absolutely awesome weekend. I'm pretty chuffed, it was really good to see had turned up to support the drifting in the Bay of Plenty."
Taylor James is now leading the championship with two more rounds to go. Cole Armstrong isn't far behind in second. Adam Davies is currently in sixth, with teammate Dave Steedman right behind in seventh, and Kurt Blackie is currently sitting in 15th.
For full race results, head to www.D1NZ.com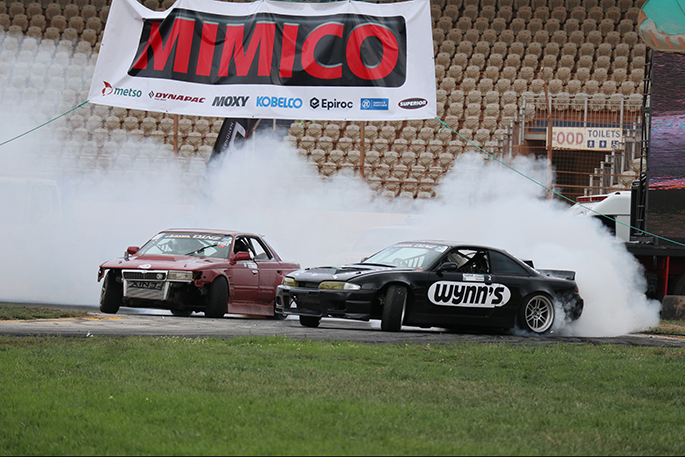 Tully Puckey and Josh Smith battling it out.
More on SunLive...