What's on - stilt walking, autos, fishing, comedy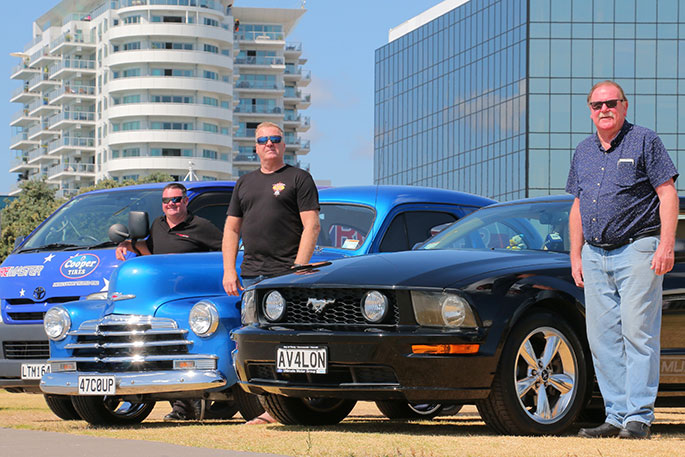 Kia ora and welcome to the first Sunday in March. Korero atu ki tetahi tauhou. Me koa te ra.
Today we are expecting a mainly fine day, with a chance of a shower out west. Southeasterlies will be dying out in the morning, and northeasterlies from the afternoon.
It's a one-layer-clothing day with an expected high of 25 degrees and an overnight low of 17 degrees. Sunset is at 7.55pm.
Remember that sun protection is required all day today even if it's cloudy, until 5.30pm. Cloudy days mask the UV risk.
Are you freedom camping? Click here for information on where you can find a camping ground.
What's on today?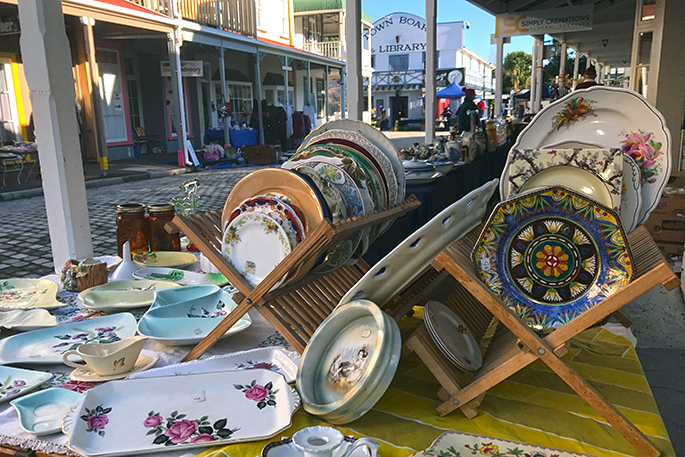 Come along to the Tauranga Historic Village Market this morning from 8am – 12pm. Check out the stalls, food, crafts, produce and enjoy a morning out with friends.
The Oceans 20 Under 14 SLSNZ National event continues today from 7am – 4pm at Mount Main beach. Oceans' has a proud history of being not only the largest junior surf life saving event in New Zealand, but the most competitive, exciting and fun.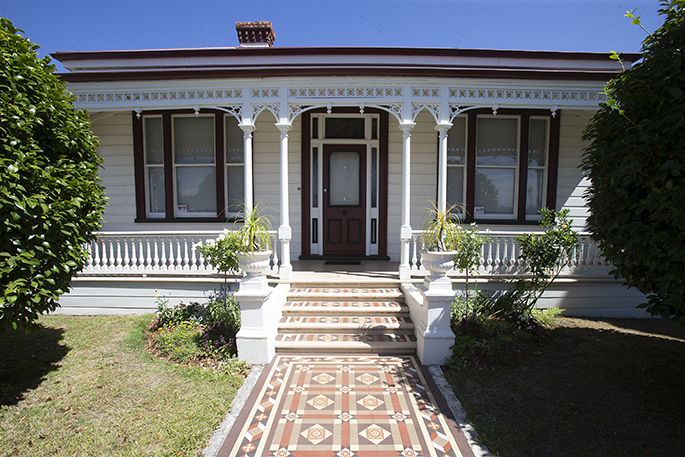 Brain Watkin House
For something a little elegant, head along to the Vintage Garden Party at Brain Watkin House from 1.30pm – 4.30pm Sunday March 1 dressed in your best frock or dashing attire. There is parking available in First Ave West behind ANZ.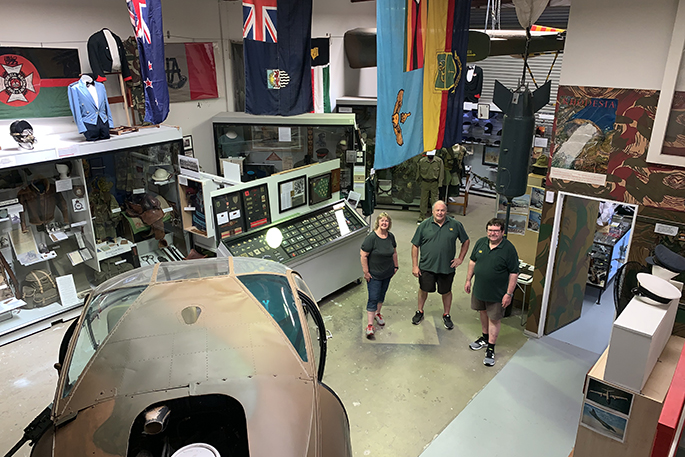 Diana Bomford, Tony Fraser and Hugh Bomford at the Lion and Tusk Museum at Mount Maunganui
Have you been to the Lion and Tusk Museum yet? It's open today from 10am - 3pm at Unit 4, 14 Portside Dr, Mount Maunganui. Come and see a massive display of Rhodesian military history records and exhibits of uniforms, medals and equipment. For more information click here.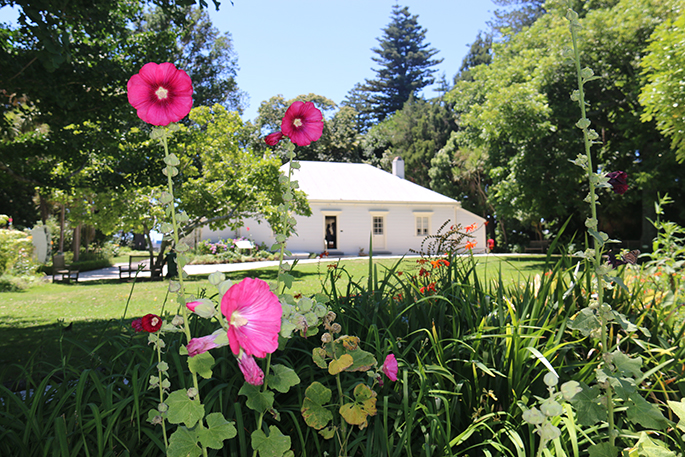 The Elms | Te Papa Tauranga, one of New Zealand's oldest heritage sites is open today from 10am – 4pm and is located in Mission St, Tauranga. Come for a guided tour. More information here.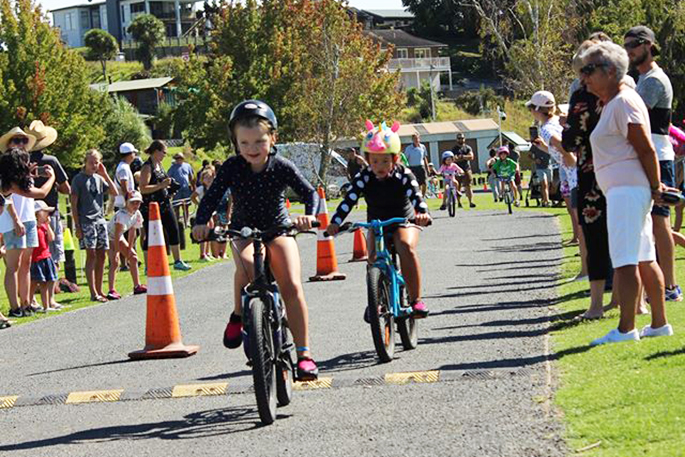 Pahoia School are holding their triathlon from 10am – 4pm at the Omokoroa Domain.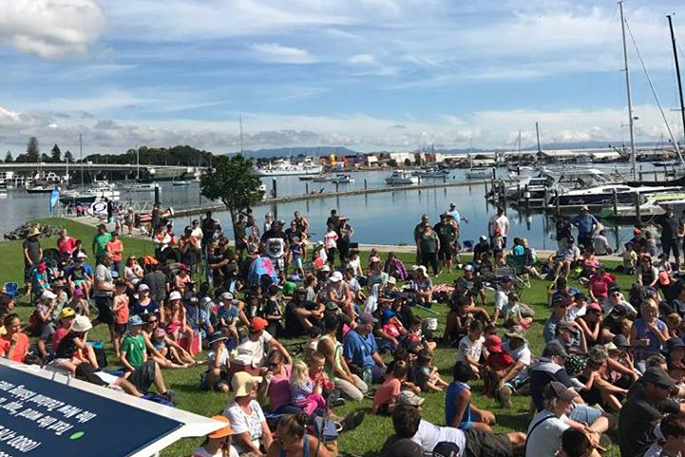 Grab the kids and your fishing rods and head on down to The Tauranga Bridge Marina between 10am-12pm for 'Kids Gone Fishin'. No registrations are needed, just come along. It's free with a free sausage sizzle, free bait, and free handlines. There will be plenty of spot prizes.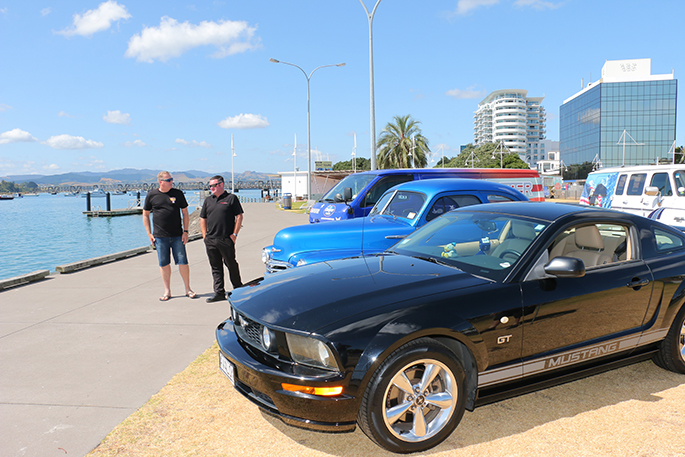 It's going to be cars, trucks and bikes galore at the 2020 Tauranga Auto Extravaganza today on The Strand in downtown Tauranga. Exhibitors will be assembling today to park up and open to the public from 10am – 2pm. Entry is $5 per person, and under 12s free, with all proceeds going to St John Tauranga. More information here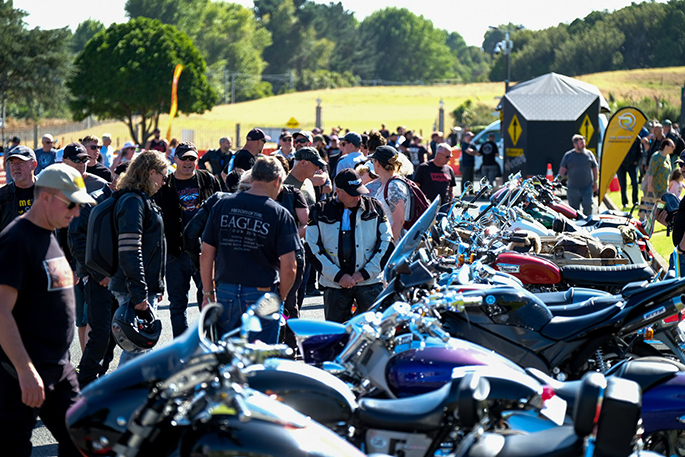 Shiny Side Up bike fest. Photo:Vanessa Rushton Photography
Do you love motorcycles? Come to the Shiny Side Up bike fest at the Classic Flyers Museum today from 10am – 4pm. The day consists of trade stands, presentations, demos and some fun experiences. This is a patch-free and alcohol-free event, for the motorbike community and fans to come today, with a competition, as well as food, and entertainment for the kids. More here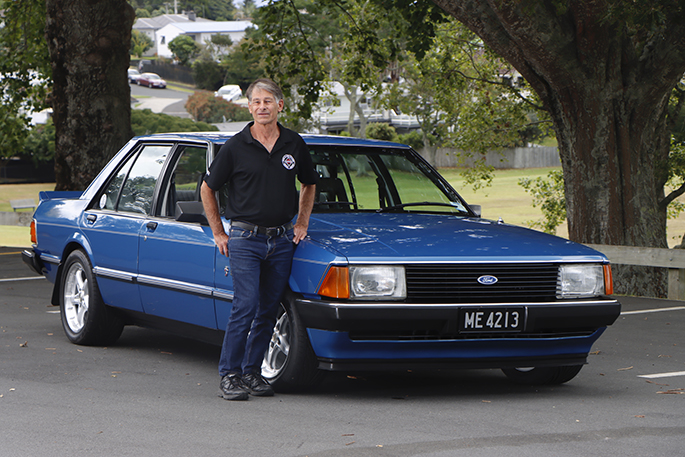 Still not had enough of cars, trucks and bikes? The 2020 All Ford Day is on today too, from 10am – 3pm at the Wharepai Domain. Gates open at 8am for exhibitors. Prize giving will be at 2.30pm. Adults $5, Under 14 year olds are free. This year includes a MS Retro Best Dressed Competition.
Join the Papamoa community to 'Fight the Baddies!' with Oscar Bisman. Oscar and his family are being forced to battle the baddies otherwise known as Acute Myeloid Leukaemia. Oscar is in his new digs at Starship for six months and it's going to be a tough time for the whole family. Help the Papamoa community take some of the pressure off the Bisman family by coming together as a community to raise some funds in the best way possible at The Pap Tav for a Sunday Session from 1pm – 6pm. Entry by donation. More here
Bay Rains are fundraising for the Australia bush fires with a concert today at The Barrel Room in Tauranga. All proceeds from the ticket sales will be donated to organisations helping those affected by the Australia bush fires. More here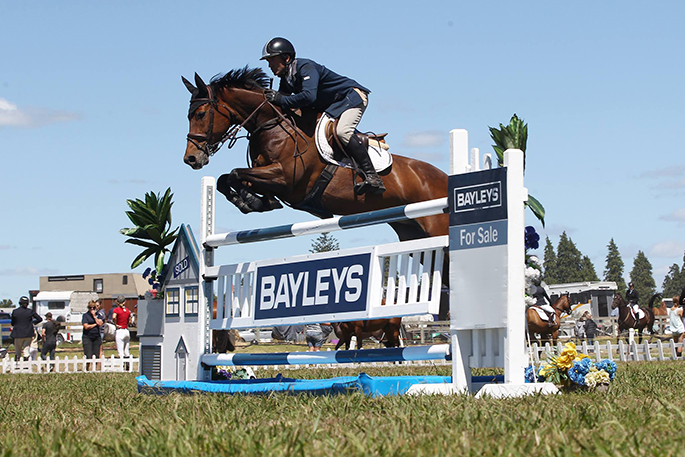 Come and watch some show jumping today at the Tauranga Racecourse.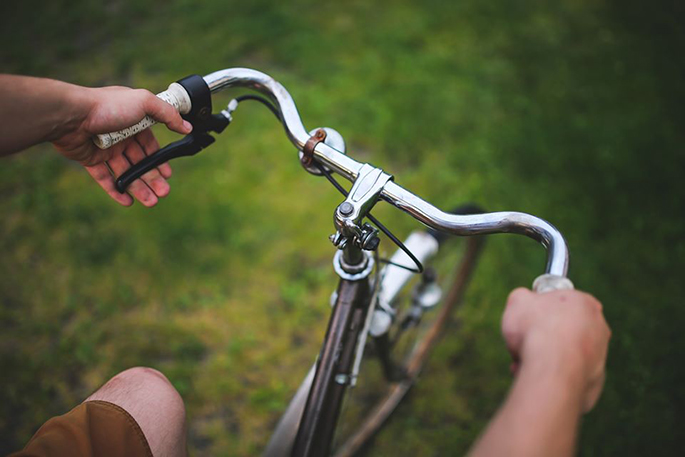 Check out the other great Bike Month 2020 events at www.sportbop.co.nz and don't forget to sign up to February's Aotearoa Bike Challenge and log your rides for your chance to win! www.lovetoride.net/bop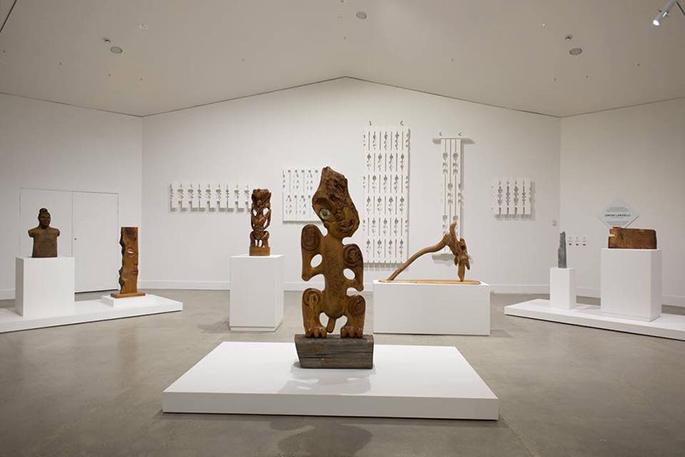 At Tauranga Art Gallery, the Matatoki: Mata a Waka exhibition is the first exhibition to open Tauranga Art Gallery Toi Tauranga's 2020 programme celebrating Mana Moana – Mana Tauranga. The Tauranga Art Gallery is open Saturday and Sunday.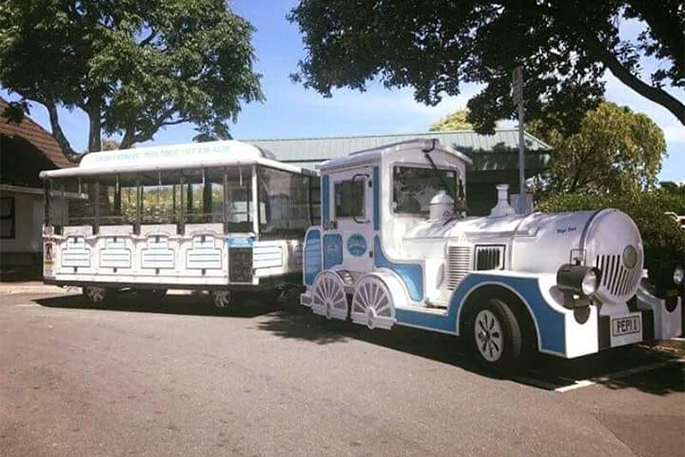 Next to Coronation Park is the Pepi Toot train which will be out about today from 10am – 2pm, leaving from Salisbury Ave outside the Spongedrop Cafe. All aboard! Toot! Toot!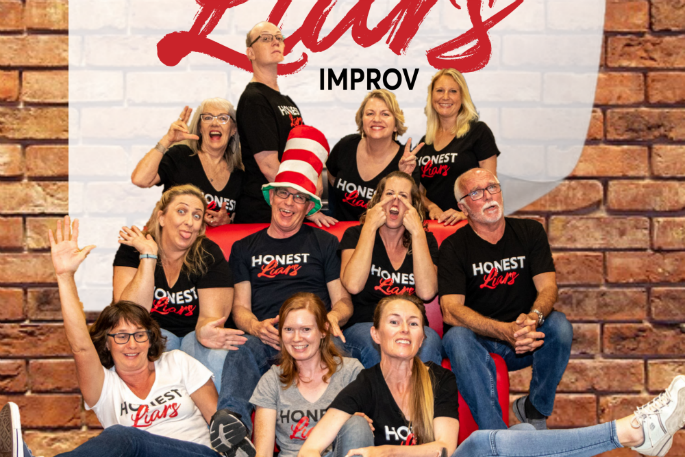 Honest Liars Improv have a performance tonight at 7pm at the Jam Factory.
For more of what's happening around the Bay:
Archery In Tauranga
Archery with Tauranga Archers, summer hours 10am-1pm. Come down to find out more Graham Park, Tauranga. Introductory classes available FB: Tauranga Archers
---
Argentine Tango In Tauranga
Starting soon 6:30pm every 3rd Sunday of month for a Free introduction to genuine Argentine Tango. No partner or experience required. FB:Tango In Tauranga
---
Athenree Homestead
Open every Sunday 12-4pm until end of March.
---
Bible Seminar
1:45pm Greerton Senior Citizen's Hall, Maitland St, Greerton. Title: Jesus the water of life. The Bible lessons explained. Interactive, Q&A. All welcome. Mary 573 5537
---
Blues Brothers Musical: Auditions
Want to audition for the world premiere of the musical The Blues Brothers: First Contact? Auditions in January 2020. Head to https://www.taurangamusicaltheatre.co.nz/shows/thebluesbrothers/ for audition info.
---
BOP Oodle Club
Fun social playdates for dogs. Meet up 1st Sunday of each month, Fergusson Park, Matua (Beach Road end). Gold coin donation appreciated.
---
Bopmpbc March Race Day
Model race boats of all classes racing at Thunder valley lake, Next to J. A. Russell Ltd on Taurikura Drive, Tauriko. Starts at 9am
---
Brain Watkins House
Open 2-4pm. Kauri historic house furnished with original owners belongings. Lived in by one family for 98 years. $5 adults, children free.
---
Choral Evensong Service
St Peter's Anglican Church, Victoria Rd, Mt. Music includes Durufle's Ubi Caritas, Cooke's Magnificat/Nunc Dimittis, Ebdon's Preces/Responses & Goss's Psalm 127. Free/koha. Monthly event.
---
Enjoy Travel, New Friends?
Friendship Force could be for you! We are home-hosted overseas & internally. Meet Sundays monthly. Ph Jonathan 572 2091, Barbara 574 5711, www.friendshipforce.org.nz
---
Golf Croquet
At Croquet Mt Maunganui, 45 Kawaka St. Tues, Thur & Sun 9:15am for 9:30am start. New players & visitors welcome. Ph Nev 575 5121
---
Historic Village Market
17th Ave, 1st & 3rd Sunday of each month, 8am-12pm, wet or fine. A Bethlehem Te Puna Lions Project. Ph Bernie Allen 021 0422 612
---
Mah Jong
Lyceum Club Rooms, 8 Palmer Pl. 12:45-4pm. Ph 027 430 6383
---
Ninja Knits Guerilla Yarnbombers
Join a group of knitters & crocheters wanting to spread fun. Share talents, ideas, projects & cake! First Sunday of month. 9am-12pm The Incubator Lounge. Ph 07 571 3232 www.theincubator.co.nz
---
Oodles & Schnauzers Meet-up
BOP Oodle Club & BOP Schnauzers meet-up for a fun playdate together! 2-3pm, Fergusson Park (Beach Road end). Gold coin donation.
---
Otumoetai Hockey Club
Muster & open training 5-6pm at Blake park turf. New & current players welcome. Senior teams available for men & women. Ph Graeme 027 452 0600
---
Outdoor Bowls
Come & try outdoor bowls every Sunday from 12:30pm. Bowls supplied, refreshments available. Ph Mike 022 340 4152
---
Pahoia School Triathlon 2020
Kids Pahoia School "Give-it-a-Go" Triathlon at 9:45am. Ages 5-13 years. $25 entry, receive t-shirt, wristband & goodie bag. Register at www.pahoia.school.nz
---
Radio Controlled Model Yachts
Sundays & Thursdays 1:30-4pm. Pond behind 22 Montego Dr Papamoa. Sailing Electron radio controlled yachts for fun. Adult beginners welcome. Graham 572 5419
---
Sunday Social Stilt Walking
Do you have your own walking stilts? Join me for fun & social evening stilt walking in Papamoa. Ph Alice 0210 642 337
---
Sunday Stitch
Join textile artist Kirsty on 1st Sunday of month. Share skills & create fabric projects. All skill levels. The Artery, Historic Village 10am-1pm. $20 incl refreshments. 07 571 3232 www.theincubator.co.nz
---
Tauranga Organ Keyboard Society
Meets 1:30pm at Carmel Country Estate Social Centre, 11 Hollister Lane, Ohauiti. Play or listen. Organ EL900 or Clavinova 405. Ph June 574 2204
---
The Sociables
A social group for new residents to Tauranga. We meet every 1st & 3rd Tuesday, 5pm-7pm at The Raft, Chapel St. Email merge.tauranga@gmail.com
More on SunLive...