Grand old lady goes back to work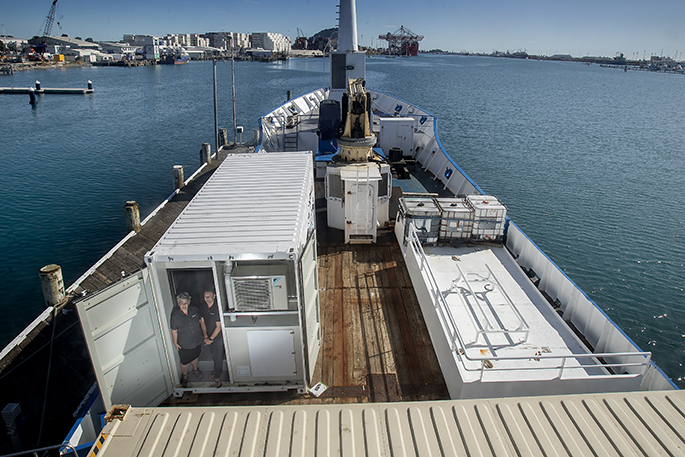 Patch day is also a pay day of sorts. A special day for everyone.
Patch day is when the Pacific Island villagers receiving cataract operations from the YWAM humanitarian medical teams take off their eye dressings and can see again.
"Powerful moments, miraculous," says Julie McLaughlin, a volunteer with the YWAM, or Youth With a Mission, Ships Aotearoa. YWAM - pronounced 'why-wham'.
And patch day is also this volunteer's pay day. "Very, very extraordinary watching someone be given their sight back."
YWAM is a Christian organisation taking primary health care to isolated communities of Pacific neighbours aboard a fleet of medical mission ships.
Julie McLaughlin is soaking up the sun on the deck of one of those ships, the MV YWAM Koha –an elegant 52-year-old, 500-tonne, 48-metre cargo vessel which is being recommissioned as a volunteer based medical aid ship at the Vessel Works refit yard on the Tauranga waterfront.
Julie McLaughlin flicks away a couple of joyful tears as she tells the story of Willy, even though she's told the story a myriad times.
"Willy had been needlessly blind with cataracts for 11 years. He came on board, waited his turn with the ophthalmologist, then had 40 minutes of surgery."
The next day was patches day. "Everyone's favourite day," says Julie. Willy's eye patches are removed.
He looks at the YWAM team and doesn't know them. They have just been voices.
"Then he recognises his nephew and returns his gaze. They embrace and start crying. So all of us were crying. It's a powerful moment because his life has been changed for the good forever."
It was also a powerful moment when the ship was gifted to the YWAM Aotearoa. In its previous incarnation it was a cargo vessel called Claymore II. Four times a year for ten years, the ship made a 14 day, 5408km journey to the remote Pitcairn Island delivering cargo and supplies.
When the contract expired, owners Nigel and Brenda Jolly of Stoney Creek Shipping gave the ship to YWAM Aotearoa. They didn't want the ship sitting idle and rusting.
Now the vessel's been refitted, repurposed and renamed. And hopefully, in May, she will be deployed to remote parts of the South Pacific, dispensing primary health care, dentistry and ophthalmic surgery and optometry services, accessing remote communities that aeroplanes can't.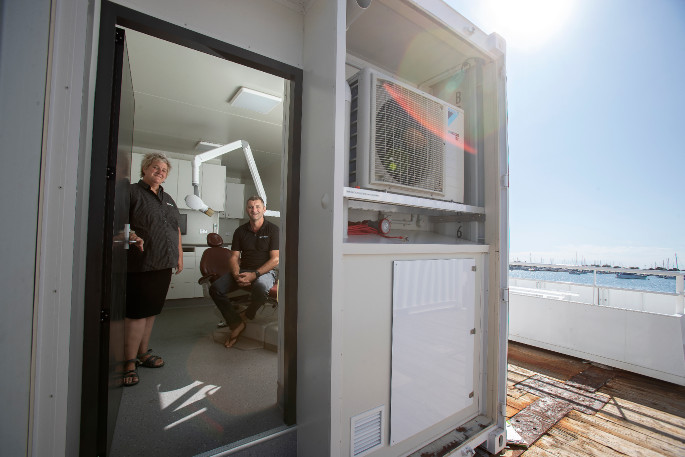 The sign-in log at top of the gang plank advises everyone that 'Jesus is aboard'.
"Well, that's the hope," says Marty Emmett, New Zealand operations manager for YWAM Ships Aotearoa. "Because if he's not, we are in a lot of trouble."
That's probably because mission ships are an expensive business. OK, the Koha was just that – koha – and all the crew are volunteers, "but it still had to go through dry dock and survey that cost hundreds of thousands of dollars," says Marty. And they still need to find $350,000 for deployment, $100,000 of that is just fuel.
The Koha has been on a promotional tour of New Zealand and on consecutive Sundays, March 8, 15 and 22 the vessel will be open to the public.
"People love to wander a ship," says Marty. "And New Zealanders are practical and appreciate being able to see, smell and touch what we do. When they come aboard, they get drawn into our mission."
Marty needs a few new volunteers to get drawn in – qualified skippers, marine engineers, deckhands, electricians, welder and plumbers. That's to look after the Koha. They also need dentists, nurses, doctors.
On the forward deck of this cargo ship is a flash, new white shipping container – windows, door and steps.
"Some friends of mine in my hometown of Whanganui got together when they heard about the ship.
"They're in the dental business and rallied businesses in the town. What they produced is a beautiful dental container."
It was designed to operate independent of the ship and can become a permanent, land-based dental clinic, just beyond the white sands and palm fringes in some isolated Pacific island location. There's a second container given by a German ministry. It could become a pharmacy.
Julie McLaughlin talks about the "quite beautiful people who live in great beauty on the islands. They would give their last coconut".
"But they are confronted with health challenges. And it's heart breaking. They are problems that are easily prevented, easily treated, but they simply don't have the resources."
YWAM Aotearoa will deliver a shipload of those resources and a whole lot of goodwill later this year.
More on SunLive...