Ahoy matey!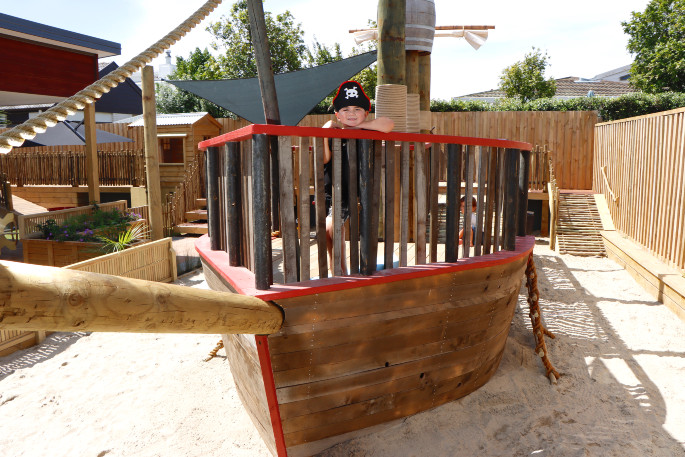 They worked on the set of 'The Lion, the Witch and the Wardrobe', then travelled to middle earth to build the Hobbiton set at Matamata and also had a hand in the Redwoods tree walk in Rotorua.
Now Ramma Construction have stamped their mark on a playground in Mount Maunganui.
"It's a pirate ship," says Rosie Crombie, managing director of the brand new Twinkle Twinkle early learning and child care centre in Maunganui Road. "And when people see it, they go: 'wow'!"
So do the children. "They love getting into the pirate role, playing the part."
Rosie says the $23,000 playground pirate ship has a lot of elements of over and under and up and around.
It has good shelter because the children can climb into this land-based galleon and there are port holes so they can interact.
"I just wanted something interesting for the children. Because you can buy a lot of boxes and things that children can climb, but they are so uninspiring. Why not have something that's a bit different, a bit fun and a bit out there.
"The children of Mount Maunganui deserve it."
And it was all themed around the beach because of Twinkle Twinkles proximity to the beach.
Her logic is that it is an investment in the children.
"If I bought a company that made widgits then my machinery would be my investment. So in this case I see the playground as my investment in the children."
Forty-five over two-year-olds attending the Twinkle Twinkle facility will be able to enjoy the pirate ship playground.
"I am sure there's nothing else like it in Tauranga," says Rosie. There's another 15 under two's attending Twinkle Twinkle.
More on SunLive...