Tauranga City Council faces funding challenge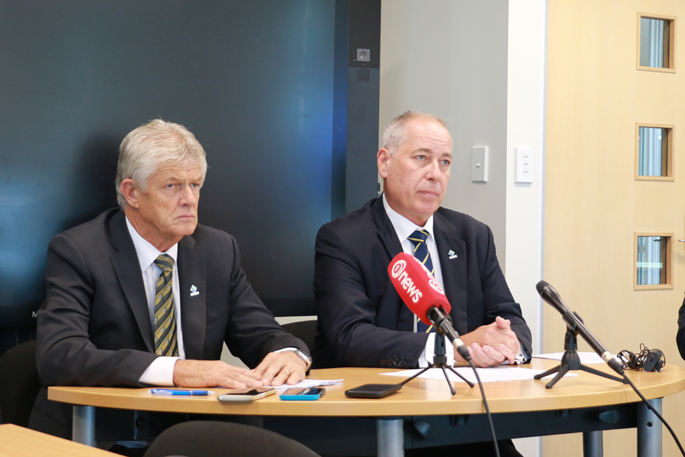 Tauranga City is quickly out growing the council's ability to fund its essential services and residents are facing a potential rates rise.
"If we do not make significant changes to our balance sheet, we will leave future generations with a city lacking housing, infrastructure and amenities," says Tauranga Mayor Tenby Powell.
"I think we've got to now acknowledge and be honest about the fact that we have infrastructure problems that are ongoing and have been ongoing for some time.
Tenby and Deputy Mayor Larry Baldock raised the issues the country's fastest growing city is facing at a media briefing this afternoon.
"Our roads are blocked, we are I think now six or seven months away from running out of green field housing development space. We are lacking housing, we have a housing crisis," says Tenby.
"The current local government funding model simply doesn't work for local authorities like Tauranga that are experiencing rapid and sustained growth.
"Our growth challenges include traffic congestion, pressures on water and wastewater infrastructure and land supply and housing issues.
"However funding an increased capital program also requires increased debt, which in turn requires increased revenue.
"Now the challenges are complex, but they are manageable - they are also not new.
"The issues Tauranga faces have been evolving for a long period of time, but we can no longer kick the can down a road full of potholes and we cannot rate our way out of this."
"We must also look at other financial avenues.
"Tauranga is not broke but we recognise that with the growth forecasts we've got, we need to do something different than that, which has been done before."
To address the need for increased revenue the council is looking at a range of options which include a potential rates rise, delaying or reprioritising some capital expenditure, developing a collaborative approach to financial sustainability with Government, regional partners and other key stakeholders and potential off balance sheet mechanisms.
The mayor and councillors will discuss these options as part of the next financial year's budget at the council policy committee meeting next Wednesday.
Tenby says previous councils should have addressed the funding issue sooner and it reflects a legacy of under-investment in Tauranga's future.
Whiles rates is only one mechanism to increase revenue Tenby says rate increases should have happened earlier.
"Rates changes should have happened some time ago and if they'd happened in a measured and managed way, we would not be in this position now."
Larry says as member of previous councils he has been a part of discussions on rates rises.
"Having been in those debates for a few of those years, if you go back and have a look it's always been a hotly contested discussion. Council has by majority, mostly decided to keep rates down instead of addressing it."
The Tauranga City Council has historically borrowed money to fund much of the city's new infrastructure. However, under its borrowing covenants, the amount of debt the council could carry was capped at 2.5 times the city's annual revenue, says Mayor Tenby Powell.
"We're saying today that we need to examine, the local government funding model, which I will say right now for high-growth councils is broken.
To give an example of how the funding model works if a home buyer had a $100,000 deposit they would only be able to buy a $250,000 home.
Councillor Steve Morris says he agrees with Tenby that they can't use rates as the only funding mechanism.
"The challenge is going to be on March 4 when we have the committee meeting whether the councillors will try and rate their way out of it or whether they'll have the courage to stand up to central government and say that the model is broken."
Tenby says "Next Wednesday, we'll need to make some key decisions to shape the draft annual plan and feed into next year's long-term plan."
Information on this year's proposed budget will be detailed in the agenda for next Wednesday's policy committee annual plan meeting.
Options for rates increases will be clearly identified and focused on the key issues facing the city, such as transport infrastructure and planning for a growing city.
The agenda will be published on the council's website by midnight tonight.
More on SunLive...