Road death - brother and witness statements clash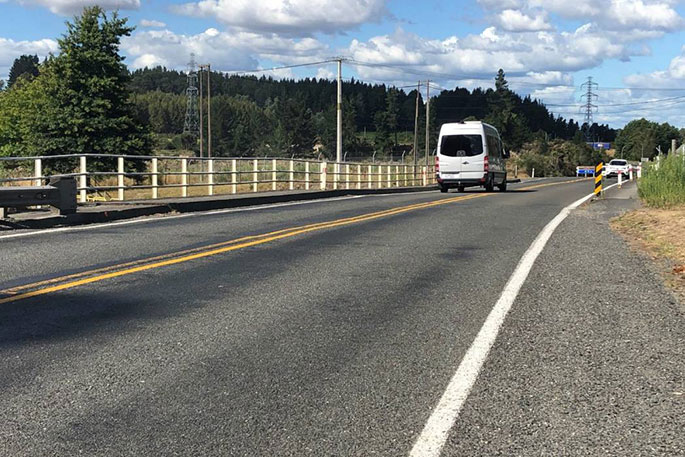 The brother of a motorcyclist who died after losing control of his bike does not agree with eye witness statements.
Ian Stephenson also believes there may be another cause of the crash that has been missed by the experts.
In March last year, Colin Stephenson, 59, was travelling from his work site next to Contact Energy on Wairakei Drive/Thermal Explorer Highway in Taupō to BP Wairakei to check his bank balance as he hadn't been paid.
This was his third trip to the BP that day, the first being at 4am and the second at his 10am break.
At his 2pm break, his co-workers remember him grabbing his helmet and heading off to the BP station.
On his way there he lost control of his motorcycle, crossed over to the wrong side of the road, hit a dirt bank and was ejected from his motorcycle and hit a parked car.
He died at the scene.
Two eye witnesses, Tewhai and Veronica Te Moana, gave their evidence at the coronial inquiry of into Colin's death on Wednesday at Taupō District Court.
Tewhai says he, his wife and their three grandchildren had a rest stop at BP Wairakei, before travelling north on the Thermal Explorer Highway.
Tewhai says as he was approaching the bridge before the bypass roundabout, he saw Colin in the south bound lane, swerving and riding the centre line.
"He was moving pretty fast, he was on the centre line swerving in and out.
"I hugged the centre line – I didn't know what he was going to do and he probably didn't know what I was going to do so I just hugged the centre line.
"I had to swerve as he came alongside the passenger side of the car and he just shot past us so quickly.
"His visor was up so I could clearly see his eyes. They still haunt me to this day."
Tewhai's wife, Veronica, looked behind them and saw Colin hit a pole so she told Tewahi to turn around.
"I'm a first responder for St John ambulance so I wanted to see if I could help. When we got there two people were doing CPR."
The Te Moanas say they were by the Wairakei Terrace car park when they noticed Colin on the bridge swerving but Ian, the motorcyclist's brother, says that is impossible due to a dip in the road before the bridge.
"I've lived on this road recently and I have photos from the point they say they were at and you can't see the bridge," says Ian.
"There's just no way [they] could see him being out of control unless he was going around a vehicle."
Ian, who is a civil engineer and a programmer, obtained a copy of CCTV footage from Wairkaei Terraces.
In inspecting it, he noticed a Mitsubishi Pajero about six seconds ahead of the Te Moana's vehicle that Stephenson says has been missed out of testimonies and evidence.
As there is a forest track on the left of the south bound lane, Ian says the Pajero turning on to that road could have been reason for Colin to swerve.
"Mr Te Moana claims he didn't see the Pajero, so how could have seen Colin on the bridge swerving?" says Ian.
"I analyse things so I put some of my skills to use here and with the timing of events, it puts the Pajero [turning] into the forest track.
"I believe this accident was caused by Colin avoiding another vehicle, that's why it looked like he was losing control. Unfortunately, the Te Moanas evidence is incorrect."
Constable Paul Wraight says speed calculations were conducted based on CCTV footage and results estimated the speed of the motorcycle to be between 92-95kmh prior to the crash in an 80kmh area.
There was no evidence of pre-impact lock tyre breaking. There were no vehicle faults or environmental issues identified that could have caused the crash and alcohol or drugs were not factors either.
He says the road surface was dry, the weather was fine, and visibility was good but disagrees with the Pajero being a factor in the crash.
"I believe the calculations had the Pajero doing 74kmh. He's not turning into the [forest road] at that speed.
"By all the evidence gathered, I believe we have a rider who has lost control."
Coroner Gordon Matenga was unable to give a ruling, saying there was an issue of credibility he needs to assess.
His decision will be available early next week.
More on SunLive...