Man's selfless decision to re-home loved pet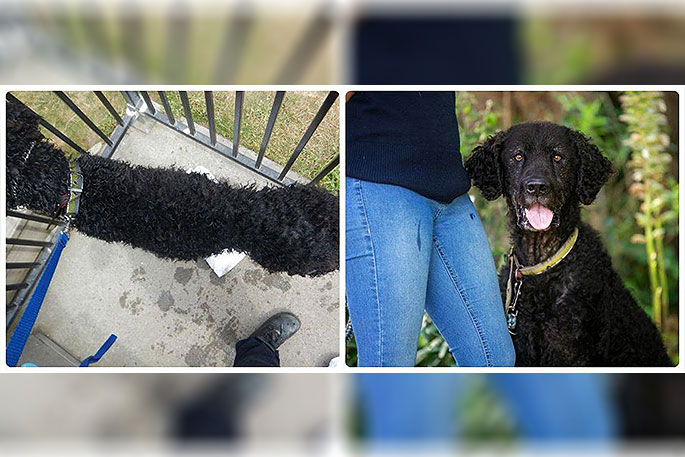 One man's decision to give-up a much-loved pet is being hailed a "selfless act".
The SPCA received a call about Mac, a 10-year-old, curly coated retriever, who had been progressively losing weight over the past few months.
"I attended the address and, down the side of the house, chained on a short choke chain, was Mac. Mac was tall and exuberant, but under his curly, matted hair I could feel his bones protruding." says a post on the Tauranga SPCA Facebook page.
The owner was an elderly man living alone named John*. He was quite gruff, and said he had owned the breed all his life.
He said Mac ate well, and showed me the food he was being fed. I asked John to take Mac to the vet and, grumbling, he agreed.
"When I went back a few days later, I found Mac chained in the same place, but this time without water. When John came out, he was unusually subdued – not the opinionated man I had met just a few days prior.
"When I asked how the vet visit went, he seemed confused. I gently told him that I was going to take Mac to the vet, and would come round to visit him tomorrow to talk."
SPCA vets found Mac was underweight, and he was also very thirsty. His coat was dirty and greasy, matted to his skin in some places.
Diagnostic testing failed to find an underlying medical reason for the weight loss, suggesting a lack of adequate food was the culprit.
"The next morning, I received a call from John's neighbour. He had found John walking around the streets, calling for Mac. The neighbour explained that John had been experiencing moments of forgetfulness which were getting progressively worse and more frequent. I let the neighbour know Mac was safe with us, and I would be round to see John shortly.
"When I got to John's, he answered his door in his slippers and invited me in. I asked if he remembered where Mac was, and he said he did now. He said he missed him, that he had had a curly coated retriever by his side his whole life.
"His favourite dog had been the one before Mac. It was the last one he and his wife had owned together before she passed away. He had a picture of them all together, which he left in my hands as we continued to talk.
"I explained to John that we had found no significant underlying medical issues, and Mac seemed in good health for his age. John was pleased but started patting the arm of a chair with his hand as he said "I think maybe I've been forgetting to feed him. I think that's why he's thin".
"John took the photo from my hands and looked at it with watery eyes. "I'm 90 years old. I don't think I can look after Mac anymore. I think he should stay with you."
Mac went on to be rehomed to a wonderful family in Whakatane.
Mac is thriving in his new home, steadily putting on weight and learning how to do the retrieving tasks his breed is named for.
"On the face of it, we had a grumpy, 'old school' owner, who wasn't feeding his dog. The reality was a very proud man who wanted to hold on to his independence, and the dogs that he had shared his life with. Mac hadn't lost weight due to any maliciousness or ignorance – John thought he was still looking after Mac well.
"I think coming to the realisation that Mac needed more than he could provide was incredibly difficult for John. I hope he knows what a selfless decision that was."
Animals like Mac need you. Make a donation to SPCA Annual Appeal at www.spca.nz/endsuffering
*name changed for anonymity
More on SunLive...