Tauranga pup beat with broom, says SPCA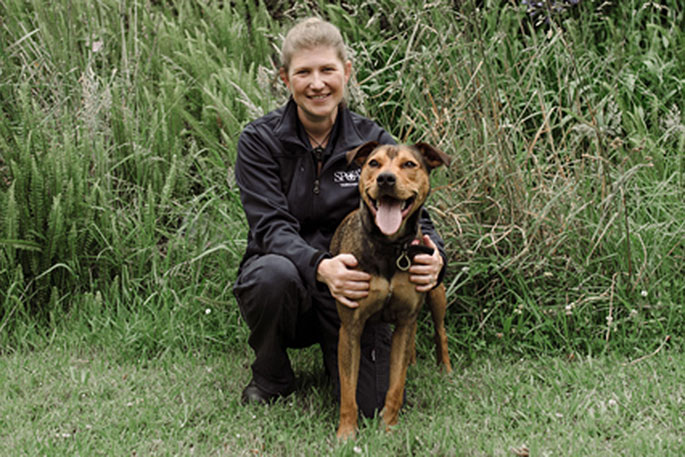 Life hasn't been easy for Tauranga dog Cooper.
When he was only a seven-month old puppy, his owner beat him for nine minutes straight. Swung him by a rope, and hit him so hard with a broom the handle snapped.
As he endured the beating, children stood by and watched.
And now Cooper's story tops the SPCA's 2020 List of Shame, which highlights the 12 worst cases of animal abuse, abandonment and neglect over the past year in New Zealand.
"Brutal and prolonged" is how the beating has been described by Tauranga SPCA animal inspector Anna Porteous who witnessed it on CCTV footage.
"The man could be seen hitting a dog with a pole, crushing it with his body and swinging by a rope.
"There seemed to be no reason for it."
The best way to remove Cooper from that situation was with a search warrant issued by the courts, Anna says.
"We got the case across the line using the footage and managed to take Cooper away from the awful situation he was in."
After being seized from his owner, Cooper ended up at the Tauranga SPCA. Cooper, was then adopted out to owners who "love and cherish" him.
More than 40,000 animals end up at SPCA centres nationwide each year, and the charity requires $43 million annually to operate.
A tremendous amount of work still needs to be done to protect our precious animals and educate the public, says SPCA's CEO Andrea Midgen.
"Every year, we release this list and every year we are confronted by the sad truth that animal abuse is still a big problem in our society."
Other cases on this year's list include a dog blinded from being thrown against a wall, an animal hoarder who kept 32 cats in squalid conditions, a neglected pony left to become lame in both front feet, a starved horse close to death and a dog stabbed by the owner's intoxicated friend.
"This year's list includes many instances of neglect and senseless violence, with owners failing to show the care and kindness their animals deserve."
More on SunLive...