Baby survives fatal crash as four die in Waikato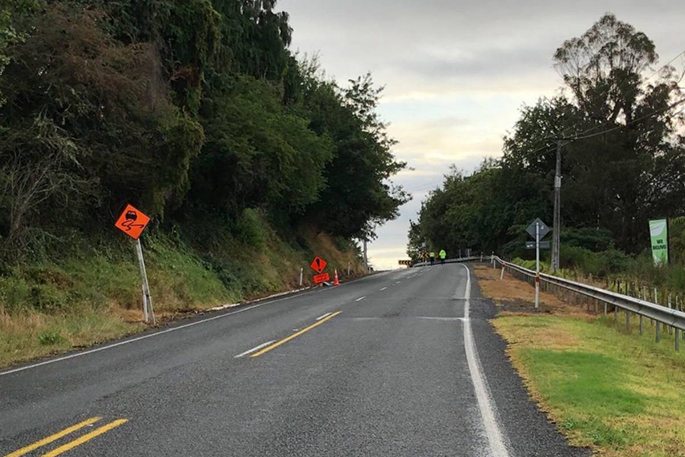 A baby has survived a horror crash which killed two adults near Cambridge on Saturday, according to a witness who was at the scene.
Gavin Collinson, who lived close to the crash site has described seeing the baby covered in what looked grease, and still in its car seat.
The crash was part of a day of terrible crashes that left four people dead in the Waikato region, and others badly hurt.
Gavin lives in Leamington, just west of Cambridge, about 500m from the scene of the crash on Cambridge Rd, between Kaipaki Rd and Matos Segedin Dr.
He heard a screech and a bang then walked up the hill to investigate.
Rounding the corner, he came upon the tragic scene, where a small logging truck and the other vehicle had collided.
Gavin believed a man and woman were the occupants of the vehicle, along with the baby.
Police confirmed around 7.15pm that two people died as a result of the crash.
The baby had been removed from the wreck and was surrounded by people who had gone to assist, Gavin said.
"The baby was in the capsule. There looked like... grease or something all over the body."
The fact the baby was awake and crying gave Gavin hope that the injuries were not serious.
Sounding shaken shortly after his arrival back home, he told Stuff that the driver of the small logging truck had minor injuries.
The crash happened on a straight section of road just after the vehicle had rounded a corner travelling uphill, while the logging truck was travelling downhill, Gavin said.
"We know it's a dangerous corner. There's always a lot of crashes there."
It was the second fatal crash in Waikato on Saturday, one of at least four serious crashes that day.
One person died and several were injured after two cars collided on Morrinsville-Tahuna Road, north of Morrinsville, about 10.30am.
About 7.15pm, police were once again deployed to a serious crash in the region, this time on State Highway 25 near Pipiroa.
At 9.15pm police confirmed that the sole occupant in the single-vehicle crash died after the car hit a power pole.
In Northland, three people have died, and a child is in a critical condition, after a single-vehicle crash on Whananaki North Road, near Whangarei earlier on Sunday morning.
A fifth occupant of the vehicle received minor injuries. Police were advised of the crash between the vehicle and a tree at about 2.13am. An investigation is underway to establish the circumstances that led to the collision.
More on SunLive...