Racing Tauranga's new manager dispels rumours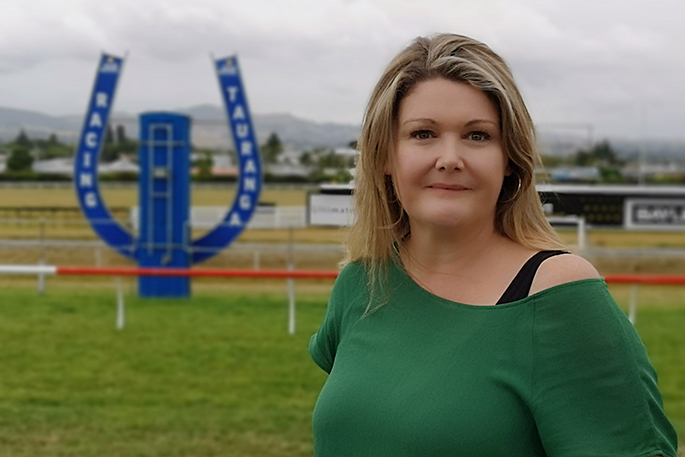 Racing Tauranga's newly appointed general manager Louise Dean says that despite rumours, Tauranga Racecourse will not be moving from its current location.
"We still have near on 20 years to run on our lease and we have no intention of moving," says Louise. "It would be a travesty if this reserve was turned into housing and it won't be happening on my watch."
Louise, who has an MBA amongst other qualifications, has had an extensive business career working at an executive level in corporates, both in Tauranga and Auckland.
"Despite the rumours, we are not moving. Tauranga needs the racecourse in its current position. It offers a wonderful green space in the city that everyone can enjoy.
"The facility is used by sports clubs and community groups. Police dog handlers train here, runners and walkers use the track for fitness, and the inner circle of the course is used regularly by equestrian groups.
"A better option would be to build a much-needed conference and event centre on the land, replacing the old stand, perhaps in joint venture with the Council."
Racing Tauranga Club Chairman Frank Vosper says the board of Racing Tauranga is very excited about Louise's appointment, as they believe she will bring a fresh approach with plenty of new and exciting ideas for the industry to move forward.
Importantly she is very passionate about the racing industry, having been involved in the club for several years and has been a previous racehorse owner.
Andrew Love, who has been in the general manager job for 18 months has chosen not to extend his fixed-term contract.
"I have achieved a lot, but the position now needs someone with a different vision and skillset to take the club to the next level, and I am not that person," says Andrew.
Andrew will, however, remain with Racing Tauranga to look after sponsorship, and the function and events centre.
In Louise's spare time, she is re-training one of Jim Pender's retired racehorses, Adriatic Pearl, for a new life off the track. Louise says that horse welfare is important to her and she recognises the industry needs to be better at sharing the stories of not only how well horses are treated during their careers, but how they lead fulfilling lives after racing.
Racing Tauranga hosts around 13 race meetings a year, with premier meetings in March, June and November as well as the hugely popular Christmas at the Races and Summer Festival series.
The Ultimate Mazda Japan Trophy Race will celebrate its 49th running next month as part of the Bayleys Race Day and the club is exploring opportunities to get more racing to the area.
The club is currently installing a new irrigation system which is intended to improve the track surface and make racing safer.
The licensed venue has a number of areas for hire with a range of rooms suiting groups of 20 to 350. The versatile location also offers plenty of outdoor space for events and on site catering.
More on SunLive...