The true meaning of love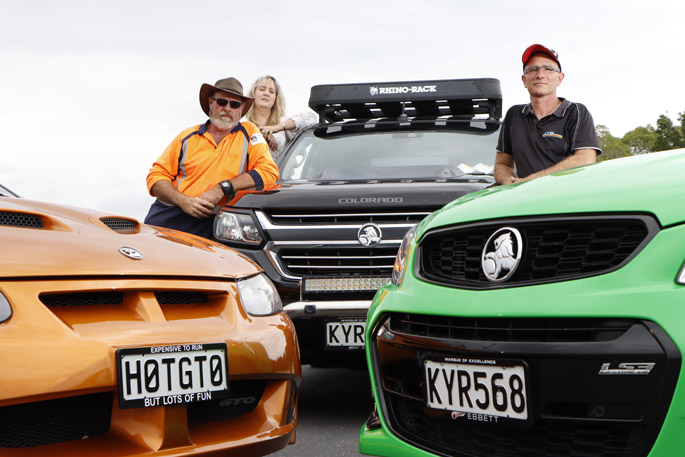 Holdens aren't cars, they're a faith.
And with that faith severely shaken this week, three Holden disciples have gathered in a cul-de-sac at the bottom of 17th Avenue with enough GM hardware to put a handsome deposit on a Tauranga house. They're preaching from the manual of Holden.
One's a big black brute of a Colorado twin cab ute - it radiates menace. It's Deb Hunt's day car. "I don't like sedans, I like trucks, Holden trucks." And the Holden Commodore VY SS V8 her loving husband bought her is at home in the garage. "
Ever driven a Holden V8 – put your foot down and it goes." She swoons and shivers with delight at the thought.
You would suspect this local Mum would rather leave rubber than have a new pair of shoes or get her hair done.
This Tauranga congregation has gathered in the wake of not-entirely-unexpected news for Holden aficionados this week. GM, the Detroit motor giant and Holden parent company, "retired" the brand and ceased design and engineering operations.
Holden's numbers simply didn't stack up. At its peak between 2002 and 2005, Holden sold more than 170,000 vehicles a year. Last year just 40,000.
Holden was at home in just two small markets – Australia and New Zealand, and accounted for less than one per cent of world sales. And we also had the audacity to demand right handed steering columns that made Holdens hard to "globalise".
But down 17th Avenue the Holden faith is unmoved. The GM announcement might mean Deb Hunt could redirect her Holden investments elsewhere.
"Yes, I could, but I won't." And perhaps with the passing of Holden, husband Chris Hunt could redirect his passion to another make. "Yes, I could. But I won't. That's not an option."
Apparently Holden fans die clasping the badge emblazoned with a lion.
Chris is leaning on a "Spitfire" green 2017 SS V Redline 6.2 litre 415 HP Holden Commodore which, in turn, is crouched on its $70,000 haunches just waiting to launch. It looks more like an inter-galactic vehicle, than a car. And Chris is reminiscing.
"I was about 10 when Dad came home in a brand new Holden panel van. It was a work wagon and Chris was never the same.
"I fell in love with it."
And like a good marriage, Chris and Holdens endured. "About the same time, the neighbours owned a Holden panel van called 'Stairway to Heaven.' It had murals all over it, crushed velvet inside and sheepskin," Chris purrs. "The whole van scene. Just a beast of a car."
What is it about Holden? "Red blood, blue blood – Holden versus Ford" explains Dan Iaccarino. "I don't mind Fords. But I would never drive one." It's like Catholics versus Protestants, Lion versus DB, rugby versus soccer. You are one or the other.
The "Spitfire" is Dan's wife's car. "You will see it round town. She drives it like she stole it."
His car is the "fusion" – a carmakers name for gold – GTO Monaro. More gold than Fort Knox. "I went to OZ to get it because I couldn't find a manual here in New Zealand."
It's the last of V8 Holdens ever made. Dan is a very proud parent.
Holdens are in his blood. He bought his first 40 years ago. "Probably picked it up watching Bathurst." That's the great 1000km race over Mount Panorama at Bathurst in South Australia. Dan is unapologetically dyed in the wool. "Hell yeah!"
Chris actually has three Holdens. "Fashion accessories, one for each hat you wear." His second is a two seater ute bought brand new in 2004. "We bought it so the kids knew when it came out of the garage they weren't coming with us."
And the third Holden is a 22-year-long project car which was meant to be ready for his 10th wedding anniversary but wasn't. And still isn't. Twenty two thousand dollars invested so far and friends tell him it should be rebuilt to the original specs. "Another 40 grand perhaps." Love doesn't come cheap for Holden fans.
RIP Holden. Or should that be "long live the Holden."
More on SunLive...