Activating Tauranga's vacant spaces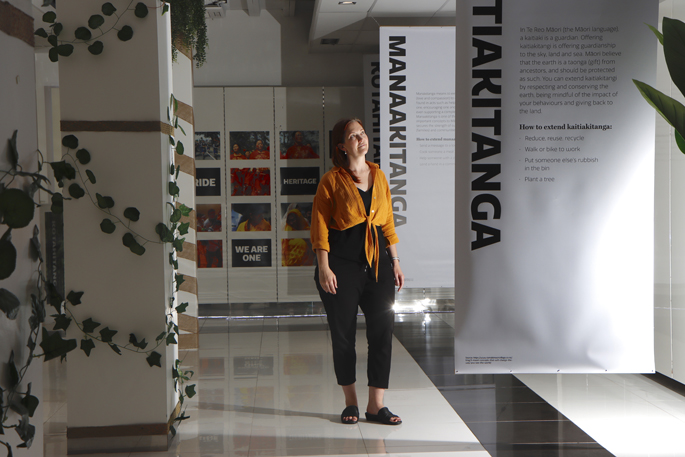 The Tauranga CBD has been slowly changing as new buildings replace old ones - yet some shops have sat empty for months or years.
A new initiative from Downtown Tauranga is aiming to change this by turning vacant spaces into vibrant places.
The activate spaces campaign matches property owners with individuals who have creative ideas for temporary projects.
The programme features installations, displays, events, interactive experiences, art, culture, heritage, music, performances, pop ups and refurbishments.
There are currently two free exhibitions and a pop up photography studio bringing life to empty shops.
The Kotahitanga Unity exhibition at 67 Devonport Road is a digital and interactive experience asking people what diversity and unity means to them.
Visitors to the exhibition will also discover the Land of Voyagers, the story of the greatest human migration of all time – the voyage of discovery undertaken over 4,000 years by Polynesian ancestors.
Another new addition to the CBD is Mr G's Kotahitanga mural on Durham Lane behind the University of Waikato Tauranga campus.
The mural is a portrait depicting Mr G and his wife Milly that, he says, speaks to the heart, word and spirit of Te Tiriti o Waitangi.
We were excited to collaborate with Mr G for the new mural in Durham Lane, says University of Waikato director of regional engagement Joseph Macfarlane.
"The new work conveys an inclusive message of kotahitanga or unity, and this message resonates with the values of the university and with the stories told in the cultural artworks and installations that adorn the campus.
"The activate spaces campaign is a great innovation to bring vibrancy to the CBD.
"It was a delight to see people move easily from a breakfast presentation at an activated space in the city last week to a conference being held at the university that same morning."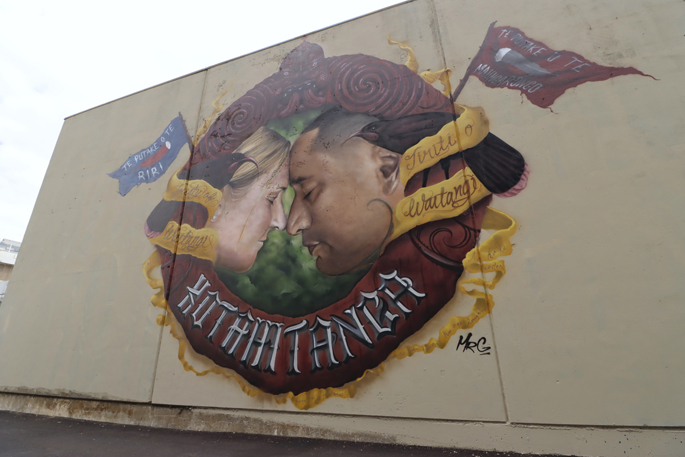 Mr G's Kotahitanga mural on Durham Lane. Image: Daniel Hines/SunLive.
Also on Devonport Road is Our Home where visitors can view more entries from the Trustpower Photographic Exhibition.
The top 20 finalists' entries are displayed in large format along The Strand and the theme of this year's competition is home.
The theme played an important role in selecting the winning images, says one of the competition's judges Jenny Rudd.
"Home seems like a fairly abstract idea but when you look at the finalists' images, there are some commonalities.
"Regardless of where home is, we all feel the same when we're there."
Downtown Tauranga has a number of events planned over the next six months and each month will encompass a new theme this month's is Home and March's theme is Shine.
Shine is about shining a light on Tauranga, on pride, diversity, on the social sector, the marine environment and on sustainability.
For more information about the exhibitions and initiative visit: www.activatevacantspaces.co.nz
More on SunLive...