Meteorlogical drought declared in Coromandel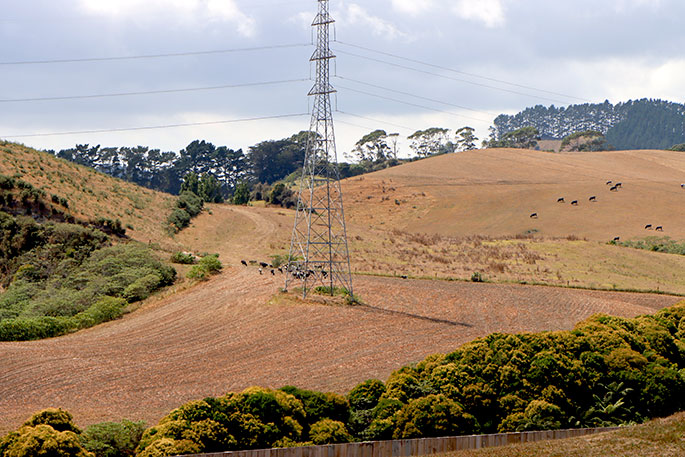 The entire Coromandel has now been declared officially in a meteorological drought.
Last week it had only been declared for the northern half of the district.
The New Zealand Drought Index (NZDI) is a climate data-based indicator which uses four commonly-used climatological drought indicators:
• Standardised Precipitation Index

• Soil Moisture Deficit

• Soil Moisture Deficit Anomaly
Potential Evapotranspiration Deficit. See more information on the NZDI here.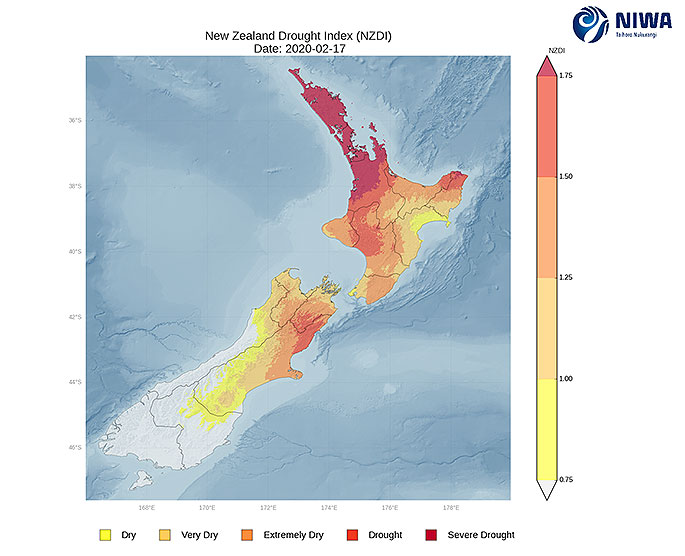 The NZ Drought Monitor is a system for keeping track of drought conditions across NZ based on a standardised climate index.
Despite the few showers the region had recently in some parts of the Coromandel, little rain is expected across the increasingly parched district over the next few weeks, heading into March.
"Conserving our district's water supply, by not using water unnecessarily, is extremely important for public health and fire safety, so we continue to ask residents and visitors to be very careful with their water use and stick with the restrictions that are in place," says Mayor Sandra Goudie.
"We would like to thank our communities for following our restrictions to date, but no matter where you are in the Coromandel, everyone has a responsibility to take care and do their bit to conserve water."
While an official meteorological drought considers the indicators (listed above),the region is now able to decrease the water restriction in Matarangi from a Sprinkler Ban to Alternate Days.
"This is because in the last week we have seen water consumption in Matarangi drop below 45 per cent of the consented limit," says a council spokesperson.
"Therefore, the sprinkler ban there can be eased to alternate days to provide some relief to residents without significantly impacting on the supply, Opitonui River. All other areas remain unchanged until further notice.
"In the longer-term, our staff are working on pulling together options about how we all work together to manage our drinking water supplies for the future. This will be part of our 2021-2031 Long Term Plan (LTP) discussions."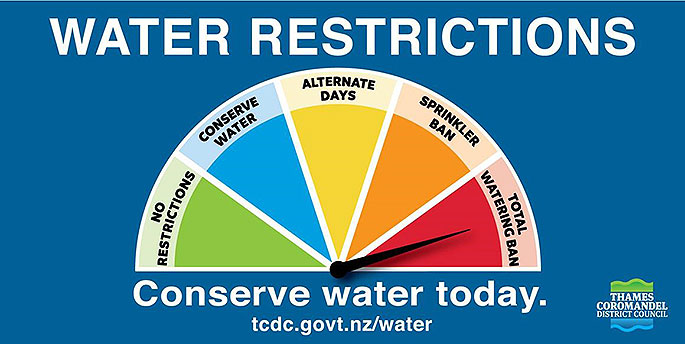 Coromandel Town, Whitianga and Hahei - Total Watering Ban: This means all use of water outside the house is banned. This includes watering lawns and gardens, washing cars, boats, houses, and decks, filling paddling pools and playing under sprinklers.
Tairua - Sprinkler Ban: A total ban on the use of all sprinkler, unattended hoses and irrigation systems. Hand-held hoses can be used on alternate days: If your address is an even number you can use your hose on even numbered days, and vice versa for odd numbered houses.
Matarangi, Pauanui and Whangamata - Alternate Days: The water supply is under pressure. Hoses, sprinklers and garden irrigation systems can only be used on alternate days. If your address is an even number you can use your hose on even-numbered days, and vice versa for odd-numbered houses.
Thames and Onemana - Conserve Water: Residents and holidaymakers are asked to keep using water carefully to ensure our supply continues.
A reminder that Thames Valley has a permanent Total Watering Ban restriction and water conservation is urgently needed in Matatoki and Puriri area as water supplies are running very low.
Matatoki is supplied by the Matatoki Stream and Puriri is supplied by the Apakura Stream. With the ongoing dry weather and with no significant rain forecast, these streams are also running very low and significant reductions in water use need to be made.
We're asking residents of Matatoki and Puriri to be very careful with their water use and abide by the permanent Total Watering Ban that is in place for all the Thames Valley rural water supplies.
For the latest information go to tcdc.govt.nz/water.
"We would love if everyone voluntarily complied with the restrictions, but we will be looking at further action where restrictions continue to be breached.
"Our staff are getting in touch with residents who are flouting the ban to remind them of the need to conserve water.
"People who continue to ignore our calls can be fined on conviction up to $20,000 for breaching our Water Supply Bylaw."
More on SunLive...