Respected BOP councillor loses cancer battle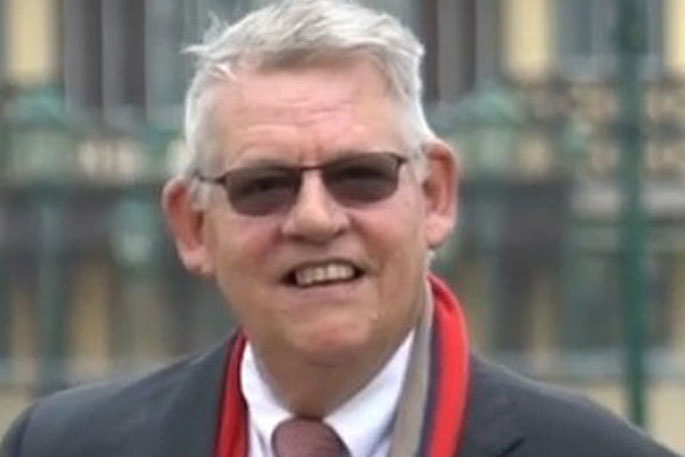 Charles Sturt, the big enchilada of Rotorua politics who fought for the battler, died this morning.
He turned 64 today.
He died peacefully at his home after a long battle with cancer, his departure publicly signalled over 12 months ago.
It ends a colourful career in Rotorua local body politics, during which he served 33 years as a councillor.
Seldom silent, meeting many challenges, Charles was never going to be top dog but he nipped at the heels of those who were. In the end, under Steve Chadwick, ambition for the mayoralty long since dissipated, Charles was happy to be best man.
Though not made deputy mayor he gained the next best thing – a committee chairmanship and the confidence of the mayor. His last two terms, minus the rancour associated with previous mayors, were relatively serendipitous.
Charles stood aside last year, a decision forced by the bowel cancer which claimed him. He fought it like a salmon.
To the end, he maintained an interest in local affairs and was unafraid to air his views on local topics close to his heart, even if some of his opinions on the fly were abrasive.
He stridently took to social media, a compensatory vehicle to his increasing immobility, when uploads of opinions to which he objected from others seemed plainly unjust.
Charles stood twice unsuccessfully for the Rotorua mayoralty ad once for central government with NZ First.
While he retained support as a councillor – rarely polling below a halfway median – Charles was a voice for his village, Ngongotaha, and the largely overlooked Mamaku.
His political antennae were acute. He was to find to his immense satisfaction his views were sought by such as National MP Todd McClay.
He won selection on Lakes DHB but by the start of 2016 he resigned, taking issue with those he thought had considered his councillor and Lakes DHB role were conflicted.
Charles fulminated against fluoride, putting him at odds with staunch views – some of legal and medical persuasion – not only on the DHB but also the council.
He won any battles, one notably with colleague Mark Gould during the 2012 Western Road sinking homes imbroglio which attracted national attention.
In fairness, however, this was in a period of his political life when he had consigned himself to opposing anything the council stood for as he and Mark opposed practically every motion put before councillors.
In his third term as mayor, Kevin Winters stripped Charles of senior positions, having removed him the previous triennial from an important link role with the regional council.
Charles refused point blank subservient bread and butter roles; publicly, it seemed because they were roles for a lesser God, not one who in previous years earned financial chairmanships and deputy chairmanships of various committees.
No one is sure why Charles and Kevin fell out, but Charles nevertheless hewed away at working for Ngongotaha, the village with the heart of an oak, where he immersed himself as a rugby coach and senior rugby referee.
To say to his final days he continued to press the point that he was a fighter, a counter-puncher. Few would disagree.
Charles once stood in Rotorua for NZ First, after earlier flirtations with the National and Labour parties. Well beaten, he was then resigned to the fact Rotorua folk wanted him at home in his community, working for his people.
In his working life, Charles started in tele communications, then as a grocer at Ngongotaha where he employed young folk, giving many their start in life. Later, he bought Dianne Dairy on a busy Rotorua corner, then Koolens Bakery on Fenton Street.
By now he had shifted digs from a lifestyle farm at Kaharoa – drawing dark mutterings he had sold there to avoid depressed prices should a proposed youth prison go ahead in the area (it didn't) – to Rotorua central.
The claims were a canard. As this correspondent discovered later, Charles could not have possibly known as he was in no position to gain from inside knowledge.
Later he entered the real estate industry. Again, because of the profile of this calling, hardly a week went by when a sale was not recognised, a voice on the council not heard. His eloquence in debate translated to the unforgiving world of real estate, at which he and his wife Denise were successful.
As the seriousness of his illness became known 2019, he received visitors from all walks.
He was agog as such as Mayor Steve Chadwick, Sir Toby and Lady Curtis, All Black Hika Reid (in whose development Charles was influential), his closest friend Robbie Moore along with battlers who had admired his work at ground level at fairs at Mamaku, Kaharoa, Hamurana and Ngongotaha came to paid their respects. Journalists were also among the retinue to pay respects.
Nearing the 'danger de mort' period of his life, Charles messaged to say how he had admired this correspondence for never breaching a confidence. I didn't have the heart to say I could not have let him down, since it appeared to me over the years he confided in the Daily Post.
He would have enjoyed that crack.
Just as he enjoyed blowing his whistle at rugby matches in his younger days, mucking in at school fairs (he was a natural on the megaphone), pulling his weight at working bees and spreading himself around the community as a trouble shooter, a confidante, a shoulder to lean on, a receptive ear.
This is the Charles his family and his community will miss. And, in a way, his terse Face Book entries with the odd, mysterious spelling, which he freely admitted was not a strong point. For some 20 years, he was a major contributor with community, local political and sports items to the Ngongotaha News, assisting his close friend Anne Henderson, the pamphlet's owner.
Few will forget his robust earnestness, his ability to scythe through verbal foliage and quickly cut to the chase.
Charles leaves his wife Denise, three children, daughter Elizabeth and sons William and Cameron, his in-law children James and Crystal and his mokos, who called him Koko, Charlie, Finley, Hunter and Henry.
More on SunLive...