Man found guilty of kidnapping and assault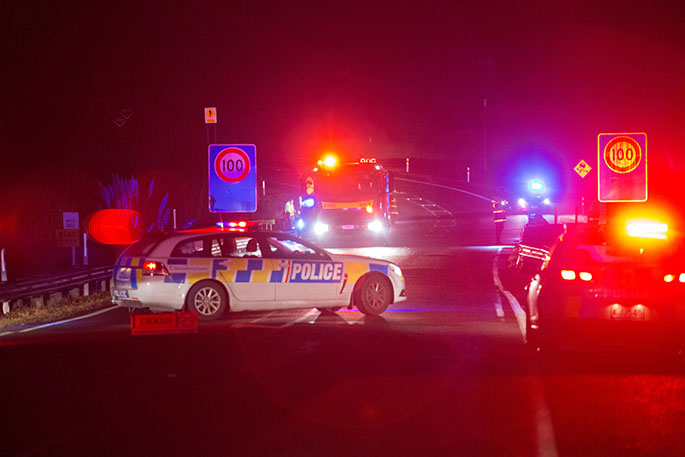 A man has been found guilty of assaulting and kidnapping his then 17-year-old girlfriend before she died in a crash on a Bay of Plenty road.
The jury took a little over two hours to find Jason Whero Anaru-Emery, 19, guilty on both charges following a week and a half trial in the High Court at Hamilton.
Anaru-Emery, from Maketu, was earlier charged with the manslaughter of Halayna Wagstaff, 17, but that charge was dismissed on Wednesday morning by Justice Sarah Katz, based on the lack of evidence.
Halayna died when the car the pair were in crashed into Waiari Bridge, and down a bank, on the outskirts of Te Puke on July 21, 2018.
The jury found Anaru-Emery had assaulted Halayna during an afternoon of drinking and smoking cannabis at his home in Paengaroa and later taken her against her will on the main street of Te Puke shortly before the car crashed.
Anaru-Emery showed little emotion when the verdicts were read out in front of a gallery of Halayna's family and his own family members.
Justice Sarah Katz stopped short of convicting Anaru-Emery at the request of defence counsel Rob Stevens, who asked no convictions be entered until sentencing.
The kidnapping would normally be a strike offence but given Anaru-Emery was 17 at the time, he is not eligible for a strike warning, the Justice Katz said.
She remanded Anaru-Emery to be sentenced in the Tauranga District Court on March 25.
In summarising the case, Justice Katz said it was the Crown's job to prove Anaru-Emery was guilty.
She urged the jury not to be influenced by sympathy or prejudice.
Did Anaru-Emery grab Halayna Wagstaff, throw her around the bedroom and onto the bed?
"Any one of these things done without consent would be assault."
When it came to the kidnapping charge, Justice Katz said the jury needed to decide whether Anaru-Emery took away or detained Halayna purposely.
For the actions to amount to kidnapping they must be more than trifling. Anaru-Emery must have known Halayna did not consent to being taken, and having regard to that Anaru-Emery's actions were unreasonable.
"Are you sure when taking away or detaining Miss Wagstaff, Anaru-Emery caused Halayna to be confined?"
'He pushed her in'
In closing Crown Solicitor Anna Pollett told the jury that a witness gave a "full and frank" account of Halayna being assaulted by Anaru-Emery at his home. Raw CCTV footage shows Halayna was detained against her will and cannot be disputed, she said.
Halayna's friend Manaia Gourlay did not get it wrong when she described Anaru-Emery as grabbing Halayna around the neck and throwing her around the room and on the bed.
"This was the start of the defendant's aggressive conduct on July 21. It is consistent with what we see the defendant do on the CCTV footage after the party."
These were actions of an angry and jealous partner, Pollett said.
"The defence may say Manaia Gourlay cannot be relied upon. She was stoned."
Although she was stoned, she gave a "frank" account and was able to recall what occurred.
CCTV footage showed Halayna was hindered in her movements - that is being detained by law, Pollett said.
"The defendant held her and dragged her from the roadside of Jellicoe Street, across the opposing lane, across the grass median and the front of Toni Billing's vehicle.
"This CCTV footage could not be clearer. What you see is a woman who stopped for the sole purpose of retreating from that vehicle."
Witnesses, who were reliable and sober, described seeing Halayna be pushed into the vehicle. She was resisting.
In closing defence counsel Andrew Dawson argued that there was no way the jury could say beyond reasonable doubt that Anaru-Emery had assaulted Halayna or kidnapped her that night.
"This is what it looks like when the Crown case falls apart. The judge has taken the most serious charge from you."
There was only one person who saw the alleged assault, he said, and she was "wrong".
What Gourlay wants to remember has been tainted by the death of her good friend later in the night. She'd drunk bourbon, had 20 cones of cannabis and later a shot and KGBs.
"You simply cannot rely on what she said.
More on SunLive...