Rotorua home to mountain bike action in March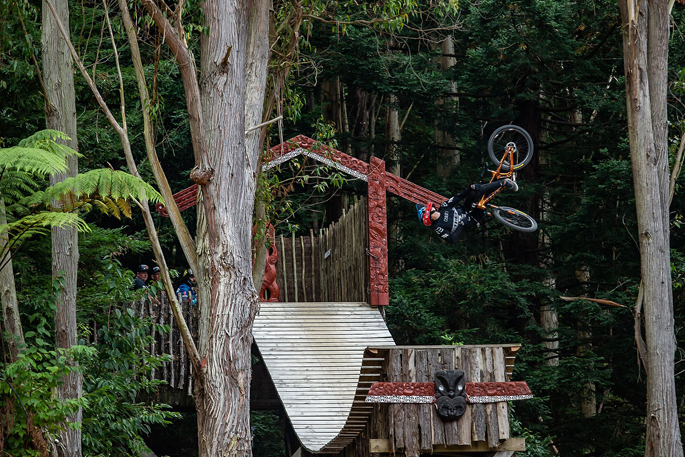 Crankworx Rotorua is back for another week of mountain bike action from March 1 to 8.
The Rotorua events will include Maxxis Slopestyle in Memory of McGazza, Rockshox Rotorua Pump Track Challenge, Mons Royale Speed & Style, Crankworx Rotorua Downhill, the Official Oceania Whip-Off Championships presented by Spank and a full line up of Kidsworx activities and events.
From Wednesday, March 4, to Sunday, March 8, the event will be held at Skyline Rotorua and will require tickets to enter.
On Saturday, March 7, the action of the highest level of slopestyle mountain biking will take flight for another season.
Fourteen of the world's top competitors are getting ready for the first contest of the Crankworx FMBA Slopestyle World Championship season.
As the pilgrimage to the Southern Hemisphere begins, the full rider list for the Maxxis Slopestyle in Memory of McGazza has been released.
The top five from the 2019 SWC standings are, Emil Johansson, Dawid Godziek, Tomas Lemoine, Torquato Testa and Erik Fedko.
These riders have earned entry into all slopestyle competitions in 2020.
Noticeably absent from the roster is the reigning slopestyle world champion, Brett Rheeder.
In recent years he has been the most decorated slopestyle athlete currently competing on the circuit, second only to Brandon Semenuk in the history of the sport.
"My decision to step away from competing for part of 2020 was tough to make but I feel good about it, in that it's a decision that will prolong my career," says Rheeder.
The 27-year-old has won seven Crankworx Slopestyle comps over the course of his career.
"Because of the level of riding we've reached in slopestyle, the athletes who consistently stand on each podium now have to dedicate everything they have to staying up there. For me, this has been the case for over 10 years and I feel that I'm at a point in my career where it's important to take a step back and give myself the time to re-focus on elements of my riding that I haven't been totally satisfied with in the past so that I can continue to achieve my goals for the future."
Rheeder still plans to return to compete at Red Bull Joyride at Crankworx Whistler 2020, as well as Red Bull Rampage.
With the Canadian removed from the roster, Johansson becomes the top ranked competitor heading into Rotorua.
"2019 was a crazy year filled with ups and down, doctor treatments and contests," says Johansson.
The 23-year-old Swede who returned to competition mid-season after a year off working through some medical issues.
He came out swinging, placing second in Innsbruck and ending his season on the highest note possible, winning Red Bull Joyride.
"I battled through it all and accomplished a few goals. With 2019 in the back all eyes are looking forward to this season. With a body that is feeling healthier than in the past I am so pumped to get this season started."
More information about the events can be found here.
More on SunLive...