Construction starts on $17M BOP road project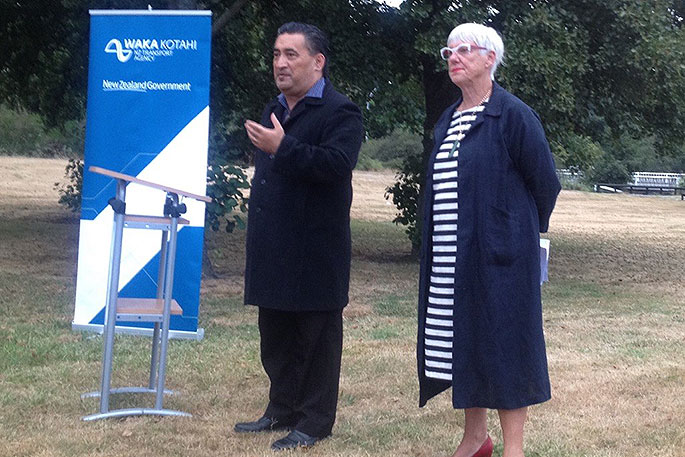 After years of controversy, the first sod has been turned on the $17 million Te Ngae Road project in the Bay of Plenty.
At the Whakarewarewa Rugby club rooms at dawn today, the first stage of Rotorua's eastern arterial route was launched as four locals, shovel blades possibly blunted by the rock solid turf, chiselled out clumps of earth.
Later today, much heavier machinery is expected to replace manpower as the sharp end of the project over 3kms of highway, between Rotorua city and Rotorua airport, begins.
The launch was beneath battleship gray skies, perhaps symbolic of many years of negotiation to find a suitable route to ease traffic congestion on Rotorua's densely populated east side.
The area too has come under more pressure in recent years with the installation of tourism sites.
The infrastructure - acknowledged by all as necessary - was not with controversy as all parties to years of negotiations to the physical and wairua impositions nutted out their concerns. Principally those concerns involved burial and ceremonial areas intrinsic to the history of hapu.
The launch is regarded as "incremental".
The morning opened with a Karakia.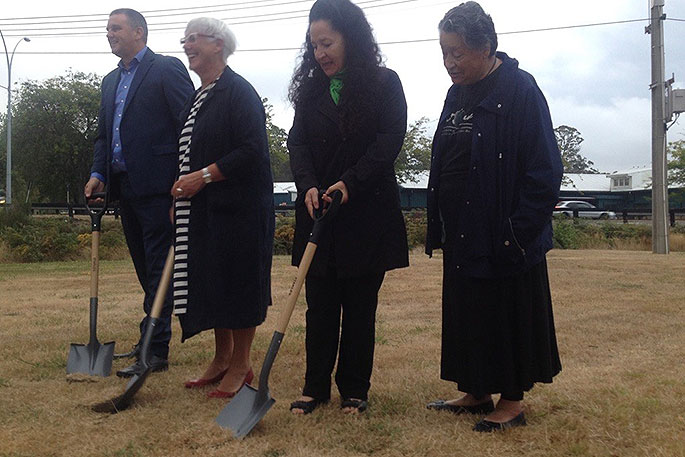 Cripes, she's hard yakker NZTA's Ross I'ason, Rotorua Mayor Steve Chadwick, and kuia Veronica Butterworth and Minnie Vercoe seem to agree at today's eastern arterial launch in Rotorua.
It represented the first phase of roading realignment to Te Ngae Road to Rotorua airport some 5kms north on Rotorua's eastside.
The Eastern Corridor stage 1 is the first phase of a multi-million dollar project.
Various tangata whenua and stakeholders were acknowledged in opening gambits.
When finished the corridor will be safer for traffic one of the speakers said.
Access routes will change, with safer lanes for motor and cycling traffic.
It is also designed to get people out of their cars to opt for alternative transport.
Rotorua Mayor Steve Chadwick says the work to reach this stage has been challenging.
"It's been a really long journey to get to this stage - it's such a relief to get it underway."
Steve also commented on the impact on the lives of locals over the next 18 months of road works which may prove disruptive.
"It's so important for us to connect with the wider community; it's not just about us," Steve says.
The improvements will support Rotorua's economic growth and will address some of the challenges ahead.
"It's about strong communities and how we bisect so that we will not interrupt the people of the land."
There was a lot more involved to reach this stage.
A site blessing, upon which the first sod was turned, was held.
The project, from Sala Street to Iles Road, includes the upgrade of the Tarawera roundabout to a signalised intersection, operated by traffic lights, as well as improvements to the SH30/Sala Street intersection.
It also includes four-laning a section of the highway between Allen Mills and Iles roads, 3.5km of new shared paths, undergrounding the overhead powerlines, and installing new watermains on behalf of Council.
Transport Agency Acting Director Regional Relationships, Ross I'Anson, says the project will help make people's daily journeys through Rotorua safer, and more enjoyable.
"Key intersections along this corridor will be much safer and easier to navigate, and more convenient routes for people on bikes and on foot will help encourage people to get out of their cars and onto alternative modes of transport.
"This project is also creating new recreational opportunities for people of all ages and abilities and building connections into other parts of Rotorua.
"We're pleased to be working with our partners and with iwi to provide our communities with a safer, better, more sustainable transport network."
More on SunLive...