Creating a better future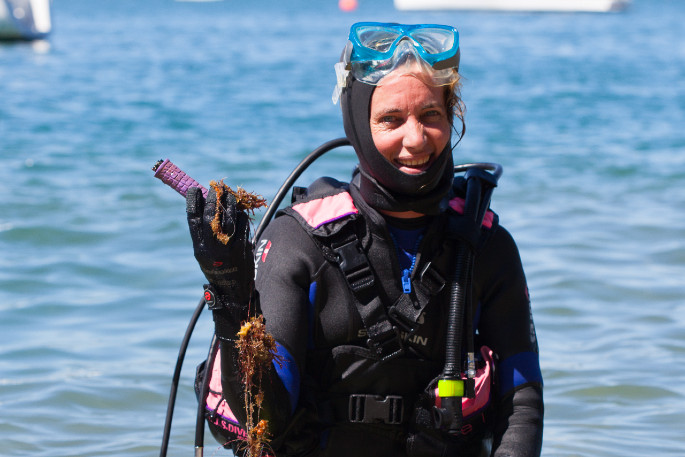 Sustainable Backyards is back for 2020, bringing with it a month-long calendar of environmental events in March.
This year celebrates 15 years of sustainability, focused on individual efforts and there are more than 230 events coming up across the Bay of Plenty, from beach clean-ups and bushwalks to speakers' forums, educational movie screenings and presentations.
Envirohub has provided about 30 of these events and the rest are contributed by the community.
"Care groups, businesses and individuals from all demographics and areas of the Bay of Plenty have utilised Sustainable Backyards to educate, inspire and connect with their communities to create a more sustainable future," says Envirohub's Liesel Carnie.
Sustainable Backyards benefits a wide variety of Bay of Plenty communities, people of all ages and from all social sectors and provides tools to help individuals become empowered to move towards a more sustainable future.
"Communities throughout the region depend on each other for strength and sustainability," says Liesel.
"Envirohub is committed to providing the mechanisms to achieve these aspirations."
There are a number of events happening throughout the month of March, including the following key events.
For all events and more information, visit: www.envirohub.org.nz/sustainablebackyards
Sustainable Backyards Opening Ceremony Tauranga
People throughout the Bay of Plenty community are invited to the free-of-charge opening of the Sustainable Backyards headquarters in Tauranga at Our Place, Willow St, on March 1 from 5pm.
The opening promises to be an inspiring event of music, entertainment and speakers, including Chloe Swarbrick of the Green Party, Councillor Sophie Handford - the School Strike 4 Climate national coordinator and Natalie Robb from the Now Crowd.
The Sustainable Backyards HQ will be open six days a week so you can find out what's happening for the month of March.
Pilot Bay Beach Cleanup
There will be a beach and underwater cleanup held at Pilot Bay, in conjunction with Dive Zone.
The family fun day out will also include a sand sculpture competition as well as a treasure dig.
Diver registrations are essential but it's file to just turn up for general attendance for beach cleanup and beach activities.
Divers can register on the Dive Zone Tauranga website: www.divezonetauranga.co.nz
The Pilot Bay Beach Cleanup will be held on March 21 from 10am-1pm at Pilot Bay.
Fools and Dreamers
The film 'Fools and Dreamers' takes a look at Hinewai Reserve botanist Hugh Wilson and his contribution to regenerating farmland into native forest.
Now considered a hero locally and across the country, Hugh oversees 1500 hectares that are resplendent in native forest, where birds and other wildlife are abundant and 47 known waterfalls are in permanent flow. Afterwards, directors, Antoinette Wilson and Jordon Osmond, will speak to the themes of the film and give a bit of background knowledge about the initiative before a question and answers session.
Tickets cost $10 and can be purchased by searching 'Fools and Dreamers' at: www.eventbrite.co.nz
Sustainable Day Out
This is a family-friendly festival celebrating all things environmental in the Western Bay of Plenty. The Sustainable Day Out is at Te Puke Memorial Hall on March 14 from 9am-1pm and will provide a place to connect, teach and inspire the community.
This is a family fun day with games, performances, stalls, workshops, food trucks and more, and entry is free.
Consuming for Good
If you're sick of plastic overload in your home, head to Base Station, Durham St, on March 19 from 6.30-8.30pm.
Join EnviroHub, Venture Centre and Sustainable Business Network for this event and meet entrepreneurs committed to addressing plastic in our consumer life. Hear from a panel of impact entrepreneurs taking on the problem of plastic and packaging to deliver beautiful solutions to the ethical consumer.
Tickets cost $10 and can be purchased by searching 'Consuming for Good' at: www.eventbrite.co.nz
Climate Change and the Economy Speakers Forum
Hear from a panel of experts about the economy and climate change by heading to Holy Trinity Church, Devonport Rd, on March 26.
The panel will be facilitated by Rod Oram and aims to discuss the future of climate change and the economy.
Tickets cost $10 and can be purchased by searching 'Climate Change and the Economy Speakers Forum' at: www.eventbrite.co.nz
For more information about the Sustainable Backyards month, as well as more events coming up, visit: www.envirohub.org.nz/sustainablebackyard
More on SunLive...