Residents "nervous" after Omanawa homicide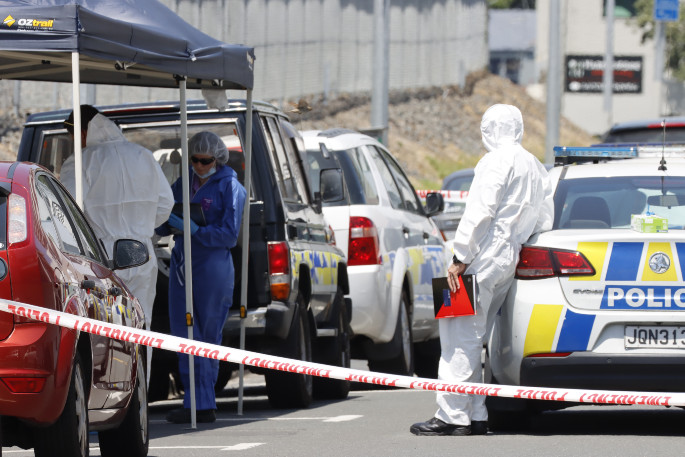 John – a McLaren Falls resident was out feeding his chickens when he heard gun shots on Tuesday.
He didn't think much of it because gun shots aren't unusual in the country. People are often out rabbit or possum hunting. Then police cars went flying up the road and he put two and two together.
Police later confirmed two people had been shot dead near his home in Omanawa.
The shooting is the latest in a string of events in Tauranga, Te Puke and surrounding areas. It has prompted fears of a new gang war, although police have not confirmed such a link with the latest shooting.
Police Minister Stuart Nash has promised a heightened, armed police presence and "reassures" residents they are safe.
Mayor Tenby Powell is furious with the outbreak of violence around the city and asking for tough action to crack down on gangs.
It appears not everyone has moved here for the surf, sun and country life.
Tenby says the most recent spate of violence has been occurring over three or four weeks and, based on a lot of feedback, residents are afraid.
"I can sum it up in two words. One is fear - people say they're scared, and the second is anger - people say they're angry, but when I look into the context of what they've written about angry, it actually also means to be scared.
"I don't think we need to overdramatise this… but it is at the same time a change of dynamic in Tauranga Moana there's no doubt about that."
If nothing is done, Tenby is worried innocent people will get caught up in the crossfire and, in the case of an arson in Greerton on January 27, there had already been collateral damage. A Thai and and an Indian business were both damaged because they were next to the target - Bladed N Faded Barber Shop.
He believed there needed to be more than a tactical response and community leaders needed to sit down and address 'a change in dynamic', which was not only a Tauranga problem but occurring in several towns and cities around the country.
A McLaren Falls resident, who asked not to be named, says she feels nervous being at home following the shootings at Ormsby Lane on Tuesday.
Since the shootings, she has seen an increase in patched members riding up and down the road. While having dinner on Wednesday night, she saw a handful ride past. She says this puts her on edge every time.
"They may come down the wrong driveway. They may cause drama up the road. They may have just been sending their respects to the guys but we don't know. There is too much tension along road I'd imagine. It could just be an innocent bike ride, but we are all just a little bit on edge at the minute."
Timeline
It started on New Year's Eve when the front corner of the Bladed N Faded Barber Shop in Greerton caught on fire.
The same shop was then victim of another attack when all of its front windows were smashed on January 25. It appeared all five front windows were purposely hit as a hole was created in each glass panel.
One person was then seriously injured along The Strand in the early hours of January 26. Later that same day, a large police presence was spotted in Te Puke where police confirmed that the incident in Te Puke was related to enquiries police made following the assault on The Strand.
The next day, the Bladed N Faded Barber Shop was completely gutted by a fire. The fire was 13 by 13 metres and a third of the building was burnt.
Following on from that, armed police swarmed at property in Harini on January 28, following a shooting in the early hours of the morning. A car was peppered with bullet holes but nobody was injured. Later that same day, gunshots were then heard in Te Puke, along No. 2 Road.
There was no further activity until Tuesday, February 11, when two men were shot dead at a property up Omanawa.
"We are investigating each of these incidents separately, as well as any possible links between them, and any potential gang involvement," says Detective Senior Sergeant Greg Turner.
More on SunLive...