Devastation of fires 'heartbreaking'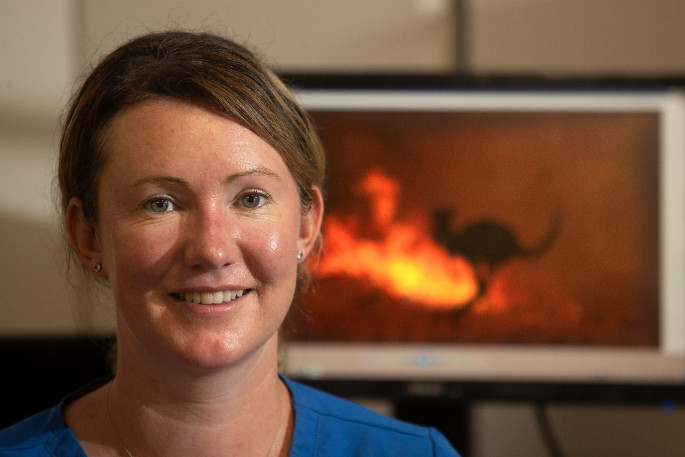 Rebecca Penman has raised more than $20,000 to help with the wildlife relief in Australia and then headed to Victoria to offer her services.
The Tauranga vet flew into Melbourne and headed out to East Gippsland, where she was for three weeks.
She helped local people, including local carers and shelters, but says the government made it 'basically impossible' to get into any fire zones.
"They seem to have their own agenda about what they wanted to do with the animals. There were a lot of people on volunteer lists, especially vets that wanted to help, but they just kept saying: 'oh no, we don't need anyone's help'."
They would send in their officers to rescue animals. Then they would get shipped off to various places but didn't have a vet involved in that process.
She says it was a bit disappointing that she couldn't help out in that way and seeing the devastation with her own eyes was 'quite heart-breaking'.
"You go over there and you see the absolute devastation of habitat and things like that and there are lots of animals out there that need help."
Although her help was refused by the authorities, Rebecca was still able to help a lot of people personally.
With the money raised, she was able to give it to people directly rather than giving it to the big organisations.
"I spent a lot of time, specifically at one shelter called the Raymond Island Koala and Wildlife Shelter.
"They take on kangaroos and koalas mostly and were very much local in the area."
During her time there, Rebecca got to rescue a wombat and a kangaroo. She previously worked in Australia for four years, but never in areas where there were koalas. She says working with koalas was a very cool experience, and she "totally fell in love with them".
"I was then really lucky to be able to go up to a place called Goongerah. You couldn't actually get up there, it was by permit only, but the girl who owns the wombat sanctuary up there managed to get us in.
"She had a couple of wombats that had been fire-affected with burnt feet and we were able to give her a whole bunch of supplies because she is an hour out of town and we were able to give her all sorts of stuff that she is going to be able to use for anything that she brings in.
"So it was really cool to be able to give stuff directly to people who were involved with the animals.
"This particular girl was just overwhelmed at people's support and generosity and the fact that we made the effort to actually push past the boundaries and try and get places anyway because they felt that they weren't getting that," she says.
"The government weren't giving them the help and support that they needed. All the big organisations weren't giving them the help, but just to have someone come over and actually just be there was really awesome for them."
Rebecca says you don't really comprehend the devastation until you are there.
"There was a particular place that we went to where we were standing up on a hill and you could just see for miles and miles and miles that were basically sticks. That fire was so hot that nothing was surviving.
"You couldn't hear an insect, a bird – you could only hear the ringing in your ears. I think you just don't comprehend it until you're standing in that position and it's pretty heartbreaking."
Rebecca wishes she could have stayed for longer but she has her own business and animals in Tauranga that she needed to come back for.
She is already making plans to go back later on in the year and is planning on taking a course at the Taronga Zoo in Sydney, all about the Australian wildlife and a sterilisation programme that they do at Raymond Island for the koalas.
"So I'm trying to combine a trip where I can go and do the sterilisation programme and the wildlife programme so that in the future if I go back, I've got a lot more experience behind me and hopefully be able to be utilised a lot more."
Rebecca says overall it was an incredible experience. She says she feels so happy that she has gone over and helped people in-person knowing they were grateful for her being there.
More on SunLive...