Highfield stormwater pond conversion progressing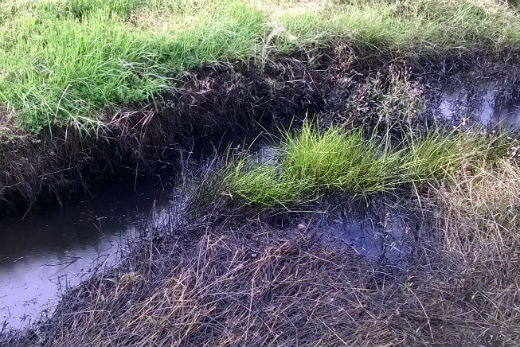 Works to convert a stormwater pond into an attractive lake for the Katikati community continue to progress.
Western Bay of Plenty District Council, in response to a community request, has been busy assessing the technical viability of converting the large typically dry stormwater pond in the Highfields subdivision into a permanent lake.
Work on the next stage of the lake development has just been completed with the raising of the pipes at the two outlets and the cutting of weeds and willows that have grown over the last few years.
This recent work is part of an overall plan to convert the stormwater pond into an attractive lake which will in turn compliment Haiku Park.
Over the last three years, several stages have been completed.
These include the initial feasibility study undertaken by engineers, Tonkin Taylor, followed by geotech work to determine the viability of permanently raising the water level by one metre behind the stop bank.
Bores have been put down to measure the ground water levels starting with 'no water' in the proposed lake and further measurements will continue to be taken during the period the lake is filling.
"Council is very mindful of the possible impact this lake could have on the stop bank and the housing close to the proposed lake" says Council's group manager infrastructure services Gary Allis.
"The stop bank was constructed many years ago and the pond was developed mainly to catch sediment during the construction phase of the Highfields subdivision.
Therefore we have to be quite sure that we understand the risks and potential problems that may arise with the raising of the lake level."
It is planned to raise the water levels by 0.5 metres at a time, holding the initial level for a time while monitoring for any changes.
If the technical evidence shows that there is little or no affect the water level will be raised to the next level.
The development of the surrounds with planting (native grasses and sedges) is subject to the technical evidence should there be little or no affect.
More on SunLive...