Young fan meets sporting idols at BLACKCAPS match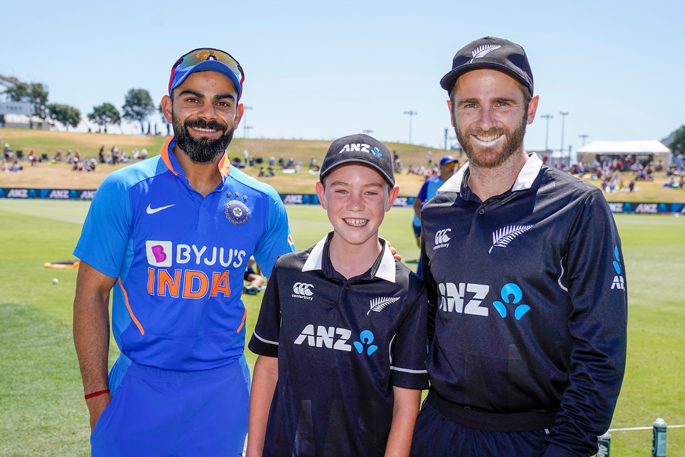 A local Tauranga cricket fan was excited to meet his heroes yesterday when he joined Captains Kane Williamson and Virat Kohli for the pre-match coin toss on the pitch before the BLACKCAPS vs India match.
Twelve-year-old Jack Muir who attends Tauranga Boys College and plays for Albion Otumoetai, won the ANZ competition to be the Coin Toss Kid.
This involved joining the two team captains on the pitch before the match.
"It was so awesome being the Coin Toss Kid, the whole experience has been really cool," says Jack.
"I got to meet all my favourite players, I got signatures from everyone and had photographs taken with them too."
ANZ Tauranga branch manager Karen Smith says Jack was one of 28 young cricketers selected to take part in the pre-match ritual this cricket season.
"Young Kiwi cricket players are often inspired by New Zealand's professional players, so we wanted to give them an opportunity to meet their sporting heroes.
"We hope Jack and all the Coin Toss Kids winners have fun, enjoy the experience and are inspired to continue to play the game," she says.
The Coin Toss competition is one part of ANZ's long-standing support of Kiwi cricketers.
Since 2009 ANZ has given almost $1 million to local cricket players, teams, fans, clubs and schools to help them reach their cricket goals.
Cricket players, clubs, teams and fans across New Zealand can apply for grants or to take part in games as a Coin Toss Kid at ANZcricketworld.co.nz.
More on SunLive...