BOP community rugby takes out top spot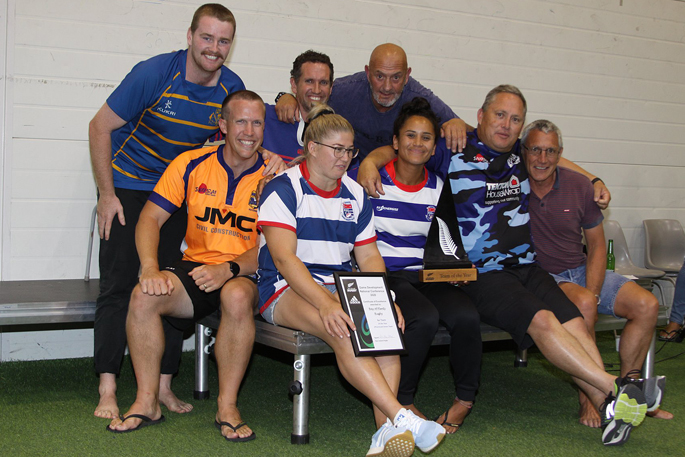 Bay of Plenty Rugby's Community Rugby Team has been awarded team of the year for the first time.
At New Zealand Rugby's recent National Game Development Conference held in Palmerston North, the team picked up the 2019 Team of the Year award.
Bay Rugby's Community Rugby Team of 11 staff support the various volunteer committees across the region that deliver all forms of rugby from under 6 to premier men's and women's competitions and everything in between.
The award is presented to the provincial union with the best performance, based on NZ Rugby's The Rugby Way, with nominations coming from other provincial unions from the things they see others doing well.
"Our peers have recognised a number of great things that my people worked tirelessly on in 2019. It proves that you don't have to be operating in the high performance sporting arena, to have high performing people. It's all about the growth mind-set," says community rugby manager Pat Rae.
Bay of Plenty Rugby's coach development manager, Kyle McLean also walked away with an individual award for his outstanding efforts in building a strong coach developer workforce.
"Kyle's an example of the high calibre people I am spoilt for riches with. He's highly thought of in the coach development space by not only our national body but also other sporting codes where he often leads and facilitates events," says Pat.
"We are all very excited for the challenges that the 2020 season will bring to us and look forward to working extremely hard for our children, teenagers and adult rugby players. Our theme for 2020 and beyond is to provide our players with an awesome experience in a fun, safe inclusive, learning environment where the players are at the centre of the decision making process and the object is to get better, not win. We strongly believe that if you focus on the experience, the winning will follow."
The annual game development conference brings together 120 provincial union and NZ Rugby staff in the community game from across the country in the coaching, match officials and player development spaces. While setting the scene for the upcoming club and school seasons, it also provides the attendees with a mixture of information updates and professional development.
The three-day event gives the attendees an opportunity to share ideas and network with each other and culminates in an informal awards evening where people are recognised for their efforts from the previous year.
More on SunLive...