Volkswagens to shine in the sun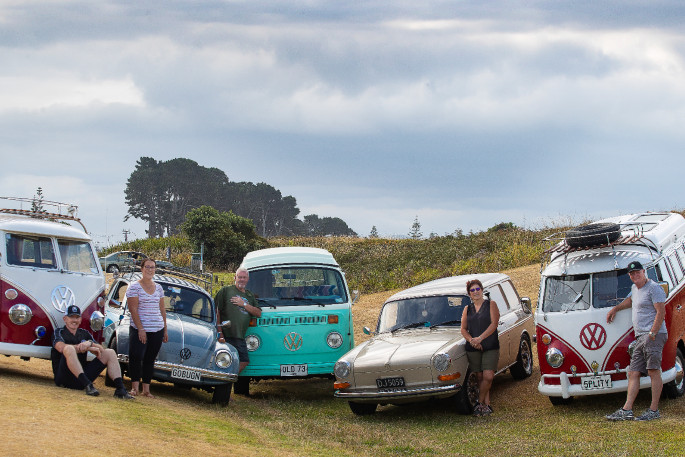 The VW 'Run to the Sun' is back in Tauranga for 2020.
The concept is popular in the UK and Jeremy Longman pitched the idea to a few friends a few years ago and it is now in its fifth year.
Jeremy used to attend a similar event in the UK when he was a young lad.
"It was my idea and I broke it with a few friends. I said: 'let's get something going for the Mount that's not as big as Beach Hop but on a Volkswagen flavour'."
A gathering of 60 to 80 Volkswagen cars and vehicle enthusiasts from all around New Zealand will take over the Mount on the weekend of February 14-16.
During the weekend, they put on a show called 'Show n Shine'. This is held in Coronation Park on the Saturday, where all the vehicles are parked up on display. They run this alongside the Little Big Market, where people can wander on through and see what the Volkswagens have to offer.
They will also have people wandering around asking for donations, as they change charities to donate to every year. This year, they have chosen Diabetes New Zealand.
"With this year's charity, unfortunately, one of our committee member's sons has just been diagnosed with diabetes. We all look out there and think: 'who do we think is worthwhile', or a charity that we know that someone's been impacted with it," says Jeremy.
On the Sunday, they will then head out on a cruise from the Mount to McLaren Falls Park.
They haven't determined the route just yet for the cruise, but Jeremy says it won't be straight down Totara Street and over the bridge.
"It will be along the beach towards Papamoa and then back along a bit of an Avenue type thing. So it's not the direct route. It's a pleasant route and we'll probably go along The Strand for those people having lunch down there, they can see a bunch of Volkswagens go by."
They will end up at McLaren Falls Park where Jeremy says they will be until around 3pm on the Sunday.
From there people will start to disperse back to Auckland, Hamilton or Wellington. He says a few will stick around and will head back to the Mount for another night.
To make the weekend even better will be good weather.
"Good weather makes it to be honest. People admire the cars and they look after them and to see rubbish weather the week proceeding doesn't put good feelings into the hearts. They don't want to travel, go camping and get wet.
"I'm looking forward to good weather so people come out in their pride and joys, people come along and camp and more people come and hear about it."
Jeremy encourages anybody to come along to the 'Show and Shine' on Saturday, February 15, from 10am to 2pm. For more information or to get involved, search: 'Run to the Sun NZ' on Facebook.
More on SunLive...