Duncan Lowry takes charge of Tauranga Old Blues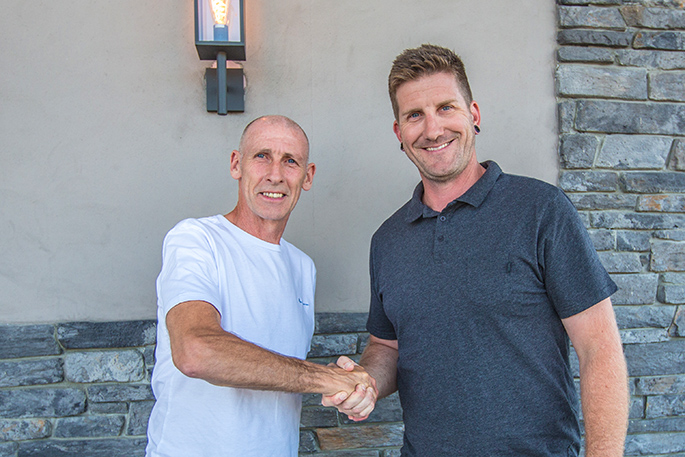 A delighted Jimmy Wombwell was pleased this week to announce the signing of Duncan Lowry and his management team to take charge of the Tauranga Old Blues senior football team.
With Duncan's signature not yet dried on the three year contract, Jimmy breathed a sigh of relief saying "We finally got our man".
Jimmy says that the senior team committee have long been admirers of the charismatic Irishman.
"We almost secured Duncan as our first team coach last season, however at the time both the club and Duncan did not feel ready to work together," says Jimmy. "Here we are 12 months on and the club's revised development strategy makes us a perfect fit."
The club's ambition is to develop a top notch talented men's senior team with a winning mentality coupled with honest sportsmanship that younger players in the region can identify with and aspire to be part of.
"We are confident that Duncan and his team will achieve our goals," says Club Secretary Neil McLaughlan. "We have appointed him with full control of all footballing matters, and we as the committee will support him 100 per cent to make sure he has all the right tools to succeed."
Duncan, who is no stranger to the North Island footballing world is also delighted to be part of what is essentially a challenge with a difference.
"The difference with this great opportunity to be part of Tauranga Old Blues is for the first time during my 32 year career in New Zealand I'll be working with a committee made up entirely of true football people, people who love the game for all the same reasons as myself and my management team," says Duncan.
"I had taken a year out of football and at times I wondered if I would ever become involved again, or if I ever wanted to be involved again.
"When this opportunity came along it did not take long for me to decide. I guess when you love something as much as I love the game making the decision was a no-brainer. I do sincerely thank these guys for putting their confidence in me," says Duncan.
Club Treasurer Phil Ranger echoes the thoughts of his committee.
"Our discussions with Duncan's team have been exceptionally professional," says Phil. "Their years of experience in the game shines through. We are particularly pleased with their desire to participate with us in ensuring that we have sufficient funding to support not only this season but the years ahead."
"I can't wait to get started with Duncan's team," says Neil. "They are like a breath of fresh air in terms of understanding what it takes to operate teams.
"They are not demanding or expecting everything to appear by magic but fully prepared to climb in and assist with generating funding."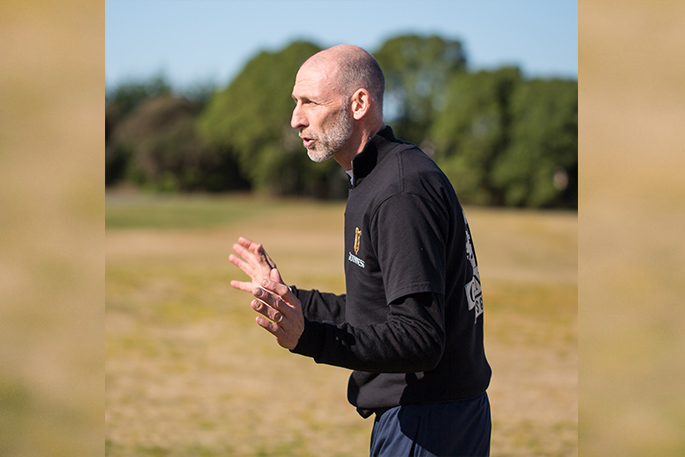 Duncan Lowry who has taken charge of Tauranga Old Blues F.C. Photo: Bob Ricketts.
Duncan is making no promises that his team will win the league in his first season in charge. What he will promise is to produce a team with the desire to win and be successful and most importantly a team that is entertaining to watch.
"Throughout my whole career both as player and coach I have enjoyed success," says Duncan. "How we measure success is for others to comment on, but I will promise is that we will have fun on this journey."
Duncan's management team comprises his long term playing and coaching colleague Gary Darkes, Coach Campbell Higgins and Commercial Manager Bob Ricketts.
Duncan's regular coaching partner Andy Birchenough has decided to continue his sabbatical away from the game.
"Birchy won't be far away from what we are doing…. Watch this space…!!" says Duncan.
Regarding recruiting players for the new season, Duncan is inheriting a number of players from last season's Old Blues team, however as the committee reminded him: "They don't call us Old Blues for nothing". In fact a number of those advanced in the ageing process have decided to ply their trade in the club's reserve teams.
Duncan also says he has received confirmation from a number of local players expressing their interest in coming on board.
Pre-season training starts at 7pm this coming Thursday February 13 at Waipuna Park.
All those interested are most welcome to come along or call Duncan Lowry on 027 455 0549.
More on SunLive...