New director appointed to 2021 Arts Festival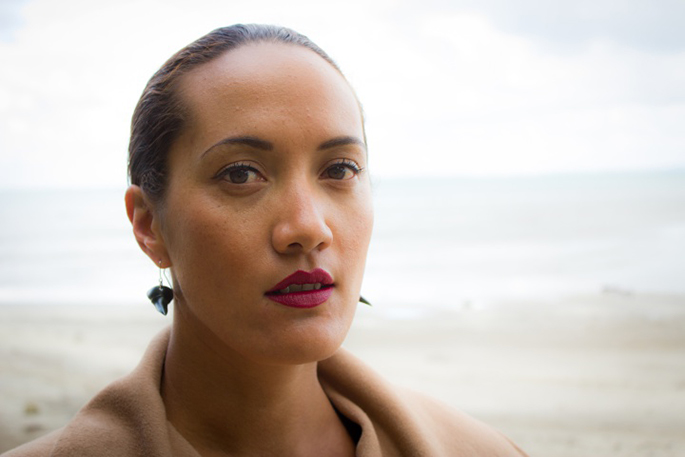 The Tauranga Arts Festival Trust is delighted to announce that award-winning singer and songwriter Ria Hall is to helm the 2021 Tauranga Arts Festival.
Ria, who is of Ngai Te Rangi, Ngati Ranginui and Ngati Pukenga descent and is a champion of te reo Maori, was born and educated in Tauranga, returning to her hometown in 2014.
She is the first wahine Maori to take on the role of director of the Tauranga Arts Festival.
Involved with the biennial 10-day festival since 2015, Ria co-composed the specially commissioned waiata, 'Takiri ko te Ata' and has trained a community choir to perform it at each festival since.
As well, she was named the festival's first ambassador in 2017.
At the 2017 festival, Ria performed her concept show, 'Rules of Engagement', based on her album of the same name which takes its inspiration from the local land wars and their aftermath. For the most recent festival in October, Ria worked as an intern taking on support roles across the entire organisation.
In order to get the role, Ria had to be interviewed by a panel. She says it was the first time in 11 years she had to be interviewed for a role.
"I was working my way towards that. I'd had a conversation with Jo Bond at the end of 2018 around succession and gauging where she was at. I ended up interning in 2019 for the festival and I suppose the rest is history now."
She says getting interviewed for the role was pretty nerve-wracking and she was nervous for the most part.
"I've performed in front of thousands and thousands of people but having an interview is a pretty daunting experience, especially when you haven't had one for such a long period of time. I've been a self-employed artist for that long so it was pretty nerve-wracking for me but it was a great experience."
When finding out about achieving the role of 2021 Tauranga Arts Festival director, Ria was completely overwhelmed. She says her family were pretty ecstatic.
"We had to keep it on the down-low for a while, but amongst ourselves, we were really happy that the board and the trust had decided to appointment and that the team have enough faith and belief that I can take over from Joe and carry on the Mahi that she's laid out over the last eight years as festival director.
"It's wonderful because she's still staying on board too so it gives me extra comfort knowing that I've got someone that I've got someone that I've known for a good five years now who is more than happy to help me succeed in any way that I can."
Looking ahead at the 2021 Tauranga Arts Festival, Ria says they've started to create a vision of what they want to achieve.
"When I say we, obviously it's not just myself because there's a wonderful team that makes everything happen. I'm just kind of the conduit for that. So we've started having conversations here and there and of course, we've got the Escape Festival this coming Queen's Birthday weekend, so that's a really good starting point for me as well just to oversee what goes on at a smaller scale."
For Ria, by doing this role, it is another creative outlet.
"I've been in the arts for the best part of my entire adult life and this is another way that I can give back to the artistic community which has fuelled and sustained me for nearly two decades.
"I'm still an artist. I'm still someone that loves to perform and loves to create but I'm just going to be doing that from the other side of the stage. I just want to transfer all my skills, networks and knowledge base into this role. For me, I think it's a prime opportunity especially to learn more of what it takes."
Aside from gearing up for the 2021 Tauranga Arts Festival, Ria will be releasing her new album 'manawa wera' on February 28.
Ria says she's got a big road ahead of her.
Trust chair Kathryn Lellman says the festival is fortunate to have recruited someone who has strong roots in the local community, as well as being a respected member of the arts network in New Zealand and beyond.
Ria, who has previously worked for Creative NZ, currently serves as a board member for the New Zealand Music Commission.
"The Trust Board is so excited to appoint Ria to our festival director role," says Kathryn. "She is a strong advocate for our community, an emerging force in our sector who has huge talent – and we can't wait to see her bring those skills to the growth of our festival.
"We are also delighted that Jo Bond will remain engaged with the festival as a consultant to assist with a smooth transition to Ria and we thank Jo for huge input into the success of our organisation."
More on SunLive...