The Young Guns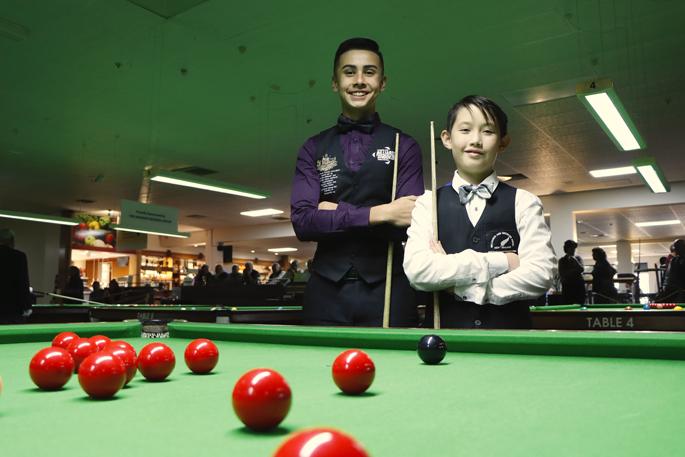 Riley James has just turned 11, Xavier Daw is 15.
They're not widely recognized in the broad spectrum of youth sport. But James of Paraparumu and Daw of Queensland are being paraded proudly at the Tauranga Citizens Club this week as the future faces of their chosen craft. That of cue sports – particularly snooker. They are the cueists … the young guns.
And when the rest of Tauranga was seeking respite from 30 degrees Celsius of heatwave in the surf or swimming pool, James and Daw were at the table for the Oceania under 19 snooker tournament.
They were oblivious to global warming – only interested in the heat that each other would bring to the table in this transtasman rivalry. Daw and James have similar stories to tell.
"I got interested in snooker when Dad took me to the local RSA," says Riley.
"I learned to play on an eight ball table at my Dad's pub," says Xavier.
A commitment and lots of practice have lifted their game to an international level and perhaps to a professional career.
As young rugby players live in awe of Beauden Barrett and Sam Cane these guys model themselves on pros like the smooth and silky Aussie, Neil Robertson who's probably won in excess of $5 million as a professional, or Ronnie O'Sullivan and Judd Trump. James and Daw would prefer to play at Sheffield's Crucible than Eden Park.
"No, they don't want to be out in the sun," says Frank Dewens, president of the Australian Billiards and Snooker Council. "They may be young but they know what they want to do and that's the big big thing."
And this year both James and Daw will be off to England, the spiritual home of snooker, to finesse their skills, to take them one further step towards professionalism …maybe.
"Snooker's a lot more popular in England because of the climate – it's colder so people seek indoor sports."
Think of darts.
"Whereas here in NZ young people are skateboarding or playing tennis and it's harder to capture their imagination," says Frank.
And there is another issue – the degree of difficulty.
"It's enormous with our game. So you have to commit a lot of time and effort over the table."
And there aren't too many in Oceania keen to do that.
"We're happy with the state of the game in New Zealand," says Dan O'Sullivan, president of the New Zealand Billiards and Snooker Federation.
But he admits they couldn't always accommodate more players. There are probably about I000 registered players in the country, another 2000 in Australian. But that doesn't take into account the enormous popularity of cue sports as a casual sport.
There are ten players from either side of the Tasman competing in the Oceania Under 21 Championship at the Citz Club this week. And 16 of Oceania 's finest women players are also competing. They are making inroads, there will also be a mixed-doubles contest.
In a couple of weeks in Australia there will be the open championship. It's snooker's honey pot down under. The winner of that gets to play professionally for two years on the world circuit.
Neither Riley nor Xavier are expected to cut it this time round. But they are both sufficiently driven to have half an eye towards the outcome of that event. One day it could be their pass to a professional career.
Snooker in Australia and New Zealand is holding its breath.
More on SunLive...