A wheelie good time during Bike Month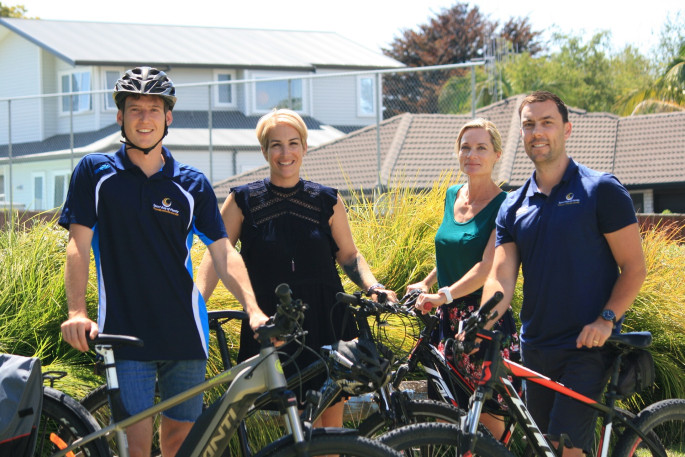 Bike Month 2020 is well underway with some type of biking event taking place most days throughout the month of February.
To make things easier for those wanting to participate, Sport Bay of Plenty have created a colour-coded system for beginners, intermediate riders and advanced riders to select the activity based on their confidence and skill level.
"There can be a big difference between riding on a quiet cycleway versus on the road in traffic, so we've included a range of events and three colour-coded levels so people can easily find and select an event they feel matches their confidence and skill level," says Sport Bay of Plenty recreation team leader Sonia Lynds.
"The beginner biking events means we'll either have experienced rider leaders on hand to guide the way and offer support or that the event is on quiet streets or cycleways at a leisurely pace."
Some annual biking event favourites that take place during Bike Month are the Tauranga Moana Leisurely Ride with a Maori historian to local pa sites of significance, a Frocks on Bikes ride around the Mount, Cycle Savvy bike handling and safety skills courses and the Katikati Family Time Trials.
From a health point of view, BOPDHB medical officer of health Dr Phil Shoemack says: "our bodies are made for movement and as humans, we've engineered movement out of our lives to a large extent.
"Biking is a simple, low impact way of putting some of that physical activity back into our lives.
"Bike month is all about encouraging people to take up something new, having some fun whilst doing it and experiencing some of the health benefits which are associated with biking. The health benefits are numerous and wide-ranging but including cardiovascular, respiratory and mental health and wellbeing.
"You only have to see the face of a child who has just learned to ride to get an idea of the sense of freedom and enjoyment you can get from riding a bike," says Phil.
Bike Month has been running for a number of years and is all about encouraging people to ride more, whether that be for fun or more practical reasons such as cycle commuting to work.
Sonia says the feedback they have received over the years has been great and says the various activities throughout the month motivate them to pull their bike out of the shed and gets them riding.
"It's also great working alongside local community cycling groups, organisations and businesses that support that aim. Cycling doesn't necessarily mean donning the lycra and going for a long bunch ride on a Sunday morning. There are lots of riders out there of various ages and abilities and Bike Month showcases all sorts of cycling options that are fun, supportive and social," says Sonia.
Cycling is also seen as a way to lose weight although Phil says it is often complex than just losing weight.
"It's about the relationship between the amount of energy taken in and expended. So if you don't consume more and you burn more through cycling then yes you will, but it's not necessarily why I would encourage people to ride.
"Our bodies are a finely-tuned motor designed for movement and the many health benefits derived from introducing some of that movement back into our lives are what I would highlight."
For each cyclist, there is no recommend distance they must cycle and it varies on the individual.
"What I would say is that there is a large percentage of the population who will jump in the car for a journey of under 2kms. So why not replace some of those journeys with a bike ride? Don't make your car the automatic choice. Alternatively, why not organise a short bike ride with your family or friends on the weekend in a local park?
"I encourage people to take a look at the events which are bring organised across the Bay of Plenty, to pick one that suits them, and to go along and give it a go," says Phil.
For people starting out in biking, Sonia recommends taking a look at second-hand bikes on Trade Me or to visit a local bike shop for some entry-level deals.
"It always helps to bring along a biking friend to guide you through the choices available. As far as costs, there's a wide range of options available to suit most budgets. We also encourage people to look at a bike as an investment. Cycling is great for our health, can be loads of fun and, if you're cycle commuting, you can save a whole lot of petrol money," says Sonia.
To find out what Bike Month activities are happening near you, head to: www.sportbop.co.nz
More on SunLive...