Who's your hero?
Super heroes from all over the Bay will dust off their masks and capes to answer the beckoning call from Waipuna Hospice. Calling all super heroes in the community to walk in honour, remember and celebrate the hero's in our lives, past and present.
By signing up to register for the Waipuna Hospice Super Hero Walk/Run you will be a hero yourself, as you help raise much-needed funds to care for people in our community facing a life-limiting illness and support for their families.
Chris Conn registered for the Waipuna Hospice Super Hero Walk/Run last year in memory of her husband Martin. Martin was diagnosed with cancer in 2013 and after two years of care and support from Waipuna Hospice he died in 2015.
"If it hadn't been for Waipuna Hospice I wouldn't have got through it, that's why my Super Hero was the one I chose – Waipuna Hospice doctors, nurses and staff, they're absolutely amazing," says Chris.
The part that Chris enjoyed the most was knowing that she was walking in memory of Martin and everyone else.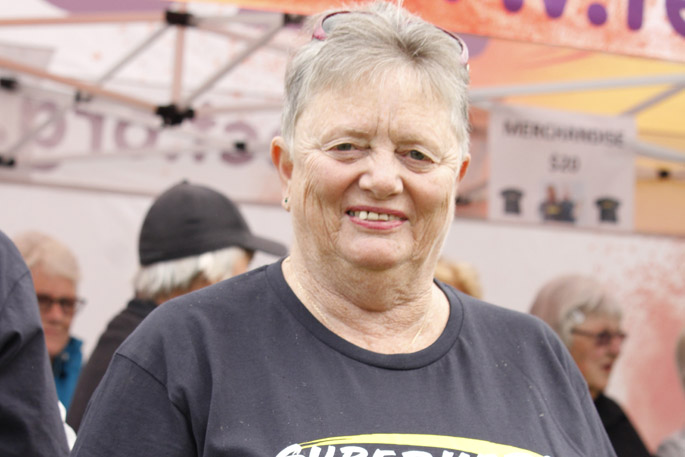 Chris Conn. Supplied image.
"I would recommend people to register if they are looking for a fun day out and wanting to walk for a purpose."
Everyone knows Chris as the "dress-up queen" as she donned her most regal attire and dressed up as the queen for Waipuna Hospice movie fundraiser Downton Abbey. What whacky creation will she have for the Super Hero Walk/Run this year?
"I thought about dressing up as the queen, but no – she's not my hero! I now have some photos of Waipuna Hospice staff so they may find themselves on my t-shirt as well… who knows?" said Chris.
In our lives, each of us has that someone who holds a special place in our hearts and is looked to as a 'hero'. The Waipuna Hospice Super Hero Walk/Run encourages people to embrace their "Super Hero" by celebrating and acknowledging the heroes in their lives, and walking or running in celebration and remembrance of them.
Sunday March 22 will be an eventful day and a meaningful and fun way to celebrate life and make the most of every day! In the words of Batman "you only have your thoughts and dreams ahead of you. You are someone. You mean something." Life is special.
Register now at www.waipunahopsice.org.nz/superhero
More on SunLive...