Tauranga cricket fans met idols at Bay Oval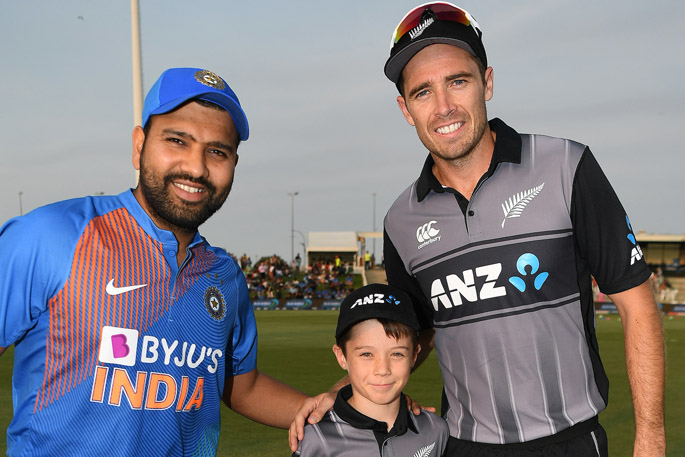 Two Tauranga cricket fans were lucky enough to meet their heroes on Sunday, February 2, during the cricket at Bay Oval.
Ten-year-old Stella Hoskin and 10-year-old Davey Keam, won the ANZ competition to be the Coin Toss Kid which involved joining the two team captains on the pitch before the match.
Stella, who goes to Pillans Point School, joined captain Sophie Devine and Chloe Tryon for the pre-match coin toss on the pitch prior to the White Ferns v South Africa match.
"It was really great being a Coin Toss Kid, I got to meet my favourite player Sophie Devine," says Stella.
"I started playing cricket two years ago and I just love it. I really want to become a White Fern one day."
Davey, who goes to Selwyn Ridge Primary, joined Tim Southee and Rohit Sharma for the pre-match coin toss on the pitch prior to the Blackcaps v India match.
"I had a great time, it was so cool to be able to walk out on the field and meet all the players," says Davey.
"I started playing cricket because my dad used to play when he was younger. I hope to be a Blackcap when I'm older."
ANZ Tauranga branch manager Karen Smith says Stella and Davey were just two of 28 young cricketers selected to take part in the pre-match ritual this cricket season.
"Young Kiwi cricket players are often inspired by New Zealand's professional players, so we wanted to give them an opportunity to meet their sporting heroes. We hope Davey, Stella and all the Coin Toss Kids winners have fun, enjoy the experience and are inspired to continue to play the game," she says.
The Coin Toss competition is one part of ANZ's long-standing support of Kiwi cricketers. Since 2009, ANZ has given almost $1 million to local cricket players, teams, fans, clubs and schools to help them reach their cricket goals.
Cricket players, clubs, teams and fans across New Zealand can apply for grants or to take part in games as a Coin Toss Kid at ANZcricketworld.co.nz.
More on SunLive...